Move over traditional moisturisers! Ever since natural and clean beauty became the biggest trend in skincare, facial oils took their place in the limelight. Not only do they pack on a lot of benefits for our skin, but they also amp up on extra hydration. One of the brands known to fit this description, at least with the hype it continuously receives among beauty enthusiasts, is Herbivore Botanicals.


As someone who's had my fair share of facial oils in the past — with Human Nature's Jojoba Oil and Sunflower Oil Bloom and Kiehl's Midnight Recovery Oil being my tested favourites — I was pretty psyched to try Herbivore's Phoenix Regenerative Facial Oil to see what the fuss is about. Many reviews on Sephora US, SG, and PH named this as their holy grail facial oil despite being pricey at SGD44/PHP1,412 per 8mL and thrice the price for the full-sized 50mL variant so we knew we just had to give it a whirl.
Plus, considering how well our Herbivore Blue Tansy mask review turned out, we can't help but also have high hopes for this one. After a couple of weeks of trying this out, I'm ready to pass on my verdict. Scroll on to see if the Herbivore Phoenix Regenerative Facial Oil lives up to its name of reviving my skin from the ashes.


Packaging, smell, and texture
One of the things I love about Herbivore's branding, in general, is its sleek and clean aesthetic. Phoenix's dropper-type bottle felt very sturdy to the touch and definitely gives off a nice luxurious feel despite its quaint size. The bright orange colour also looks appealing as it beautifully contrasts the minimalistic label of the packaging.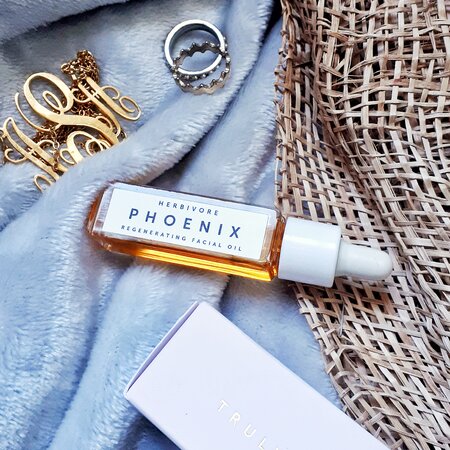 Moving on to my actual first impressions of the product, one that I had mixed feelings about in the beginning is the strong sweet (yet non-artificial) smell. While it's good to know that the concoction of various ingredients and oils such as CoQ10 (aids collagen production), rosehip oil (skin hydration and regeneration), chia seed oil (for redness reduction and anti-ageing properties), and other natural ingredients contributed to this, I'd say it can be pretty overwhelming if you have a sensitive nose. I personally love natural scents in my beauty products but even I found the smell a bit uncomfortable during my first couple of uses. It's also the type that lingers and takes a bit of time getting used to so be warned.
As for the texture, it's similar to past facial oils I've tried — neither too thick nor too watery. It's also not tacky or slippery to deal with, which met my initial expectations.
Claims and application
According to Sephora's product description, the Phoenix Oil utilises its natural ingredients to lock-in moisture, vitamins, and antioxidants to protect the skin from dryness and heat in the environment. Reviews of the product also suggest that it's so potent, enough to deliver noticeable effects overnight. With these promising claims in mind, I endured the strong smell and went on with the testing.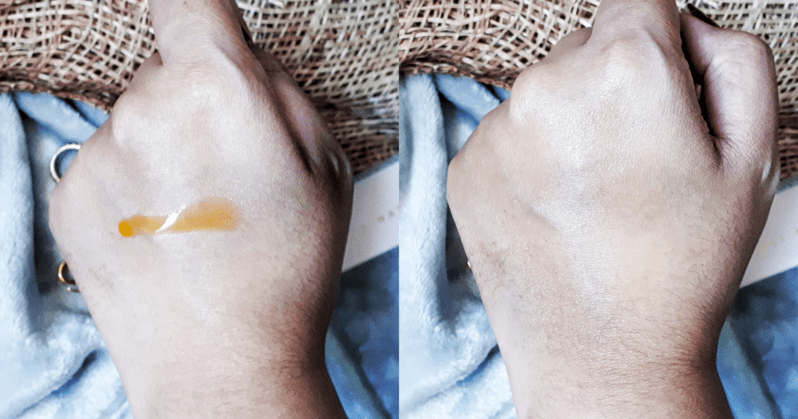 I'm currently practising a simplified skincare routine where I only water-cleanse in the morning. And at night, I just do double-cleansing, toning, applying special serums, and moisturising. For my first time using the Phoenix Oil, however, I really stretched its claims and tried it out alone after cleansing. It doesn't feel heavy or sticky upon application, but it definitely takes a while to get absorbed into the skin. I highly suggest you don't use this right before you plan to hit the hay as chances are it will stain or transfer to your pillowcase.
Anyway, the next morning proved to be quite a shocker as I didn't expect I would say 'wow' out loud even at initial usage. But I did. My skin was definitely plumper, softer, and more luminous like I had a good night's sleep combined with an extensive facial the night before (which tbh, I didn't). I couldn't even remember how long it was when my skin last felt this good!

After my promising first experience, I swapped my usual facial oils with Herbivore's Phoenix Oil and started my renewed skincare journey. There are days when I leave out my Vitamin C serum out of the picture and just use the Phoenix Oil after toning to also see if it does commit to its promise of healthier and glowy looking skin with continued use and it ticked all the boxes. There are even days when I just use this alone (when I'm feeling lazy) and still wake up to radiant-looking skin.
Apart from the amazing results, it's also worth noting that despite me using the 8mL variant for a while now, I'm still nowhere near half the bottle as it takes just one to two small drops to cover my entire face. But while I do recommend giving this a try in the morning, too, I find that it's best for a no-base/natural look as it will only cause your base products to really slip and look cakey.


Overall thoughts
With all that said, it's safe to say that this product is truly worth its wonderful reviews. It might be a bit expensive, but I'd say even as a self-proclaimed cheapo, I'll be happy to splurge for this given my experience. It definitely helped revive my dull and damaged skin (mostly as a side-effect of reviewing other products in the past) and hey, if my grandma noticed my skin looked a lot better, then that's saying something, right?
Onto more skincare reviews, here's what we have to say about Sunday Riley's A+ High Retinoid Serum.