Move over traditional moisturisers! Ever since natural and clean beauty became the biggest trend in skincare, facial oils took their place in the limelight. Not only do they pack on a lot of benefits for our skin, but they also amp up on extra hydration. One of the brands known to fit this description, at least with the hype it continuously receives among beauty enthusiasts, is Herbivore Botanicals.


As someone who's had my fair share of facial oils in the past — with Human Nature's Jojoba Oil and Sunflower Oil Bloom and Kiehl's Midnight Recovery Oil being my tested favourites — I was pretty psyched to try Herbivore's Phoenix Regenerative Facial Oil to see what the fuss is about. Many reviews on Sephora US, SG, and PH named this as their holy grail facial oil despite being pricey at SGD44/PHP1,412 per 8mL and thrice the price for the full-sized 50mL variant so we knew we just had to give it a whirl.
Plus, considering how well our Herbivore Blue Tansy mask review turned out, we can't help but also have high hopes for this one. After a couple of weeks of trying this out, I'm ready to pass on my verdict. Scroll on to see if the Herbivore Phoenix Regenerative Facial Oil lives up to its name of reviving my skin from the ashes.


Packaging, smell, and texture
One of the things I love about Herbivore's branding, in general, is its sleek and clean aesthetic. Phoenix's dropper-type bottle felt very sturdy to the touch and definitely gives off a nice luxurious feel despite its quaint size. The bright orange colour also looks appealing as it beautifully contrasts the minimalistic label of the packaging.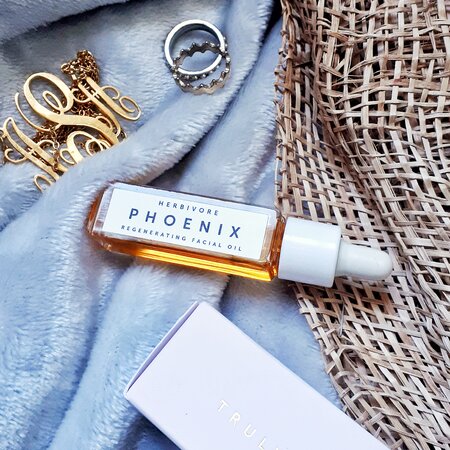 Moving on to my actual first impressions of the product, one that I had mixed feelings about in the beginning is the strong sweet (yet non-artificial) smell. While it's good to know that the concoction of various ingredients and oils such as CoQ10 (aids collagen production), rosehip oil (skin hydration and regeneration), chia seed oil (for redness reduction and anti-ageing properties), and other natural ingredients contributed to this, I'd say it can be pretty overwhelming if you have a sensitive nose. I personally love natural scents in my beauty products but even I found the smell a bit uncomfortable during my first couple of uses. It's also the type that lingers and takes a bit of time getting used to so be warned.