By now, you must have heard about ASOS coming down to Singapore for our Clozette Style Party. So in anticipation of the London brand's first runway show in Asia where they'll be showcasing their Spring/Summer 2016 Collection, we're giving you a behind-the-scenes peek into what it takes to create wearable London fashion lauded by fashionistas all over the world.
As a brand known for it's unique streetwear edge that dares to be bold in both its design and styling possibilities, ASOS has definitely been a mainstay favourite amongst the 20-something, somehow always constantly in tune to the in-and-outs of youth culture, trends, and fashion. The woman behind all that? Womenswear Design Director for ASOS, Vanessa Spence. A graduate of the London College Of Fashion, Vanessa has embarked on a fashion career that has spanned 16 years, with a wide breadth of influences ranging from art, music, and film.
So during the press preview of ASOS S/S 2016 in Shanghai, we got Vanessa chatting about her fashion inspiration, the story behind ASOS Spring/Summer 2016 collection, a peek into the ASOS Bridal Collection, and her styling tips on how rock the unique style of ASOS.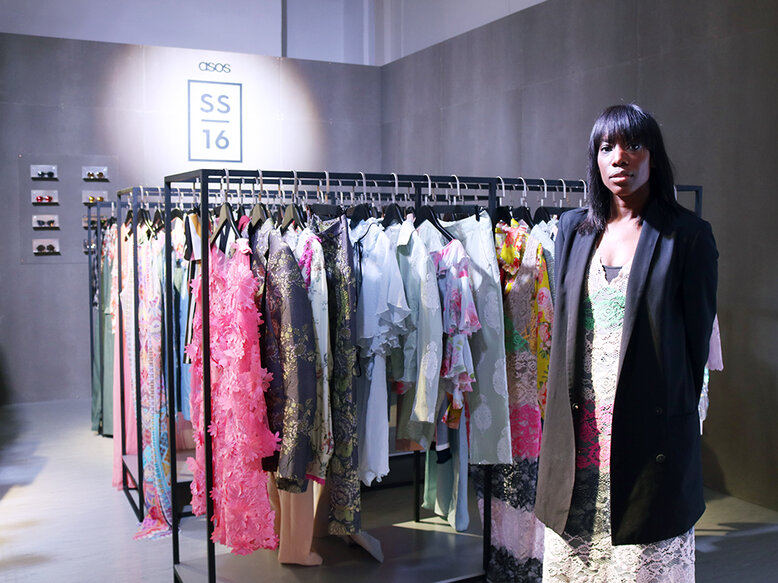 Scroll down to read the full interview
The fashion scene is constantly evolving, can you share some of your thoughts about how far fashion has come.
You know, 10 years ago it was all about what a magazine told you to wear and how you had to wear. And now you've got online sites and bloggers and everything is just so much faster. So I think it's quite nice then that it's really about people's individual style and what they want to wear rather than being dictated what to wear.
The ASOS style is quite unique. When you and your team design for specific collections, do you design with a specific girl in mind?
The core customer of ASOS is the 20-something. So whenever we're designing, we always think of whether a 20-something would wear the designs. That's our main focus. We don't really have a certain type of girl because obviously within that 20-something, there's loads of different types of girls.
The team also travels a lot, so whether it be for development trips or inspiration trips or even just people's personal travels, everybody is always across the globe looking at lots of different influences. So we come to Shanghai, Beijing, Hong Kong--and i've just got back from Korea as well--we are always looking at street style and it's just about gathering all those influences into one big melting pot.
I think that is the beauty of ASOS. I don't think you'd ever look at it and just think "Oh, that's just for a certain type of girl," I think you can see that anyone would find a piece they like in our collection.
What do you think makes an item uniquely ASOS?
When we're designing, we always think: how can we put our ASOS twist on something. We don't like to look at the catwalks and just copy what the catwalks do. We work in advance anyway of most of the shows, so we tend to design most of the collection before the runway shows come out.
So then, we think about what would our customers want to wear and how would she want to wear it. So it could either be doing something in an unexpected colour, or adding a little unexpected trim to something...you know just that little detail that maybe you wouldn't really expect. I'd say that's what we always do in ASOS. And also, to a point it's kind of brave and fun but still commercial.
And you know, whenever we have press days and stuff and whenever we speak to the editors, that's their thing as well. That's what they say. Like they come to ASOS because they can always find something that's a little bit different. Even though it nods and hints at the trends, ASOS just twists it a little bit.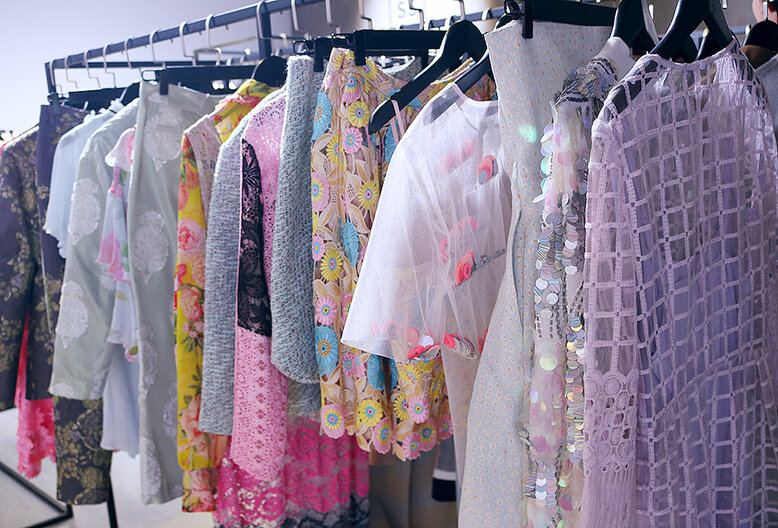 So how do you then balance runway trends and street style with the ASOS style?
It's all about mixing it in together. And we always have to work ahead of many of the shows. So most of the time, most of the collections have already been designed before any catwalk shows come out. Once the shows are out, we have a look at them and reference them. Luckily, most of the time we've covered anything and there isn't really anything that we've missed--though there may be an odd thing like maybe a colour or a print influence we may want to add in.
But in the beginning stage, when we're building it, it's very much about street style and blogger style. And I think that's where we get a sense of what everyone is feeling for. In a way, the blogs and street style is almost like the new catwalk. Because those people are looking at the same influences and references that the catwalk designers are. But if anything, the street style and bloggers start first; and then we'll layer a bit of catwalk on top.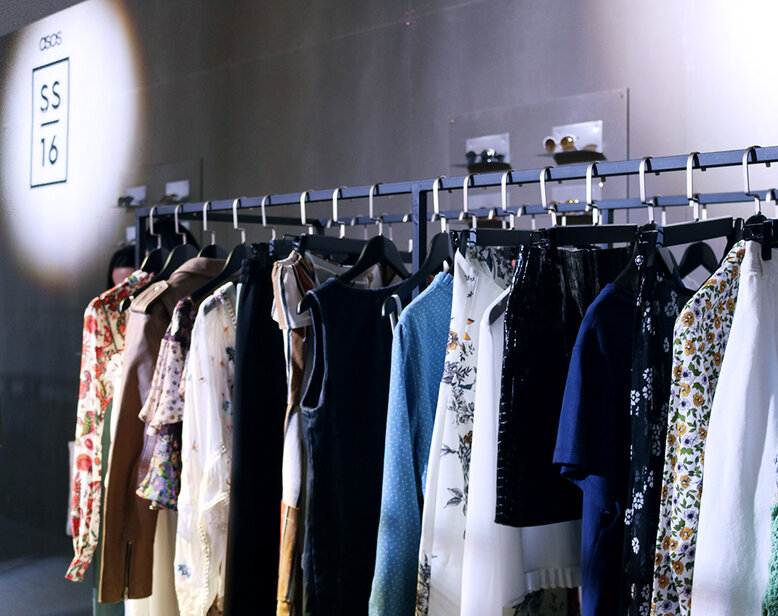 Now, let's talk about the collection. What's the inspiration behind the S/S 2016 collection?
It's quite diverse, there's a lot of influences. But definitely the biggest one is all about the prettiness and sort of feminine dressing. And the way a collection starts, you know we do these big group design meetings together and the whole team comes together and brings loads of ideas together--whether it be things they've seen in their travel or exhibitions. This time around, everyone was feeling this sense of prettiness and ruffles and lace and just girly-ness. So that was definitely one of the biggest influences and you can see it through the collection.
We also referenced the
Sonia Delaunay exhibition
where we saw gorgeous textiles and beautiful colour palettes; and that's really where those colours like the blush and pink tones come from. Then, the other influence is
Mad Max
. We all went to see it and loved it! It was just amazing from a design perspective, seeing all those biker jackets and hardware matched with softer pieces. And then you know, there are just other influences that people see, like in their travels. And the olympics is another inspiration--Rio for 2016. We're very excited about that too, this kind of carnival party vibe, like ruffles and florals and South-American aesthetic. It's a real mix of everything.
On that note, can you give us a few tips on how to style the ASOS S/S 2016 Collection?
So I think there's two ways you can do it. If you're feeling really brave and bold, the pattern clashes are really nice--like mixing metallics with pattern. If you want to pair it down, you can take bold pattern pieces and pair it with something casual like trainers. And I also like the idea of nice colour combinations as well--so be a bit more unusual and brave with your colour matching.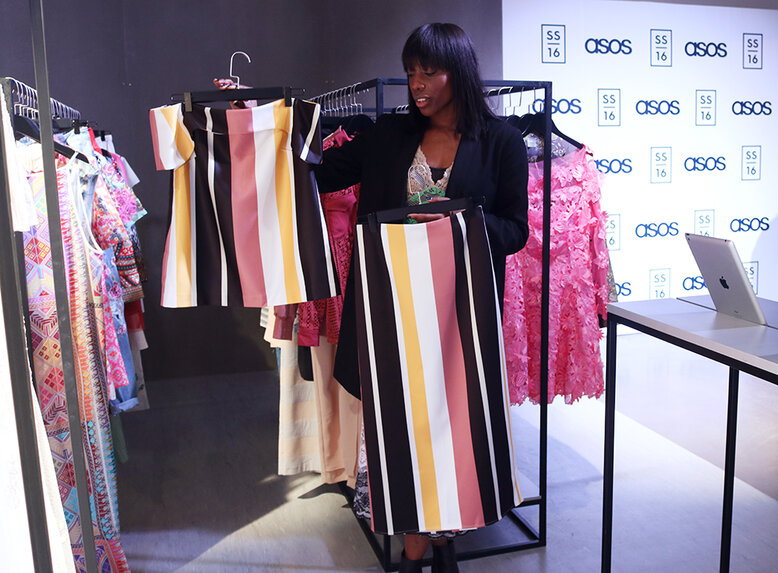 ASOS has just launched your first Bridal Collection, can you tell us a little bit more about it?
The collection is an 18-piece collection and we have alternative pieces there as well like a jumpsuit, so if you don't want to wear a dress, you can wear a jumpsuit. When the team was designing our Bridal Collection, they really focused on the different brides--like the vintage bride, the more boho bride, the bride that might want to get married at the beach, the one that's going to vegas, the one that's going to a smaller wedding in a little registry office or town hall, and then there's the more traditional full-on bride who'll have a more traditional wedding. So we really thought about those different girls and what they would want to wear, and it's just about giving them something affordable--because bridal dresses are just so expensive now!
Also, we're constantly thinking about what our customers are doing and what they want to wear--like are they going to college, or going to work, or going clubbing or just hanging out with their friends. And we were like, "You know, they're going to weddings." And the bridesmaid collection has been amazing, it's been so successful; and so the bridal collection was just the natural addition. We thought, "She's getting married! Let's just give her a dress!"