If we're talking classic and vintage, our minds automatically gravitate toward the '40s and '50s. They were the seasons of sultry and playful pinup-inspired beauty that champions faux-beauty marks, cat eyes, and red lips. On the contrary, Parisian looks exude a different kind of elegance and class, bordering on a more sophisticated and prim feel that is always about enhancing the natural.
Combining these opposing styles may not seem like an ideal match, but the collaboration between Lancôme and Parisian designer Olympia Le-Tan begs to disagree. Setting a one-of- a-kind collection called Olympia's Wonderland, this got us inspired to think how exactly we are going to nail this culmination of clashing styles.
So if, just like us, you also want to try out the vintage x Parisian beauty vibe, keep on scrolling to find our tips on acing this look.
Have fun with lush lashes
The secret to both looks is finding the perfect balance between elegant and sultry. And what better way to channel it than targeting the windows to your soul? Lancôme's highly raved mascara, Monsieur Big, delivers 12 times the volume of bare lashes with up to 24-hour wear, perfect for capturing the perfect frame for your peepers.
This champion product from the brand has been given a makeover by Olympia, reshaping the packaging to her own taste by sprinkling it with hearts, glasses, and books. She also created a sheet of ten colourful stickers you can customise Monsieur Big with, giving your lush-lash partner a touch of your own personality.
Blow a fiery kiss
Red lips can mean so many things depending on the wearer, but one thing is ever constant — it never fails to make a statement. This is why Olympia Le-Tan revisited Lancôme's cult lipstick, L'Absolu Rouge, and put her own spin to it. She engraved it with an imprint of lips and the signature "Olympia xxx", like a kiss blown your way by the designer, to give it another extra 'oomph'.
The best detail, however, is the never before seen design of lips just waiting to be kissed, making it the new darling of red lippie lovers here on out. The designer delved into Lancôme's heritage to adapt and modernise three classic red lip shades for the collection.
Find glamour in the dramatic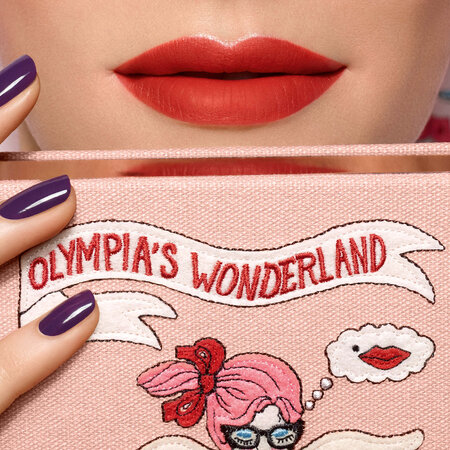 Vintage-inspired looks take roots from more dramatic ones (think cat-eye galore and red, red lips), which definitely has the tendency to look tacky if not done properly. But if executed correctly, the results can be bold and glamorous. And yes, the centerpiece of this collection got it right.
The wildly desirable collector's item for Olympia's Wonderland is the first makeup palette to perfectly mirror the designer's minaudière clutch-books. Inside, blushers, eyeshadows, and lipsticks are reminiscent of '50s glamour, all of which are reworked versions of a colour Olympia chose from Lancôme's archives and current collections.
Got you giddy to try out a vintage chic look? The Lancôme x Olympia Le-Tan's Olympia's Wonderland collection will be available starting September 2017.