"Plunge into the punchy pleasures of pink in a freshly made batch of scrumptious colours that let you have your cake, and wear it too."
Plunge into pink? Why, yes please! With the launch of
MAC Flamingo Park
, pink is looking to be the colour of the Spring/Summer season, bringing an invigorating brightness to our makeup look. Let's face it. After a broody Fall/Winter season, a bright pop of pink seems to be just what we need.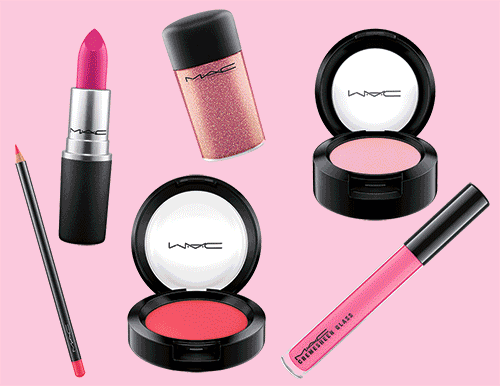 So are you ready to add pink to your #MOTD? Here's a quick rundown on how you can rock the MAC Flamingo Park collection this year!
--------------------------
Step 1: Add A Glow To Your Base
What exactly is a beauty powder? Is it just a sheer blush? A sheer highlighter? A coloured face powder? Well, depends on your skin tone and how you apply it, it could be one or all of those things. Our favourite way to apply the beauty powder is by taking a fluffy face brush and lightly dusting it on the areas that light naturally hits.
The Flamingo Park collection features two shades of the beauty powder, namely Pearl Blossom (a light pink with silver pearlized pigments) and Sunny Surprise (a soft peach shade).
Step 2: A Subtle Pop Of Pink To Your Eyes
A neutral eye makeup look is always great for every day; but since we're right in the midst of Spring/Summer, now is the best time to inject a pop of colour to our eye look. But don't worry, you don't have to go crazy with bright pink all over your lids (though you can if you want to because makeup is all about fun and experimentation!).
If you're not ready to plunge into a full-on pink #motd, try this instead. With a fluffy blending brush gently work in Bird's Eye View along your crease. It's a hot magenta colour and quite pigmented, so keep your application light. Next, pack on Hello, There, a soft nude beige colour, all over your lids and softly blend it upwards into Bird's Eye View to create a slight fade along the crease. Finally, deepen the outer corners of the eyes with Corduroy, a muted reddish brown shade. Build it up to an intensity you're comfortable with--either keeping it light or packing it on for a smokey effect.
The Flamingo Park collection consists of 6 eyeshadows in a variety of finishes. Select from the following shades: Hello, There (matte), Bird's Eye View (satin), Flock & Roll (matte), Just Wing It (satin), Sushi Flower (satin), and Corduroy (matte)
Step 3: Work On Those Lashes
Nothing completes an eye look more than lashes, lashes...and more lashes! So layer on the Haute & Naughty Lash mascara on both your top and bottom lashes. The formula is lightweight, velvety, and doesn't weight down a curl. It also features a dual-wiper system that allows you to either create defined lashes or add more volume. Best thing about it? It's flake-proof and smudge-proof!
The Flamingo Park collection features two mascaras: the Haute & Naughty Lash and Haute & Naughty Black.
Step 4: Colour Your Cheeks
If you're playing with colour, a good rule of thumb to note is to work around one major colour. Since there is already a pop of magenta on the eyes, opt for a more muted blush like What I Fancy. It's a soft bright apricot shade with a satin finish that gives your cheeks just the right pop of colour without drawing attention away from the eyes. Just be sure to apply this lightly, focusing on the apples of the cheeks and blending upwards towards the cheek bones.
The Flamingo Park collection consists of 6 blushes in a variety of finishes. Select from the following shades: Life's A Picnic hot reddish pink (satin), Pink Swoon (satin), Let's Be Friends (satin), What I Fancy (satin), This Could Be Fun (satin), and Spring Flock (satin).
Step 5: Pop On A Lippie
Since the look is already quite glowy, complete your #motd with a matte lipstick in an almost-nude shade, much like a my-lips-but-better shade like Please Me. It's a muted rosy-tinted pink that harmonises beautifully with the apricot blush.
The Flamingo Park collection consists of 7 lipsticks in a variety of finishes. Select from the following shades: Flocking Fabulous (cremesheen + pearl), Please Me (matte), Nice to Meet You (cremesheen), Be Silly (matte), Long Legged & Fabulous (cremesheen + pearl), Silly (matte), Saint Germain (amplified).

Step 6: A Dash Of Gloss
If you're not quite a fan of matte lips, bring dimension back to your pout with a light dab of Cremesheen Glass in the shade Sweet Tooth. It's warm mid-tone pink that complements the matte Please Me lipstick.
The Flamingo Park collection consists of 5 Cremesheen Glass shades to choose from: Such Sweeties, Look Who's Here!, Sweet Tooth, Petite Indulgence, and Playful Petal.
--------------------------
The MAC Flamingo Park collection is now available at all MAC counters in the Philippines