Presenting an elevated form of sentimentality and precious gift-ideas, it's no wonder that
PANDORA
captured everyone's attention. From trinkets and charms to rings and necklaces, jewelry collections from PANDORA are much anticipated not just by fashion enthusiasts but almost anyone who knows the brand.
This July, the Danish jewelry manufacturer and retailer held an event in Singapore to celebrate two new collections as well as a new chapter in their company's history.
Keep scrolling to find out the highlights during the event!
Lush and romantic atmosphere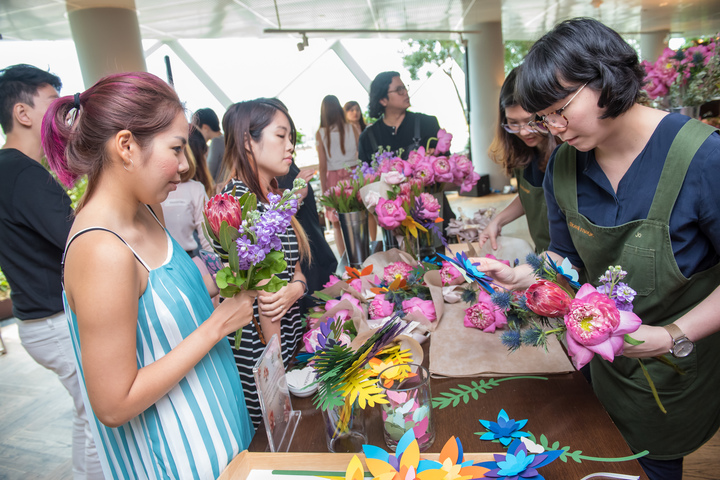 The delicate setup filled with stunningly arranged flowers at
Pollen
at
Gardens by the Bay
complemented PANDORA's romantic and carefully crafted jewelry pieces that exude a sense of sensuality and grace.
To complete the lush feel, a flower bar was also available to the guests, where they customised their own bespoke bouquet to take home, with a myriad of flowers to select from such as lotus, roses and blue thistles.
Collections to truly look forward to
Guests were presented with PANDORA's prevailing extensive
Ring Collection
hand-finished in sterling silver and 14k gold, together with the launch of PANDORA's
Summer Collection
. As an added visual treat, guests also had the chance to preview the
Autumn Collection
before its launch date in September.
To capture that perfect flat-lay image for Instagram, guests were also provided with specially curated props and PANDORA products to get that picture perfect image.
Charming personalities in attendance
The event was hosted by the amiable actress
Oon Shu An
, who brightened up the afternoon with her dynamic and lively personality while providing guests insight into PANDORA's jewelry collections. Model
Fiona Fussi
, along with actress and host
Liv Lo
also added their personality to the event, each showcasing their individual style through PANDORA's vast range of jewelry.
Toasting to a new chapter
The event also celebrated a new chapter of the company's history, with a formal announcement that
PANDORA Singapore
is now managed directly by the brand principal. Specially crafted cocktails and signature mocktails, each inspired by elements of flora and fauna, complemented the friendly conversations throughout the event.
Overall, it was an exhilarating experience for people who have the same passion for exquisite jewelry and unforgettable memories.
--------------------------
To find out more about the PANDORA Ring Collection and Summer Collection, visit
www.pandora.net
.