Embracing her feminine and masculine side, Kaye Morales is not your typical Filipino designer. She aspires to present the darkness as something enlightening, and the 'rocker chic' trend as sophisticated, sharing that her collections are her "badges of honesty, styled to proclaim [my] sexual identity and sexuality."

Listed as one the "17 Incredible Lesbian Pinays You Need To Know" by BuzzFeed, as an out and proud lesbian, Kaye made waves last November 2015 for her stunning Spring/Summer 2016 collection, titled "Rebel", at Philippine Fashion Week. It featured pieces with bright neon colours, silhouettes and structures of all shapes, and a ton of playful embellishments. But what truly caught everyone's eye during the show was her declaration, which was seen on the screen above the models as they walked: "I am coming out of the prison of judgment. And these are the things that make me who I am. This is my revolution of self. I am out and proud."

Now, fans, fashion lovers, and enthusiasts alike can't wait to see what revolutionary collection she will come out with next this Autumn/Winter 2016.
So if you want to learn everything there is to know about this talented designer, keep reading below as she talks about her humble beginnings as a fashion and production design student, her design aesthetics, and of course, how she plans to change the Philippine fashion industry one collection at a time!
Let's start by going back to the beginning. How did you first get into fashion?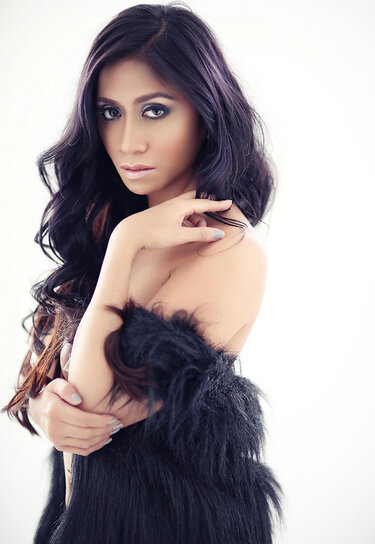 Ever since I was a kid, I already had this dream of dressing up celebrities and working in the movie industry. I remember that I always loved to draw cartoons when I was little, and whenever I played with my Barbies and toys, I would always dress them up with papers that I cut out and make them as their clothes.
So when I graduated high school, I took up Production Design first to learn more about the film industry. I remember back then that I created what I wore...I would deconstruct my clothes and accessorise my pants, clothes, and bags. Then I told my parents that I wanted to have my own clothing business someday but I needed to have a knowledge in fashion, and that's how it started.
How would you describe your brand's style? And how is this connected to your own personal style?

I am well known for catalysing a beautiful mélange of avant-garde gowns and off-the-rack pieces that exude a unique style statement. From the choice of colour to the texture of fabric, and the overall look, each element characterises my vision to present dark as enlightening, to overhaul the 'rocker chic' trend as sophisticated, and to transform odd concepts into something stunning and extraordinary.
KAYE MORALES
is for my made-to-order line for women and men, and my other brand
Schizo
is for my RTW line that caters to different personalities. I'm a Gemini and I think I have two personalities, which I also show with my two clothing lines.
Can you tell us more about your design aesthetic?

My designs are the stories of my life. Every collection blossoms from the untold history of my inspirations, personality, and emotions. I also get my inspirations from animals and geometric shapes. And lastly, weird things fascinate me!
How has your sexuality inspired your collections? Could you give us more insight into each one? Or specifically, what were your inspirations behind 'Rebel'?
(photo from Instagram/@kayemoralesintl)
I actually started doing menswear. My style has been always androgynous and has always been inspired by my personality and sexuality because I'm a lesbian. My creations are badges of honesty, styled to proclaim sexual identity and sexuality. They become the reds, blues, and greens of the spectrum of emotions and experience that I want to express. My 'Rebel' collection is about myself, my revolution of self – a statement that is grounded from the things that I love, pushed forth by the courage that I have mustered while living far too long in the darkness of expectations. 'Rebel' is about the things that make me who I am.
What do you hope to create with your designs and clothes?

I want my collection to be a voice for all the women and men who are from the LGBT community. I, as an LGBT advocate, want to show and make everyone know that even if I'm a lesbian, I can be good at my craft and I can become a successful entrepreneur and that being gay is okay. I'm also thinking and planning to create a collection of printed shirts for my community about freedom.
Can you give us a few details or teases for your upcoming A/W 16 collection?

I'm working on my collection right now, but I haven't started doing it yet. My collection for the next season is titled '
Disoriented
' and all the pieces will be wearable. It's edgy, deconstructed, androgynous, and streetwear.
What do you love about the fashion industry in the Philippines, and what are some of the things you would like to change about it?

I love the fashion industry in the Philippines because we have a lot of talented designers here in our country…But there are also some things that I want to change. I know we have a very competitive industry, but I just hope that they can also give chances to other designers, especially the new ones, to showcase their collections in fashion shows.
(photo from Instagram/@kayemoralesintl)
What type of mark do you hope to leave in the PH fashion industry?

[I hope that people will see] that even if I'm a girl, I can do menswear and I can cater to both [genders]. I mean, few women only do menswear and I'm one of them. It's just that I think I'm different from them because I'm a lesbian; and my view and taste for my menswear brand is more strong because of my sexuality. And being a lesbian designer is okay, and you can still achieve your dream because you're open about your sexuality, and people will love you more because you are true to them and to yourself.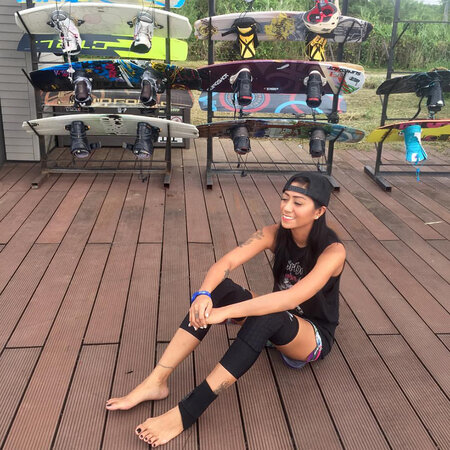 Do you have any advice for young and aspiring fashion designers?

My advice for young and aspiring fashion designers is to be unique and you should always have something new to offer. I always tell people that they have to really love what they do because this industry takes a lot out of you, and it's very competitive, and it will be painful if you don't enjoy your job. Learn more about the business side of fashion. Know your target market. Be realistic about the customers that you are designing for.
Lastly, do you have a message for all the people out there who are still struggling with their sexuality?
Being gay, it's far from a choice. It's how you were born. Regardless of your sexuality, be proud of who you are. Don't let people make you afraid to be who you are.
--------------------------
Click here to learn more about Kaye and check out her numerous stunning fashion collections!