Editor's note: We sent our ClozetteINSIDER Contributor Melissa Phang to try out Redken's new Blonde Idol In-salon Colour at The Hairshop at Paragon Shopping Center. Here's her Insider experience as she tried out the new Sombre hair trend!




--------------------------

To give myself a new look, I headed over to

The Hairshop Paragon

to try out the new

Redken Blonde Idol In-salon Colour

, which is the company's latest innovation when it comes to caring and colouring blonde tresses.

Before my appointment with Redken's Technical Hair Director Xiao Hui, I sent in some photos of my hair so that she could plan for the colour that would look the best on me. I'm not going to lie, I went into the salon expecting to come out looking like

Suki Waterhouse

with my new "Babylights".





Due to Singapore's hot weather doing no good to my hair and its colour, when I saw Xiao Hui my roots were already showing, and my hair looked unhealthy, yellowed, and frizzy. It looked nothing like the ash brown I had originally dyed it with!

As a graduate of the
Toni & Guy Hair School
and as a Technical Hair Director for 10 years, Xiao Hui earned my trust immediately! She knew I was in the Sales & Marketing business so she decided to give me a subtler colour change by incoporating the latest hair trend: the 'Sombré'.
A Sombré is basically a "soft ombré", just as popular as balayage. But Xiao Hui decided that a Sombré would be easier to manage once my roots grow out.
To achieve the Sombré look, she divided my hair into four major sections -- the top fringe, left, right, and back sections. Xiao Hui then went in and applied a mocha brown L'Oréal Cool Cover dye over my roots.
After going in with about 3 inches of the mocha colour, she then blended a mix of Titatnum .12 and Blue .1 of the Redken Blonde Idol In-salon Colour for the rest of my hair.
Next, she applied the Redken Blonde Idol Colours mixture in sections, dividing each one with foil. If you've always wondered why salons use foil, it's because it prevents colours from smudging, and it allows easier application and blending of the shades.
To finish the colouring process, she stretched out the darker colour at the top section of my hair, and I was left to let the colour sit in for 20 minutes.
While waiting, I had fun reading the Blonde Idol Range; being fascinated by the different dye techniques illustrated in the book and how the 12 different colours in the Blond Idol Range have different effects on the hair.
20 minutes later, my hair had absorbed the colour very well and I was ushered to their washing basin to have it washed off and have my hair conditioned. Xiao Hui's teammate then gave me a blow dry, which never fails to make me feel like a superstar!
Then
voilà
, my new hair is done! It wasn't blonde, but I absolutely loved what Xiao Hui did to my hair – the titanium and the blue tones of the Blonde Idol In-salon Colour neutralised the yellow and copper tones. And since I change my hair parting from time to time, Xiao Hui made the top part darker to make the shade more versatile when I want to achieve a different look! Such a genius idea!
Through my experience, the Blonde Idol range proves that not only does it allow you to lighten your hair without bleaching it, it's also great for neutralising copper shades and refining your hair's undertones to achieve the ashy colour you want!
It's almost been three weeks, and I've never loved my hair more! My hair colour is just the way I want it to be, and despite it being a bright colour, it looks healthy and shiny, with a subtle dimension as if I had highlights done in my hair, and I never have to worry about my colour going awry as the Blonde Idol shades will never look brassy!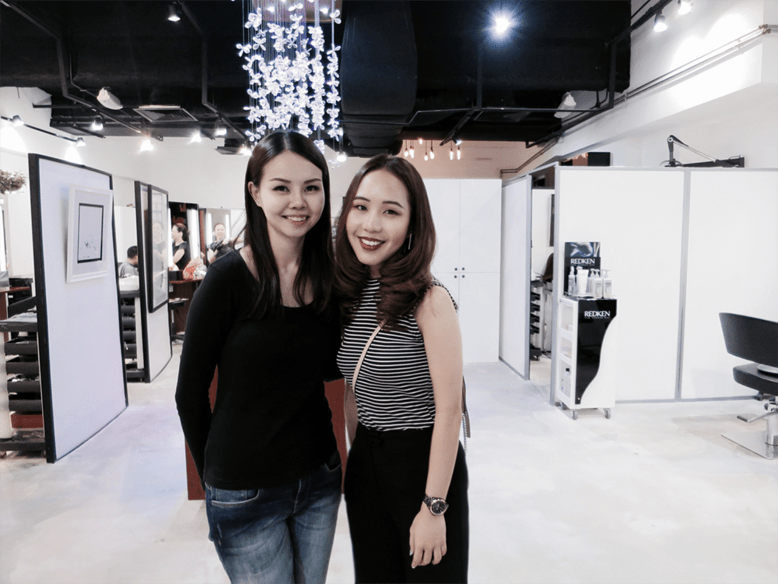 I thoroughly enjoyed creating a unique #MyKindofBlonde with Xiao Hui at The Hairshop. So if you'd like to achieve your kind of blonde, give Xiao Hui a visit at
The Hairshop at Paragon Shopping Centre
or find your nearest
Redken
salon!
--------------------------
What kind of blonde will you be? Share it with us in the comments below!