When browsing through our favourite fashion e-commerce sites, it's inevitable that something will catch our eye. And we're not just talking about the fabulous clothes. Sometimes, it's the model's beauty looks that make us do a double-take. Unlike the grand runway makeup trends — make no mistake we love them, too! — these ladies wear a much more achievable look that's fit for everyday life. In other words, they're way more practical than overdrawn eyeliners or lids sprinkled with glitters. Plus, they're also easy enough to copy. Here's how to do it.
Look 1: No-makeup makeup from POMELO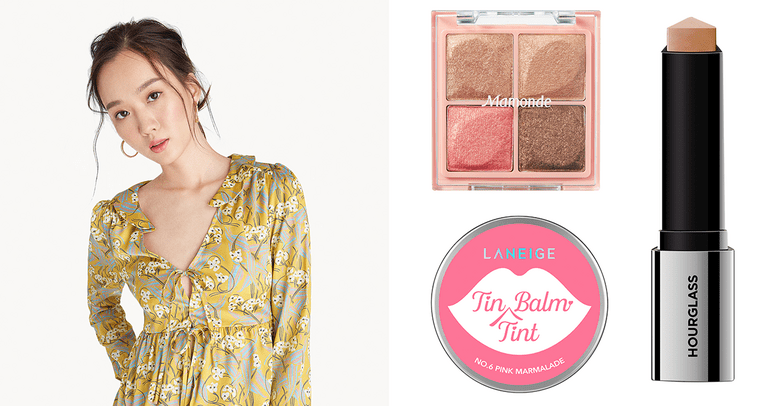 Front bow tie floral blouse (pomelofashion.com), SGD44/~USD32.21; Mamonde Flower Pop Blusher in No.2 Rosy, SGD24/~USD17.54; LANEIGE Tin Tint Lip Balm, SGD26/~USD19; Hourglass Vanish Flash Highlighting Stick in Champagne Flash, SGD66/~USD48.23
We all love that subtle uplifting aura that a well done no-makeup makeup look gives. The key to mastering this classic beauty trend is to work with only a few products. For the eyes, use only two to four shades. Apply shimmer eyeshadow on your lid to highlight your lids then choose a darker shadow for the crease to define your eyes. Next, pick a lip tint or a tinted balm for a hint of colour on your lips. Finally, finish the look with a swipe of glowy highlighter, preferably one with a creamy texture for a dewy effect.
Look 2: Minimal sultry makeup from Society A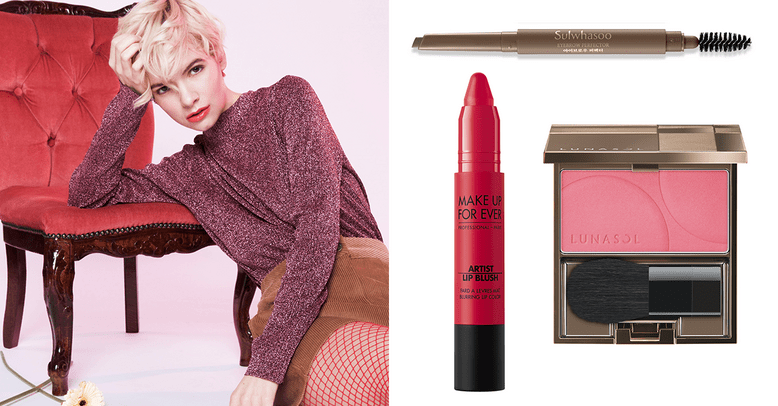 Angie Ann Pink glitter top (society-a.com), SGD159/~USD116.20; Sulwhasoo Eyebrow Perfector, SGD26/~USD19; Make Up For Ever Artist Lip Blush in Blooming Red, MYR93; Lunasol Coloring Sheer Cheeks in Light pink, SGD39/~USD28.50


There's a way to create a bold, sultry look without going over the top. To create this, you have to make your lips the main focus and keep the blush and eyeshadow minimal. Pick a bright colour for your lips like cherry red or vibrant orange. Make sure to keep your brows defined to achieve that nice, polished look.