It's that time of the year again, folks. Halloween is just around the corner. And while it's not a widely celebrated holiday on our side of the world, we can't help but be excited by it because it's just bursting with fun and creativity. Of course, we love the dressing up part but we're also so in awe of the looks people can create through makeup. That's exactly why the looks Shania Evelyn shared in the Community immediately tickled our fancy. So we just had to ask her about her inspirations and how she comes up with amazing looks. Read on.
What made you get into makeup? Did you have formal training?
I started doing makeup as any teen would because I just wanted to look better or 'grow up', and slowly it became a hobby and developed into an art form that I was interested in. At first, I learnt everything through watching my mum or family members when they were putting on their makeup, then I started watching YouTube tutorials to learn more. In March 2018, I enrolled in Cosmoprof Academy and got my Diploma in Professional Makeup Artistry.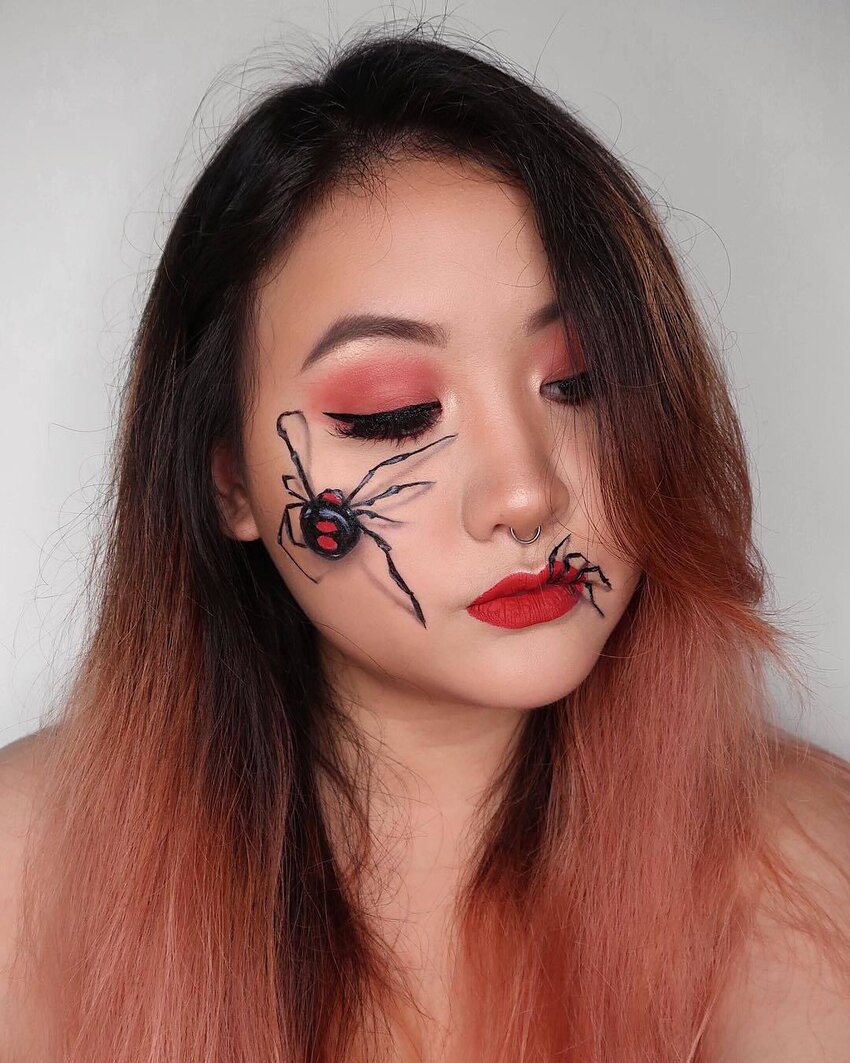 What made you get into Halloween looks?
Halloween is probably one of my favourite holidays besides Christmas. And I always see Instagram posts or YouTube tutorials on Halloween looks, so last year I decided to give it a go. I fell in love with special effects ever since then.
What's your favourite horror film?
This is a tough question considering I watch a ton of horror films... I think it probably has to be
Halloween
(1978) or
The Shining
. A more refine horror film that I really liked was
A Quiet Place
.
Where do you get inspiration for the looks you make?
Mainly from other creators on Instagram like
@karolinagriciute
. Recently, after seeing a picture of a makeup look that had 3D spiders and spider legs, I decided to try it out too. Then I figured out what my theme for my Halloween looks would be this year which is phobias, hence the arachnophobia look that I did and my trypophobia look as well.
What's your process when it comes to creating makeup looks?

I usually do some research first and see what products I need to use for the look. Then I'll practice it and make sure I know the technique so I don't have to redo it if I mess up. I think it's all about planning the look beforehand so you know exactly what the look will be like.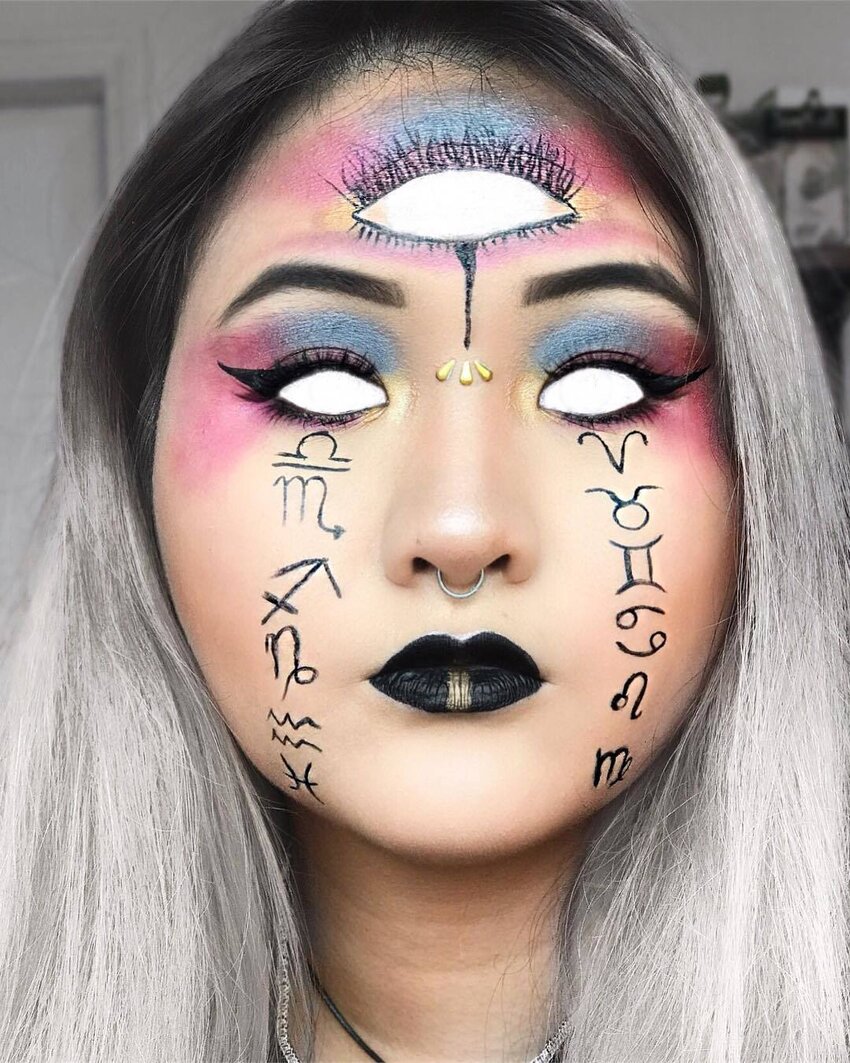 What can you say are the essentials for creating a Halloween makeup look?
Probably lots of patience, some looks can take about three to four hours if you're doing special effects, so you gotta be patient enough to wait and make sure all the details are perfect. And also the freedom to be creative and express yourself through makeup.
If someone doesn't have access to special effects makeup and only have the basics (or if they're not too skilled at makeup), what kind of Halloween look can they make?

There are tons of simple Halloween makeup designs out there. For example, a Halloween skull look can be done with black and white face paint, and some grey or black eyeshadow. A pop art Halloween look can be done with liquid lipsticks and eyeshadow. And a clown Halloween look can be done with face paint and eyeshadow as well. Face paints are easily accessible at a Halloween store or Artfriend.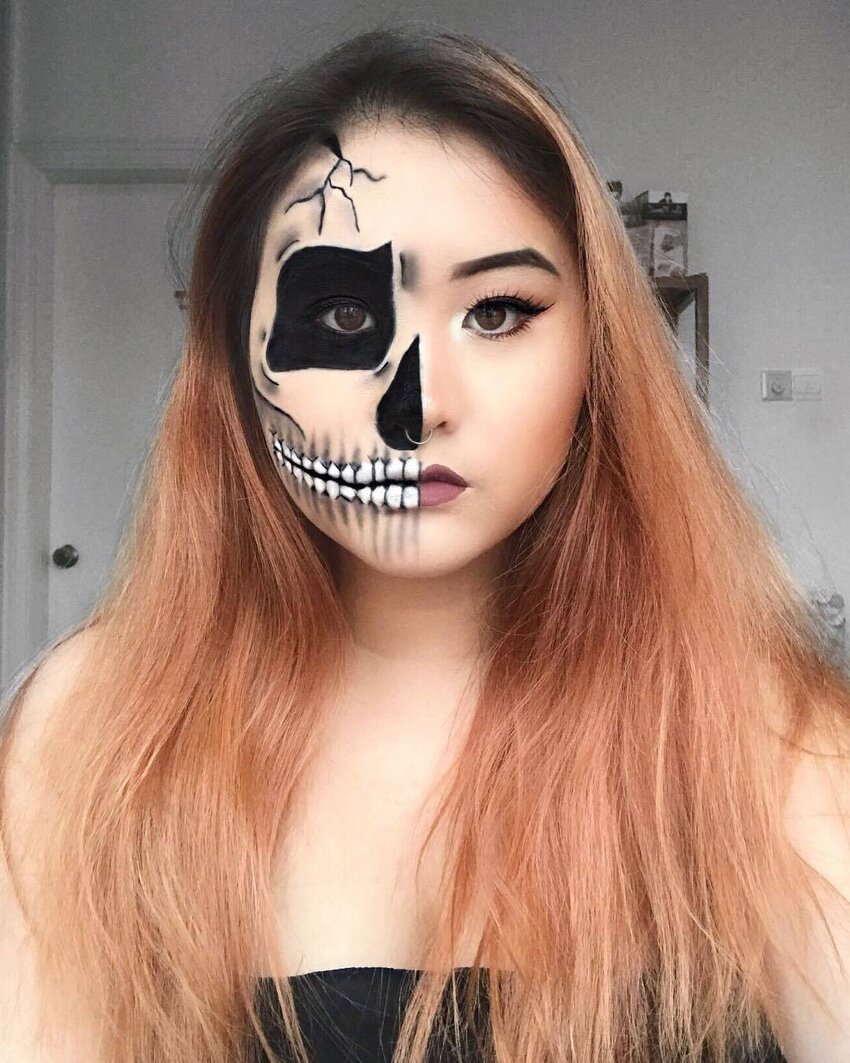 What are your makeup kit must-haves?
I can't live without false lashes; I feel like a different person before and after putting them on, haha. I also really love pink- and berry-toned eyeshadows; those colours really suit everyone and just add colour to your face. I would list everything that's a must have but that'll be naming all the things in my makeup kit.
Who or what are you going for this Halloween?

For now, I don't have any plans to dress up but if I were going somewhere I'd wanna dress up as a she-devil in all red. I'd probably pair that with a red lip and a smokey eye to give off that 'evil' effect.
Check out more of Shania Evelyn's looks here.