Mattes are great for your base makeup when it comes to summer, but with the sun in its full effect this season, we say change things up a bit.
Balance your mattes with some sparkle and glow for a healthier and more natural look. If you're afraid to pack on some glow and use glittery bronzers that might make you look oily than healthy, we've got the perfect look to try: shimmer on your lids.
Adding some sparkle to your peepers gives an extra pop to your summer look when the sunlight hits your face, without looking too over-the-top — as long as you do it right. So if you want to learn how to ace this trend without looking tacky, keep on reading as we share some of our favourite ways on how to wear sparkly eyeshadow for the summer.
Romantic pinks
(Photo from: Left - Perinsidhu, Right - Chanel.com)
Smoking out your typical nude summer colours like browns and soft oranges frames your eyes nicely. But if you want a hint of boldness to your overall look, mix in the beautiful pink and peach shades of the Chanel Les 4 Ombres Palette in Spice on the center of your lids and inner corners for a more romantic and feminine vibe.
Sunset vibes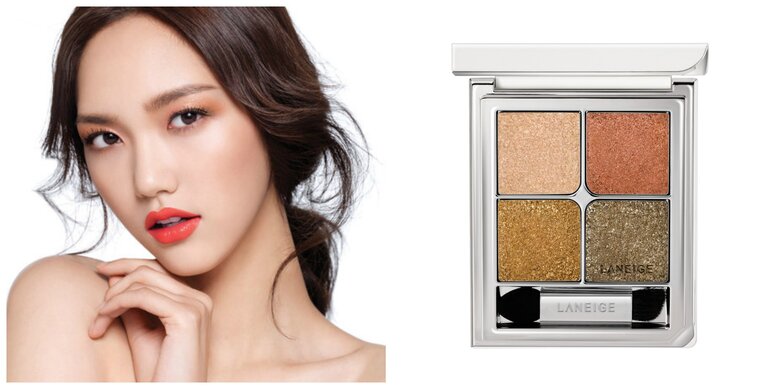 Look no further for inspiration than beautiful dusk colours for your eye makeup. This vibrant look created using the Laneige Ideal Shadow Quad in No. 8 All Shook Up gives all the summer vibes with its combination of all glitter shadows in beautiful shades of coral, orange, gold, and taupe, that can either be worn alone or all together for the perfect bright and sunny summer eye look.