(cover photo from Vanessaxlim)

This feature was contributed by the team behind WhereTwo, an app where you can find great places and events to enjoy with your date. Download it HERE.
Going overseas with your other half for a getaway sounds like the perfect idea these days, but what if you've no time or don't have the budget to travel out of Singapore? If you think that Singapore's small and you've been to most of the places – think again!
Specialising in recommending date places
, the WhereTwo team presents you a series of date itineraries each centered around a particular area of Singapore, covering places from cafes to entertainment to activities. The best part is that the places recommended for you are all nearby, so you don't have to spend time going out of the way to another date spot. Save time planning, save time traveling, and most importantly, save yourself from just having dates at the same few cafes!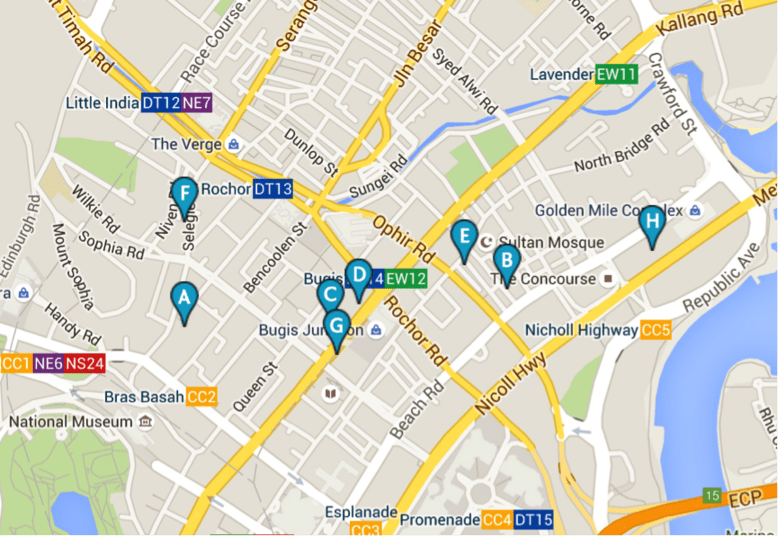 --------------------------

Brunch
A) Curious Palette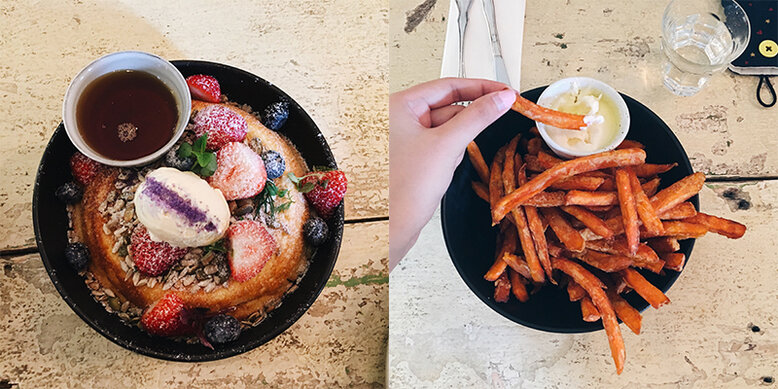 Hotcake lovers will know this place! A minimalistic café tucked away at a corner of Prinsep Street, Curious Palette is well-loved by many for its signature Berry Ricotta Hotcake. If you usually order Eggs Benedict or Big Breakfasts for brunch, you might want to try something different by having the hotcake! The portion is great for sharing between two – so that you save your appetite for other sides such as spam fries, truffle fries or stuffed nachos. If you fancy savoury dishes, their soft shell crab burger makes a great choice too!
Bonus points for the ambience and vibes too – but be prepared that it could get quite crowded on weekends.
Address: 64 Prinsep Street, Singapore 188667
Opening hours: Mon 9am – 10pm, Wed-Thurs 9am – 10pm, Fri-Sat 9am-12am, Sun 9am – 10pm
Budget for two: ~ $20 – $50
B) Working Title Café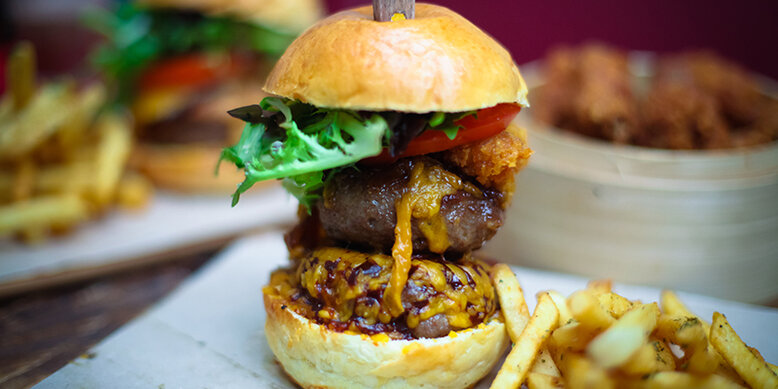 (photo from Working Title Caf

é

)
If you want to start your day with a slightly heavier lunch, Working Title café serves just the right burger combinations (and good coffee!). Made with halal ingredients, their signature gourmet burgers include Darkwing Duck Burger, Holy Guacamole Burger and The Working Title Tower of Power. For desserts, the Earl Grey Ice-cream Sandwich seems to be quite a hit among the regular patrons!
Address: 48 Arab Street, Singapore 199745
Opening hours: Weekdays 11am – 10pm, Weekends 10am – 11pm
Budget for two: ~ $20 – $50
Afternoon Activity
Pet Cafés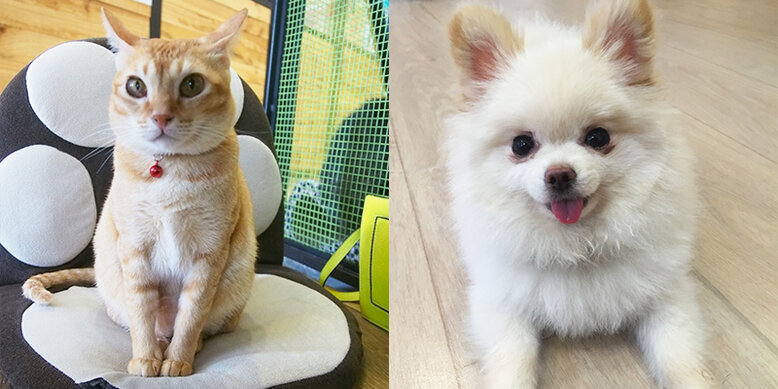 Around Bugis, there are a few pet cafes where you can visit for some company from the furry friends. Some of these cafes serve light bites and drinks while you interact with the friendly resident pets. Relax and unwind as you get surrounded by these adorable creatures – remember to be gentle with them though! Well, even if you're not a dog or cat lover, this experience allows you to open up to them and we'd bet with you will be a fan of them after! For dog cafés, there's We are the Furballs and for cat cafes, there's Meomi Cat Café and The Cat Café.
C) We are the Furballs
Address: 201 Victoria Street, #07-07 Bugis+, Singapore 188067
Opening hours: Mon-Thurs 1pm – 10pm, Fri-Sat 12.30pm – 10.30pm, Sun 1pm – 10pm
Budget for two: ~ $20
D) The Cat Café
Address: 241B Victoria Street, Singapore 188030
Opening hours: Mon 3pm – 10pm, Tues-Sun 10am – 10pm
Budget for two: ~ $30
E) Meomi Cat Café
Address: 668 North Bridge Road, Singapore 188801
Opening hours: Mon-Sun 11am – 10pm
Budget for two: ~ $30
F) Cups N Canvas
Feeling a little creative and artistic that day? Impress your date by showing off your painting skills using watercolour, acrylic or oil paints! Their painting sessions are available at different time slots – you can choose to join a weekday art jamming session, or you can join a weekend art painting session with an experienced tutor provided for guidance purposes. Each session also comes with a complimentary beverage and snack per pax, so rest assured that you can channel your inner artist with a happy stomach!
And of course, the completed artpieces are yours to take home!
Address: 139 Selegie Road, Singapore 188309
Opening hours: Mon-Thurs 11am – 10pm, Fri 11am – 11pm, Sat 9am – 11pm, Sun 9am – 10pm
Budget for two: ~ $100
Dinner
G) Platypus Kitchen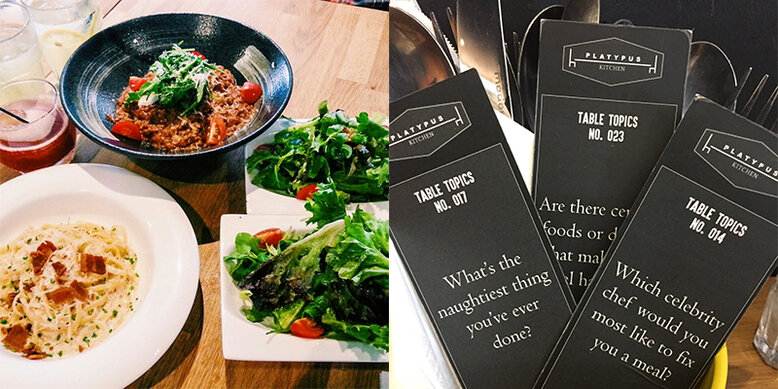 Inspired by the Mediterranean Sea, Platypus Kitchen serves a unique selection of fresh pastas and gourmet risottos using specialty sourced ingredients and fresh herbs. The ingredients used in the dishes are also mostly organic. For pasta lovers, you might want to try out their all-time favourite Truffle Carbonara and Spicy Diablo Crab & Prawns. Besides pastas, they also have other favourites such as the the Crustacean Bowl (filled with chunks of lobster meat with ponzu sauce!), Ribeye & Truffle Gourmet Rice Bowl, Salmon Ikura Bowl, and finally, not forgetting their Platypus Lobster Roll!
Try to make reservations if you're heading over during dinner time to avoid the queue. Overall, the quality of food and ambience of the place are definitely worth the price paid – great place for couples to dine in!
Address: 200 Victoria Street, #01-90 Bugis Junction, Singapore 188021
Opening hours: Daily 11:30am - 5:30pm (Lunch), Sun-Thurs 5.30pm – 10.30pm (Dinner), Fri-Sat 5.30pm – 11.30pm (Dinner)
Budget for two: ~ $30 – 60
Entertainment
H) The Projector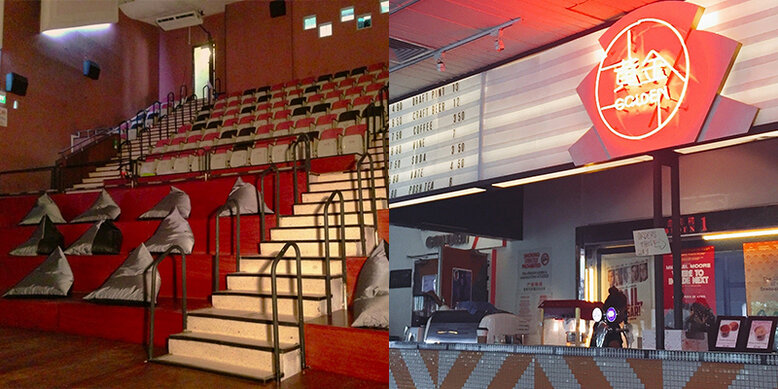 For the last activity of the day, you can book and catch a show together at The Projector. The Projector is not your average cineplex – Located on the 5th floor of Golden Mile Tower, it is an independent theatre which screens an interesting selection of films, one-of-a-kind events, versatile spaces and delectable fare. Film genres include indie, classics, arthouse, retrospectives and more. The Green Room, a single screen classic cinema hall with 230 seats, is the main screening hall. Some of you might also be thinking about the snacks that you can enjoy there – Fret not as they have a bar at the foyer which serves light bites such as popcorn, coffee, draft beer and a hybrid menu such as salted-egg yolk fries and kaya scones!
Do note that different films have varying time slots, so check out their website for the full list of shows available and their respective timings before you make a trip there.
Address: 6001 Beach Road, #05-00, Golden Mile Tower, Singapore 199589
Opening hours: Tues-Fri 6pm – 11:30pm, Sat-Sun 1pm – 11:30pm
Budget for two: ~ $30
Staycation, maybe?
For those who think feel like pampering yourselves, you might also want consider booking a staycation at nearby hotels such as
Hotel Nuve
,
Hotel Boss
, or
BIG Hotel
. We say that should mark a perfect end to the day trip!