We're no strangers to starting each day with our makeup on fleek, only for our faces to turn into living, breathing oil slicks by midday no thanks to the hot, humid weather we deal with on a regular basis. With the hectic city lifestyles many of us lead these days, we also face a common problem — exhaustion. Be it as students, professionals, mums, or a combination of some or all of these roles, we often find ourselves feeling stressed, having late nights, and definitely not getting the ideal eight hours of sleep a night.
How then can we achieve that effortless, naturally flawless look that does not diminish when lunchtime comes around? Since time immemorial, beauty enthusiasts like us have tried just about every makeup and skincare trend with varying results in hopes of finding more effective solutions. Shannon Pirie Charles, Vice President of Global Education at IT Cosmetics, has been there. So she shared her very own tips and advice with us.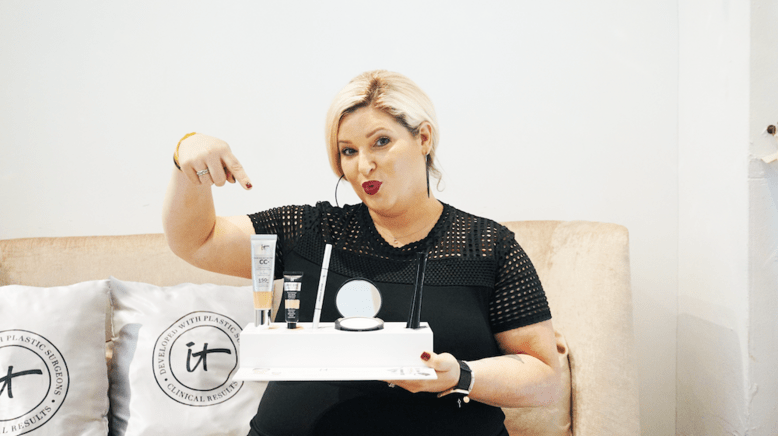 Shannon Pirie Charles, Vice President of Global Education at IT Cosmetics
Living and dealing with heat and humidity
Shannon recalls the first time she came to Singapore, and how she did not know what to do back then because she'd never had to cope with warm, humid weather before. But this time around, she is much better prepared.
"You have to set your makeup," she said. However, Shannon cautioned against talc-based powders. While talc keeps the excess shine off your face, in the presence of humid air, it also wicks away moisture from your skin causing makeup to crease and crack, which can make you look older. She recommends using a talc-free powder that won't dry out your skin — like IT Cosmetics' Bye Bye Pores, which contains skin-loving ingredients such as anti-ageing silk, hydrolysed collagen, antioxidants, and peptides.
Keeping signs of fatigue away from your face
"Undereyes," said Shannon without missing a beat, when asked about the number one giveaway that someone is exhausted. "I think eyes are windows to the soul, and the people around you will often make eye contact with you, so when your under eyes are tired and you're not using an eye cream or you've applied a mad heavy concealer, it can make you look exhausted."
To combat dark eye circles and bags, Shannon cannot stress enough the importance of staying well-moisturised by using a good eye cream. Apart from the under eyes, exhaustion usually shows up on the skin in the form of fine lines, wrinkles, hyperpigmentation, and acne as a result of a weakened skin barrier. So using skincare products containing ceramides will help strengthen that barrier and help other ingredients work better on your skin. Of course, combating fatigue should not be merely a skin-deep undertaking. It's also important to drink plenty of water in order to keep skin supple and hydrated for that a lit-from-within glow.