Knitwear is not exactly an all-year-round choice for people in tropical countries. But the innovative minds of PH5 founder and Deloitte veteran Wei Lin, and Parsons-trained, award-winning designer, Mijia Zhang, prove that when art meets science, anything can be made versatile, functional, and definitely stylish.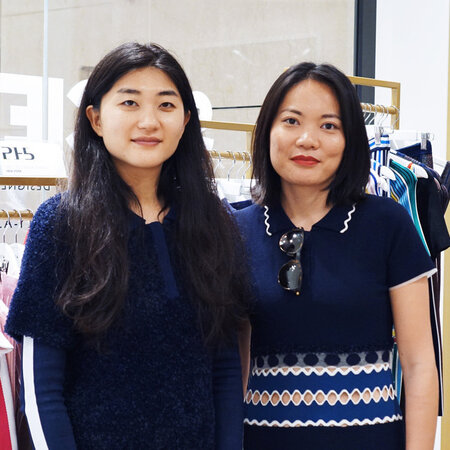 Named after a neutral pH value, PH5, which is currently retailing at SocietyA is the only knit-driven brand in the contemporary market. With their access to high-tech knitwear machines — with Lin's family history of being a knitwear manufacturer that had Vera Wang and Philip Lim as clients and Zhang's experience interning for Christopher Kane and her stint as Nike's colour designer — the brand boasts its high-tech performance fabrics turned into impeccable gender-neutral clothing with a slight feminine touch.

We sat down with the business brain and the creative behind this interesting line and learnt more about finding confidence in colour, misconceptions about knitwear, and striking the perfect balance in your personal style.
The business of fashion — what is the number one challenge for a label to make it?

Wei Lin: "[Definitely] sales. And you also struggle a lot with the balance of editorial and commercial. Actually, we'll go back to the season's inspirations — the season inspired by artificial flowers — and we got this inspiration from the artist called [Charles] Marklin. [When we say] artificial flowers, they are not like fake or man-made flowers per se but how nature is all fake anyway because man manipulates nature; we do flower bouquets, we put flowers together, we never allow [them] to grow together in [their] natural environment. And it's this thing of what's fake and what's real, and what's real creativity and as a designer. Are we really designing something that's coming from within or do we always have to listen to the market and do it for sales?"
"That's our number one struggle but it's not just us. I'm sure Gucci, Balenciaga, CHANEL — everybody struggles about that. And we're lucky because [one of our pieces] is actually a best-seller in the States for us and it's the most editorial piece from this season."


How do you want women to feel when wearing your clothes?
Wei Lin: "First, we want to make them feel comfortable in wearing our clothes, but [they] should also feel comfortable wearing colours. Like [be] people's centre of attention but not on purpose — more like effortless style. It's comfortable being in colours."
Mijia: "For us it's a lot of graphics and patterns."
One thing that people worry about knits is that they have the tendency to stretch over time. What are your thoughts on that?



Mijia: "Yes, knits will stretch but you put [our pieces] in the washing machine and it pops right back. Everything here is machine washable and dryable."
Are there any limitations when combining creative design along with the technicality of the pieces?
Wei Lin: "Yeah, definitely. Especially for knitwear, when you put in a lot of colour [in the design], that's the challenge. Because the more colour you bring, the machine has to handle more yarn. From a technical perspective, it's very difficult to produce and the more colour you use will create a heavier weight. And of course, we want the piece to be very wearable, to be light, to be comfortable, to be breathable. So that's a big challenge for us. "
Mijia: "Another problem for us is that knit looks really flat on hangers. So it's something that we struggle with in terms of presentation. It's only when you wear it that it will really show how it looks but on a hanger, it just drapes and looks flat so that's something that we struggle [with]."
In the About page of the brand's website, it reads that if "seven represented androgynous unisex labels and one represented the extreme feminine or sexy brands, PH5 would be a brand that's leaning more towards the edgier side while keeping a touch of femininity." Which famous personality would carry the brand well, and why?
Mijia: "[Fashion personality] @susiebubble. We really like her style [because] it's really playful and she doesn't really care about being a certain way. It's very playful and she mixes and matches a lot of styles. I think that's very 'our girl'. Just very interesting, playful, and whimsical."

Social media has revolutionised the fashion industry. What is your take on that?
Wei Lin:
"It's [both] a great opportunity and a challenge because it used to be about big brands with a big budget on marketing. But now, because you have Instagram and it's a very fair platform, if you have a cool product or you have a cool appearance of the brand, people are going to recognise you. So it's good and I think our next step is to focus on social media strategy. Social media gives small brands like us a voice that used to cost millions to put on advertisement."
Last but not the least, there is a notion that knitwear can seem unflattering. What are your tips on styling them?
Wei Lin: "I think we also do very loose-fitting dresses. We try to find those interesting yarns where they are puffier, they give you like a loose fit for some styles. We don't just make one type. Even within PH5, each one has a different silhouette. We use different yarns, different stitches, there's so much to it other than the conventional body-hugging pieces."
"And when I talk to people, I always get surprised that we have a distribution in Singapore because Singapore's a tropical city and we're a knitwear brand. Like it doesn't really work. Knitwear should never be in Singapore. But the fact of the matter is that we're not a conventional knitwear brand and knitwear's great for tropical places like Singapore exactly because it's knit. Because the holes are bigger in the weaves. Scientifically speaking it might be better for the climate."
Mijia: "We saw a lot of plus-size models in the States who have 4 million followers on Instagram. But for us [in Asia] I think there's still this issue with women where there's this thing when we look in a mirror and we [focus on] our flaws. Meanwhile, men look in the mirror and are like 'I'm so good looking, I'm the best-looking person.'

I think it's always something we have to fight against. Knits show curves, what's wrong with that? I mean look at the Kardashians! Look at Rihanna! We shouldn't be afraid to show curves. "
This interview was edited for brevity and clarity.
Check out PH5's Spring/Summer 2018 Collection at Society-A.