It's runway season and our news and social feeds are once again filled with photos of glamorous collections from well-known designers and labels. But behind the shining lights and the polished modelling ramps, stories from people who actually put their heart and soul into creating artful pieces expressed in fabric have always been the most exciting.
So when we got the opportunity to take a peek at Manila Fashion Fest F/W '17's backstage and had a quick chat with designer Brit Tripudio, we learned more about the truths, inspirations, and even the raw beauty of this cut-throat industry.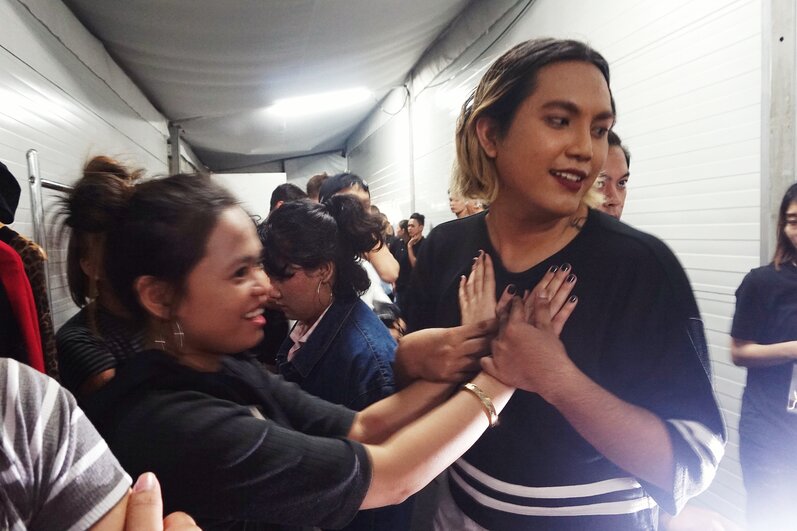 Brit [right] backstage at the Manila Fashion Fest F/W 2017 show
Brit shares that his passion for fashion started when he was around six years old. He was watching Fashion TV, which led him to his first fashion show viewing experience. Roberto Cavalli's collection and how the dresses and garments move on the runway captivated him. Being an 'artsy' kid, he shared that while his friends were sketching or painting sceneries, he was designing clothes and sketching anime. "I was a total nerd back then — well, until now!" he said, laughing.

When asked about making this simple hobby into a career, he was quick to share that it was not so easy in the beginning. "I've been wanting to study fashion back in 2007 but I didn't get the chance. In 2010, I was almost finished with my term in college, but something was missing and it dawned on me that I needed to quit this before I turn 21. I needed to get into a fashion school," he said. "So I immediately dropped out and enrolled myself at the Fashion Institute of the Philippines. And it all started there. I won the designer of the year at the FIP GRADSHOW 2015, got an invitation from Manila Fashion Fest and the rest was history."

"There were many risks," he continued. "But they were all worth it. Looking back, the major risk I've probably ever taken was dropping out of college. I say never do it unless you're not happy. My mum was really disappointed [with me when that happened,] like, she can't face me. It was a long four years full of resentments and anguish, but when I finally got my success, she ended up being so proud of me. That's why until now I consider every opportunity as a blessing and I don't let them go unless I know it really isn't for me."
Brit also shared that if he were to summarise his own personality in style in three words, it would be colourful, unique, and experimental — all of which are manifest wholeheartedly in his designs.

But the highlight of it all was the actual experience of meeting him backstage. He was friendly and had a fun vibe to him despite — as he puts it — being in a state of anxiety. He confessed that the feeling of nervousness will never truly go away no matter how many shows you've been in.

His analogy is something we can all relate to. "We've all gone to an oral defense of our theses and the fashion show is like the last part of your thesis. You do research for your case study, in my case I went to Tokyo for cultural study and all, and there's the oral defense where the college dean is in front of you with the other professors and they interrogate you about your research. It's similar to the fashion show audience where there are fashion editors, buyers, etc."
But then it's time to get to the heart of the conversation. When asked about the 'raw' and 'real' side of fashion and being a designer, he became more ecstatic.

"Finally! I love this question the most," he exclaimed. "Being a designer isn't that classy, glamorous or fabulous in my opinion as a neophyte. You really have to market yourself or your brand and if you don't have a sewer or pattern-drafter, you're dead. That's why I learnt [how to do] it all because I'm afraid of depending [on other people] and losing. I trained myself to do it all and some think it's impossible but I say 'no'. Clear dedication and hard work will always pay off. Effort lang, mga bes*!"
Last but not the least, his advice for anybody who wants to get into this tough and often misunderstood industry is also a great thing to remember for our own lives in general.
He said, "Be yourself! If you know that right now is the right time, then do it. Pick a mentor. Take on different perspectives from people who are in the industry and who are not in it but know it well. Don't be afraid to ask more. The more you ask, the more you will know. The fashion industry in the Philippines isn't intimidating as one might think, but it is full of 'plastic' people. So put on your game face on because it's going to be one heck of a ride."


*Filipino slang for 'besties'






Need more doses of fashion inspiration? Learn about Lay Peng's fashion endeavours here.