The 1970's made a huge comeback this year, ending the reign of skinny jeans, as well as allowing more people to rock Coachella-esque outfits, outside of Coachella. Turtle necks, flared pants, suede in everything, these are just some of the trends that every one is rocking right now.
Wearing these in warm weather, or in a tropical country, is easier said than done. We don't have four seasons, our air is extremely humid, and it's just not practical for us. But we know that won't stop us. And there are always ways to tailor fashion trends to one's needs.
So if you come from a tropical country, or it's not just fall/winter in your area right now, here are five ways you can rock the 70's trend without breaking a sweat!
--------------------------
Go Bohemian Chic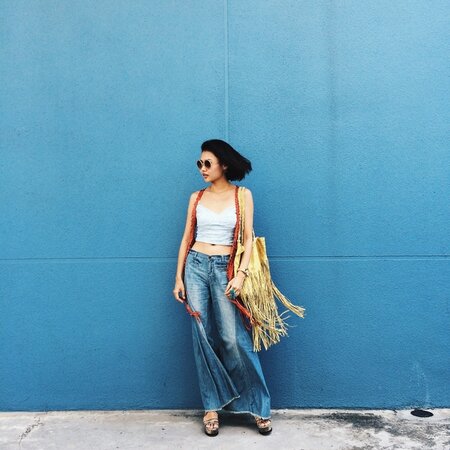 (photo from CocoMercy)
The 1970's hippie culture was all about natural makeup (or no makeup at all) with light clothing and flowers. Today, there's a reason people sport this look at music festivals during the summer — it's because they're comfortable and fashionable!
So, if the temps in your area are 25 degrees and above, things you can rock to bring out your inner flower child are platform sandals, disheveled hair, maxi dresses and skirts, rugged flared jeans, crop tops, and gorgeous shades, and you will look like you just stepped off of a time machine!
Rock Denim Skirts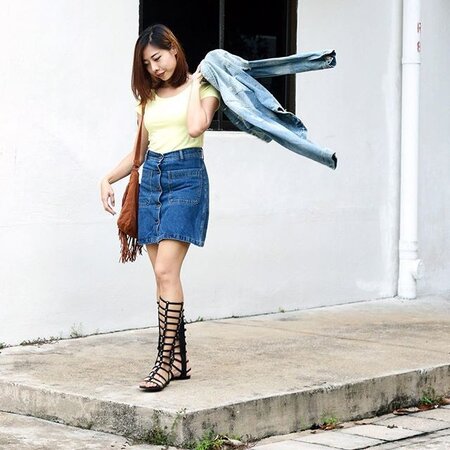 (photo from Everestsays)
Some may argue that this was a 1990's or 2000's thing, but they're wrong. Denim skirts all began in the disco age. These are perfect for warm weather, no matter how short or long they are because they won't hug your legs like skinny jeans, and they don't retain heat like leather or cashmere.
Rock a gorgeous denim mini paired with a crop top and sandals, and you have the perfect throwback OOTD that can be dressed up or down!
Opt For Suede Bags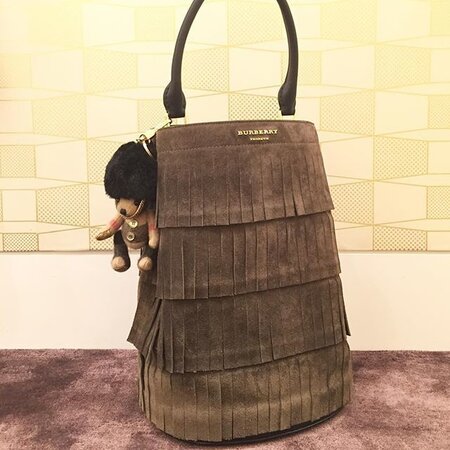 (photo from StilettoesDiva)
With possibly every item of clothing being turning into suede, it's easy to fall into this leathery madness. Suede is a type of leather that was very popular during the 70's, but it's just not warm weather appropriate! Not only will it retain heat in your body, but if you begin to sweat, stains are bound to happen that will be hard to get off.
So if you don't want messy and disgusting sweat stains on your good leather pieces, a suede bag is the way to go. Numerous brands are coming out with them now from wallets to satchels! These leather purses can be worn with any outfit, making it a closet staple for many seasons to come.
Strut In Platforms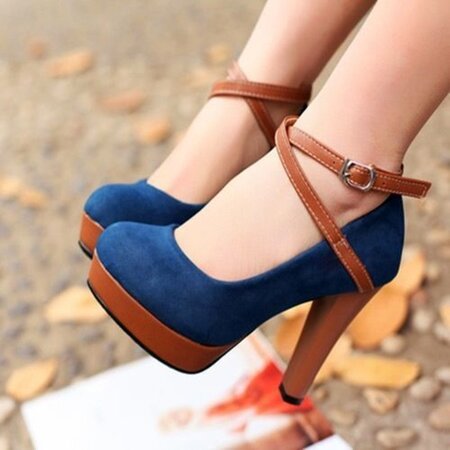 (photo from RebeeMira)
Boots were the star of the 70's, but really? Wearing boots in warm weather is a little ridiculous. Luckily, you can still chuck away your stilettos and wedges because it's all about the platforms now. These thick cut, killer heels will add an insane amount of height to your look, and it won't hurt your feet as much! — the thicker heel will be able to distribute your weight on your feet more, instead of just concentrating on one area. These shoes come in array of designs and finishes that will perfectly match any outfit under the Sun.
Throwback With High Collar Dresses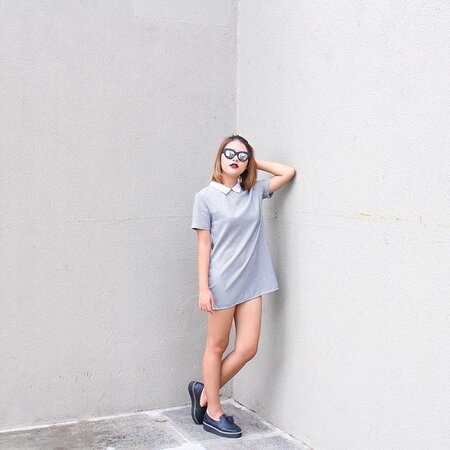 (photo from fayebalogo)
Taking inspiration from the 1960's with its A-line structure, high collared dresses are perfect for tropical countries because of its breathability and the fact that it won't choke you like a turtle neck would. These fabulous dresses can be taken from day to night with a change of shoes and they're very easy to pair with as most come in neutral colours such as nude, black, and maroon!
--------------------------
Got any more tips and tricks for rocking the 70's trend in warm weather? Let us know in the comment section below!