The 1970's made a huge comeback this year, ending the reign of skinny jeans, as well as allowing more people to rock Coachella-esque outfits, outside of Coachella. Turtle necks, flared pants, suede in everything, these are just some of the trends that every one is rocking right now.
Wearing these in warm weather, or in a tropical country, is easier said than done. We don't have four seasons, our air is extremely humid, and it's just not practical for us. But we know that won't stop us. And there are always ways to tailor fashion trends to one's needs.
So if you come from a tropical country, or it's not just fall/winter in your area right now, here are five ways you can rock the 70's trend without breaking a sweat!
--------------------------
Go Bohemian Chic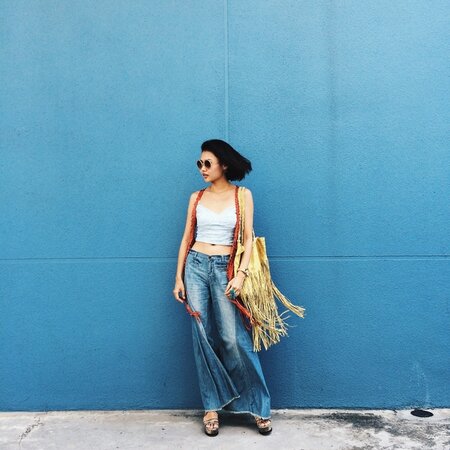 (photo from CocoMercy)
The 1970's hippie culture was all about natural makeup (or no makeup at all) with light clothing and flowers. Today, there's a reason people sport this look at music festivals during the summer — it's because they're comfortable and fashionable!
So, if the temps in your area are 25 degrees and above, things you can rock to bring out your inner flower child are platform sandals, disheveled hair, maxi dresses and skirts, rugged flared jeans, crop tops, and gorgeous shades, and you will look like you just stepped off of a time machine!