When we think of Insta beauty, we immediately think of Huda Beauty. You can't scroll through your Instagram Explore page without encountering one of their products. The brand has 47.8 million followers and 28.2 million posts hashtagged. But what goes beyond the name and the woman who made this a success?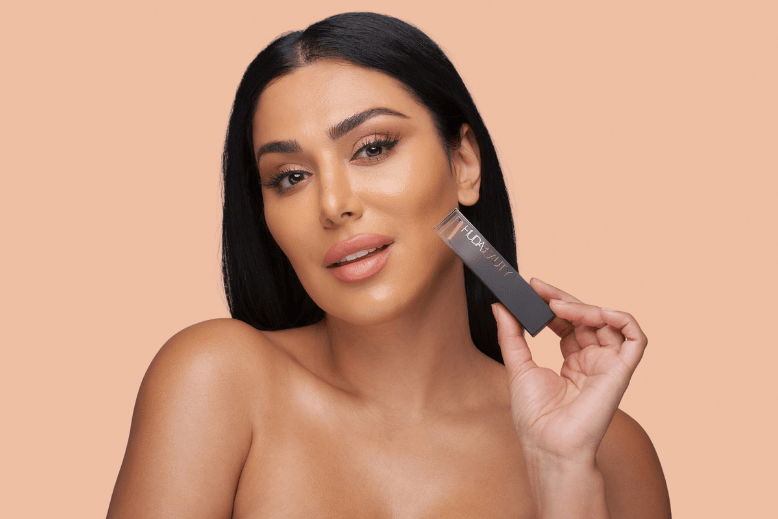 Huda Kattan started as a makeup artist then a blogger then an entrepreneur. She was on Forbes' list of America's Richest Self-Made Women in 2018. Time Magazine named her the most influential beauty blogger in 2017. Yet underneath it all is a girl who discovered the confidence-boosting power of tweezers — she just turned that experience into a beauty empire. Here's what she has to say on the transformative power of beauty and achieving fame — and fortune — online.
Blogging about beauty
Before Huda was making makeup, she was writing about it. Huda's passion always laid in makeup and not in finance though she has a university degree in it. After some encouragement from her sister Mona, Huda started studying makeup with the plan of making a career out of it. In 2010, a few years after she and her husband moved to Dubai, Huda started Huda Beauty and started gaining a following on social media and YouTube.
"My passion for blogging and for makeup was so overwhelmingly evident to my family and friends that it was hard to ignore," she shared. "When you're as passionate as I am about makeup, I think anyone would take a chance on you."
That passion was soon directed into building a beauty empire. "In every business meeting or pitch I had to give in the beginning I would hope that my passion would take over a meeting room almost instantly and the rest would be history. And, eventually, it did."
Going international with Huda Beauty
Nowadays, you'll find Huda Beauty everywhere online and in Sephora. From their pioneering product, false eyelashes, they've expanded their cosmetics line to include complexion products, eyeshadow palettes, lip products, makeup tools, and even skincare. You name it, they've got it.
"Sephora stocking our lashes for the first time was definitely a surreal moment for me. I literally had to pinch myself!" she exclaimed. At that time, Huda was supported by her sisters and first investors Mona and Alya Kattan as Huda Beauty's Global President and Chief Instagram Officer, respectively, and her husband, Christopher Goncalo, as Chief Operating Officer.
But they had bigger things in-store in their future. "It wasn't until we received our first round of investment from TSG Consumer Partners (TSG), however, that I really realised how big Huda Beauty was becoming. For the first time, someone outside of our family was investing in our vision and that was huge for us."
It snowballed from there. Huda's brand scaled quickly, so much so that she says "it's hard not to realise how big we're becoming sometimes". Still, she doesn't think she's "made it" in every sense of the word. Instead, she looks to setting new goals after every achievement. "[It's] so I'm always working towards something."
Huda's go-getter attitude is heavily inspired by one of her biggest role models. "I really admire Arianna Huffington's drive and persistence. It's something I channel every single day. She is a risk-taker and someone who chases her dreams regardless of the hardships that face her," she shared. "She's a true inspiration to me because of how she took her blog and created something huge from it — her success made me realise that I could create so much more than just an online space."
CEO no more
After achieving insurmountable success, it seems Huda only had other milestones ahead of her. Still, a lot of people were surprised when she made the decision to step down as the CEO of Huda Beauty and hand the reins over to Nathalie Kristo, the former Global Brand President of NYX Professional Makeup. "I never wanted to be CEO! I was enjoying creating products, producing content, and I thought I would do this for free for the rest of my life," she shared. She says she became the CEO "out of necessity" and eventually had to sacrifice some of her business passions in the process.
"When our company started to make money, I realised I had a big responsibility to not only support my family and our Huda Beauty family of team members but also create products with a purpose." Now that Huda Beauty has reached so many countries, Huda realised that it's the perfect time to let someone else step into the CEO role while she focuses on the areas that fulfilled her personally.
"After nearly a year of searching for a CEO, we were thrilled to meet Nathalie and to see how we could combine her wealth of knowledge and experience with the scrappiness and magic of Huda Beauty. With Nathalie on board, I feel like the sky is truly the limit."
On to the other side
Huda's not just a makeup maven, she's quite a skincare junkie too. She started exploring that side of beauty when she launched Wishful, a line of skincare products, last year.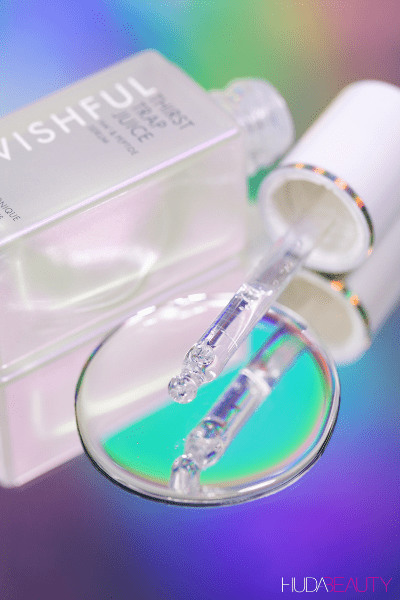 "Most people don't know this about me, but I think I care more about skincare than makeup," she shared, explaining that her viral makeup videos always started with skin prep. "After my long skincare journey of finding what nourishes my skin and how it has made me feel more confident, I decided I wanted to share that with the world." She said skincare is what makes her makeup apply "beautifully" and should then be a priority for people who love makeup as well. She launched Wishful at the right time, since skincare sales and searches (especially for serums) boomed during the pandemic. "A lot of consumers are taking very great care of their skin and learning more and more about skincare every day."
Even though skincare reigned supreme in the last few months, Huda also intimated that makeup still has a place in a post-COVID world. The beauty trendsetter says we should expect more no-makeup makeup looks for everyday juxtaposed with more experimental creative looks on our feeds. "People have developed a better sense of self and confidence [in] experimenting with makeup." Indeed, makeup can transform your life — whether it serves as a reliable confidence boost or bringing you to the top of a beauty empire.
At the end of the day, Huda is all about channelling the added self-esteem that comes with having a good makeup day. "I'm a firm believer in its transformative abilities to give you confidence and change the way you feel about yourself," she shared. "That's the beauty of makeup. It really allows you to be who you want to be at any moment, with the option to be a different you just moments later. Makeup to women is what the power suit is to men — it just gives you that boost of confidence!"
Huda Beauty and Wishful are available in Sephora Malaysia and Singapore stores, websites, and apps.
(Cover photo from: Sephora Malaysia)
Click here for more interviews that show the behind-the-scenes of beauty.