I love waterproof makeup for my eyes and I'm really generous when it comes to putting on products on my face every single time I do my makeup routine. Because of this, I don't feel quite satisfied with removing all my makeup with just wipes or micellar water. I also have a very tedious skincare routine. For me, double-cleansing is the way to go.
It took me a while to find an oil-based cleanser that doesn't sting my eyes and when I did find one that worked, I couldn't get a hold of it again — not in the Philippines, at least — because I got it in Japan. Luckily, I came across Human Nature's Bare Necessity Cleansing Balm a couple of months back.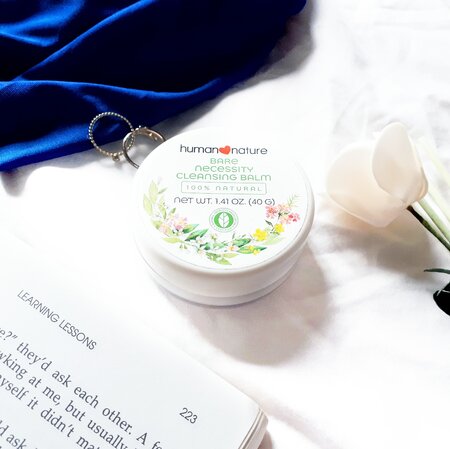 First impressions, packaging, practicality
Off the bat, it's quite fair to not expect a luxurious packaging given its price point of PHP345. Inspired by the popular 10-step Korean skincare routine, the balm is housed in a nice plastic tub that looks clean, simple, and practical. It also has a lid inside for extra protection and sanitary purposes, I assume. Plus, a small scooper suggestive of just how much you need per usage.
The consistency of the product in the tub was very candle wax-like when I got it, but because it has become a mainstay in my vanity table, it has melted into a cream-like texture due to the heat. There are no instructions whether there's a need to refrigerate it to retain the solid consistency, but since it hasn't reduced to a liquid state even after a couple of months, I'd say that's still a plus in my book. I sort of wish it would've stayed more solid, though.
Compared to my initial go-to, the Kose Softymo Speedy Selected Treatment Oil, this one's easier to bring when I travel because of the size difference of bottle vs. tub. If you're a frequent flyer, this also proves to be more convenient.