I love waterproof makeup for my eyes and I'm really generous when it comes to putting on products on my face every single time I do my makeup routine. Because of this, I don't feel quite satisfied with removing all my makeup with just wipes or micellar water. I also have a very tedious skincare routine. For me, double-cleansing is the way to go.
It took me a while to find an oil-based cleanser that doesn't sting my eyes and when I did find one that worked, I couldn't get a hold of it again — not in the Philippines, at least — because I got it in Japan. Luckily, I came across Human Nature's Bare Necessity Cleansing Balm a couple of months back.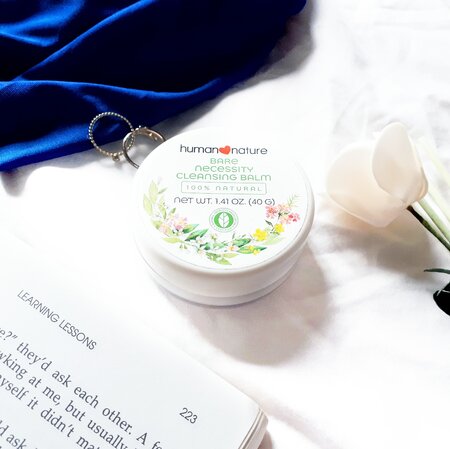 First impressions, packaging, practicality
Off the bat, it's quite fair to not expect a luxurious packaging given its price point of PHP345. Inspired by the popular 10-step Korean skincare routine, the balm is housed in a nice plastic tub that looks clean, simple, and practical. It also has a lid inside for extra protection and sanitary purposes, I assume. Plus, a small scooper suggestive of just how much you need per usage.
The consistency of the product in the tub was very candle wax-like when I got it, but because it has become a mainstay in my vanity table, it has melted into a cream-like texture due to the heat. There are no instructions whether there's a need to refrigerate it to retain the solid consistency, but since it hasn't reduced to a liquid state even after a couple of months, I'd say that's still a plus in my book. I sort of wish it would've stayed more solid, though.
Compared to my initial go-to, the Kose Softymo Speedy Selected Treatment Oil, this one's easier to bring when I travel because of the size difference of bottle vs. tub. If you're a frequent flyer, this also proves to be more convenient.






Usage and claims
I was a bit sceptical at first because, as I mentioned earlier, I am very picky when it comes to my cleansers. I scooped the tiniest amount using the scooper and started to massage it over my waterproof lined-and-mascara-ed eyes. It transformed from balm to oil as soon as I started working it into my skin and surprisingly, it didn't sting nor did it need any tugging to melt away the makeup. Plus, there was no need for extra scooping as that tiny amount did the trick for my entire face.
It's also worth noting that while I'm also very particular about scents, the coconut scent of the balm was neither overwhelming nor intolerable. I actually found it pretty soothing.

My only issue with it is that it's not as water soluble as the more high-end balm cleansers or my other go-to oil-based cleanser, so I need to wipe it off with a cotton pad or a cloth first before I can rinse it off with my water-based cleanser.

In the photo above, I swatched and let set a matte liquid lipstick, a lip and cheek tint, a waterproof mascara, and a waterproof eyeshadow stick. The white substance in my wrist area is the balm. The second frame shows how the balm transforms to oil during the makeup removal process. The final frame is after the cleanser has been wiped off with a cotton pad.


Final thoughts

After using Human Nature's Bare Necessity Cleansing Balm, I must say that while it has its minor flaws, it definitely sealed its place in my beauty routine. The natural oils in its formulation also helped my skin feel softer, plumper, and skincare-routine ready. I've also been using it religiously for almost three months now and I'm still nowhere near the bottom of the tub. Given this, I'd say that with its affordable price point, it's a product that's worth every penny.
On a hunt for a cleansing gadget to add your beauty routine? Here's another review you should not miss.