Once upon a time, the French woman's go-to shopping destination was her local apothecary. Whether it was a balm for headaches or a special draft to help her sleep better, the apothecary was a one-stop shop for cures designed to address every concern. These days, women turn to the pharmacy for pre-formulated solutions to our problems. Still, the old-world charm of the apothecary with its offering of personalised blends remains attractive. Such is the appeal of
Huygens
, a French beauty apothecary that launched recently at Isetan Scotts in Singapore.
Founded in 2013 by Daan Sins and Sebastian Guerra, Huygens is an up-and-coming French brand committed to creating the next generation of organic cosmetics that are 100% clean and cruelty-free. Their line-up of beauty products encompasses a wide range, covering fragrance, skincare, home aromatherapy, and even bespoke hair and body care formulas for that extra-special touch.
Clean beauty at Huygens Singapore
Clean beauty aficionados will be delighted by Huygens's skincare products that are formulated without parabens, pegs, endocrine disruptors, mineral oil, silicones, Phenoxyethanol, and nanoparticles. Their fragrances, meanwhile, are created with flower water, organic alcohol, and natural ingredients. Their home aromatherapy range boasts of 15 high-quality essential oil blends, all of which are created under the direction of a perfumer and an aromatherapist for maximum effect.
Last but definitely not least are the bespoke hair and body care products, which are formulated with essential oil blends. You can personalise them according to your personal preference and the benefits you desire. The process is fairly simple: first, choose a scent among 15 essential oils, then select the base according to the product you need. Options for bases include oils, shampoo and conditioner, washes, lotions, and scrubs.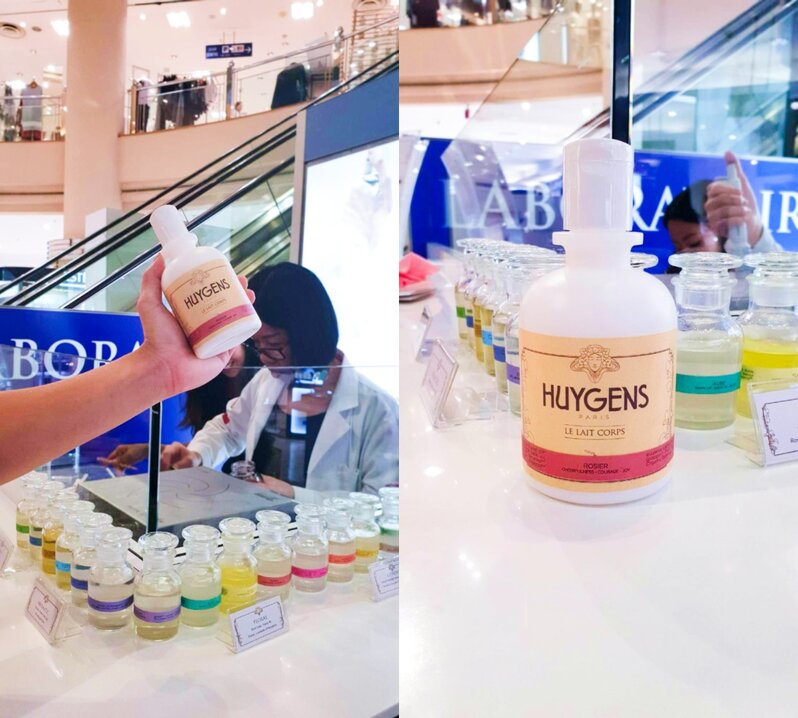 When you're ready, the Huygens Singapore staff will prepare your special blend for you. Pictured above is a custom-made Huygens body lotion with a Rosier scent consisting of Damask Rose, Rose Geranium, and Lavender. Whatever your preference, you'll be spoiled for choice finding your perfect blend at Huygens Singapore. Now you can bask in a luxurious and guilt-free experience when you take home one of these products.
(Cover photo from: @huygensparis)
Visit the Huygens Boutique at Isetan Scotts Level 1.