Originally released as a limited-edition holiday product, Sleepy gained its spot as a Lush mainstay because of the hype it garnered from fans who claimed that it helped them with their insomnia. One author even claimed that this body lotion helped her sleep in just 15 minutes. Naturally, this made us wonder if it is really as good as they say. So we bought a jar at a local Lush store and tried it for ourselves. The small jar costs PHP525/~USD10.08 for 95g and the big jar is priced at PHP945/~USD18.14 for 225g. Did it live up to its hype? Read on to find out.

I usually sleep as early as 9 PM, making it seem like I should be able to sleep soundly. However, even the tiniest noise wakes me up and sometimes, my brain just wouldn't stop hustling that I suddenly wake up in the middle of the night feeling all worked up. So when I heard about this product that's supposedly a "miracle for insomniacs," I was excited to give it a try.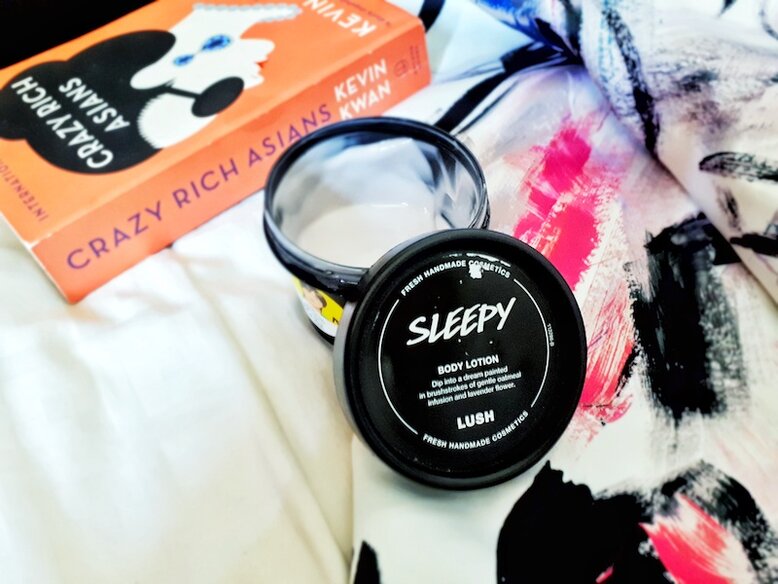 Just like any other Lush product, the packaging is uncomplicated, which I liked. However, the candy-like smell was initially too sweet for my liking. Thankfully, it grew on me after weeks of usage. Still, if you're sensitive to scents, this might put you off.
As for the actual product, the consistency is very silky and leaves a nice soft sheen to the skin. Regarding its claims, it's an exaggeration to say that you'll fall asleep as soon as you lather it on, but I think it did help me get more soothing zzzzs for the past couple of weeks probably because of the natural oils.
Is it worth the hype? If you don't expect too much from it, probably. It's a soothing product, just not something that will cure you of insomnia in as easy as 1, 2, 3.