The beauty world is full of things I never knew I needed and one of those are makeup applicators. It was only a few years ago when I started exploring brushes and sponge blenders. Before that, I just relied on my fingers or the generic puffs that come with the products to do the job of blending my foundation and blushes. So you can say that my discovery of intricate beauty tools is life-changing.
Each year, various new models of applicators promise a better way to achieve that elusive smooth and natural finish. But there are some that were more revered than others like the Artis Brush Fluenta Oval 7, which is available at Net-A-Porter.com. This innovative brush is created by Matthew Waitesmith, a makeup artist and photographer. He noticed that the typical brushes are actually built for makeup artists to use on clients, making it challenging for the average gal to apply makeup flawlessly. However, the Artis Brush, which features a unique angled handle and an oval head is specifically designed for self-application. At USD70, is it worth the splurge? Keep reading to find out.
Packaging and texture
Unlike your usual brushes, the Artis Brush Fluenta Oval 7 is especially packed and secured in a sturdy box. It certainly feels very fancy and reminded me of the wand packagings from Harry Potter. However, I think this would be an issue when you travel as it will take up a big space in your luggage. The alternative would be to pack just the brush, but would you really risk breaking an expensive beauty tool?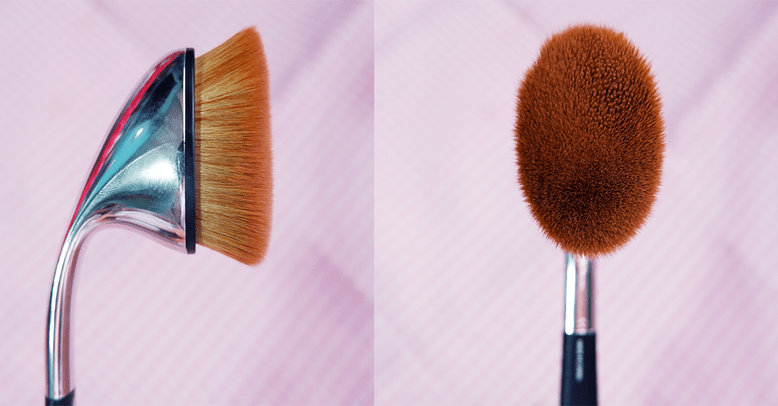 As you can see, the bristles are densely packed
Moving on to the texture, I can confidently say that this Artis Brush's bristles are the softest fibres I have ever encountered in a brush. It feels so luxurious and pampering on the skin. None of the hairs sticks out and everything is evenly placed.