The Ordinary
took the beauty world by storm earlier this year. Beauty editors and enthusiasts went gaga over them, to put it lightly. With a promise to give an "evolving collection of treatments offering familiar, effective clinical technologies positioned to raise pricing and communication integrity in skincare" it was definitely difficult to resist the brand's pull. And so we were sold, and in our carts the products went. After testing them out, however, we have mixed views. Here's what happened.


I've had problematic skin ever since I hit puberty. My skintone is uneven, I have a bad case of acne scarring and large pores, and I have to admit that it took me quite a while before I actually realised the importance of skincare.
I am also a very nit-picky buyer so it took me weeks of research and hours of watching review videos on YouTube to see how The Ordinary is like in general. There were a couple of rants among the raves, but considering that the price of this is actually reasonable enough for me to try, I gave it a shot.
The products
I purchased the Advanced Retinoid 2% (now renamed as the Granactive Retinoid 2% Emulsion) for anti-ageing, the Niacinamide 10% + Zinc 1% for my acne spots and scars (this is one of the brand's best-sellers), and the Magnesium Ascorbyl Phosphate 10% for a water-soluble Vitamin C variant to help brighten my skin.
I rarely use The Ordinary in the morning other than spot treating with Niacinamide. The bulk of my skincare really happens at night in which I double cleanse, tone my face using an AHA/BHA toner, throw in a sheet mask on some days, then use the Advanced Retinoid, Niacinamide, and Magnesium Ascorbyl in intervals of 3 to 5 minutes in between before going in with my moisturiser.
The effect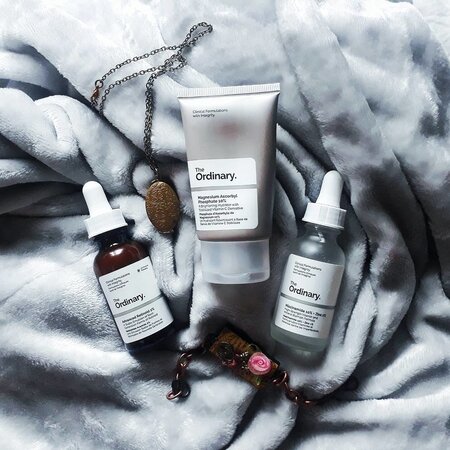 I luckily didn't experience any purging considering that I have sensitive combination skin. After two weeks of incorporating these into my routine, I noticed that they did help control my hormonal acne. They also helped fade a scar that a cystic acne left around my jawline and my skin does look brighter to the point that I use less foundation and concealer now. I also like how my makeup sits on my skin even better.
It didn't really help much with my pores and oil control, but considering that they're doing an 'okay' job so far, I guess I will consider repurchasing these once I run out. They gave a good enough result considering the price point, so that's a plus for me.
I do think, though, that they're never good enough on their own. You still have to work your way into balancing your skincare routine around it and I suggest you do a lot of research to make sure you get the balance of acids and vitamins right and not pair them up with a product that would affect their potency. It's like chemistry back in high school all over again, to be honest!