Looking for a powder that can help me manage my combination skin has always been a struggle. It has to have great oil control to keep my T-zone shine-free while making sure that the dryness in some parts of my face is not emphasised. Trust me, I have tried a bunch of powders from drugstore to high-end but have found nothing to satisfy my need. I've heard a lot about the Rimmel London Stay Matte Powder from many European YouTubers like Zoella and Marzia Bisognin (before her YouTube retirement), though, so I had to give it a try as soon as I got my hands on it.
According to its claims, it has a lightweight formula with natural minerals that help last up to 9 hours of matte finish wear, helps minimise the appearance of pores and delivers a flawless finish. Now, we've heard all of that before but haven't really found anything that follows through the promise. Will this one break that cycle?
Packaging, texture, and scent
The Rimmel London Stay Matte Powder's packaging is as straightforward as it gets. The product is sandwiched in plastic packaging, both base and cover, the latter feeling a bit flimsy and can easily crack on the sides. This is an issue I've experienced early on while using this and has been the top comment of beauty gurus who use this product. Still, retailing for less than USD5, I guess we can be quite forgiving. I did wish it comes with its own puff and mirror, too, but considering its claims of having nine hours of wear, it's made to be a leave-on-your-vanity than a carry-in-your-purse type of product.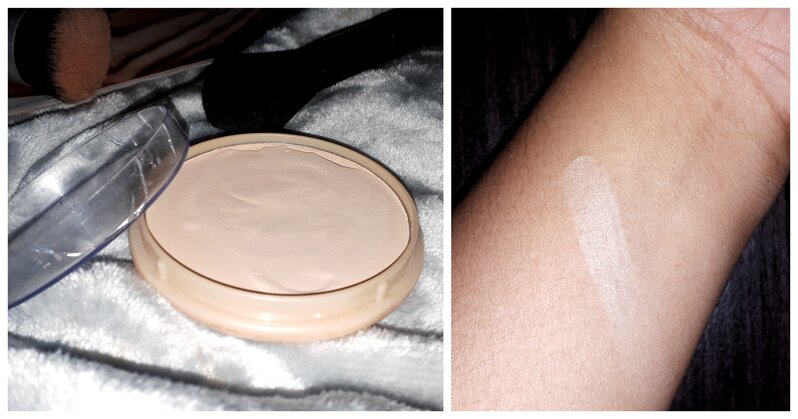 The texture is just like your typical pressed powder, not too silky or chalky. The only thing curious to me is that for a matte powder, it has a bit of sheen to it when swatched. That easily goes away when blended so I'm assuming that's from the minerals this powder claims to have. The shade 001 Transparent looks a bit light beige on the pan but doesn't leave a trace once applied to the skin. As for the scent, it doesn't have any strong or distinct fragrances other than a typical soft pressed powder smell.