Our "I Am Her" series features the female movers and shakers of the industry to learn how femininity and power coincide beautifully and seamlessly together.
Sometimes, we discover our passion in unexpected ways. That's what happened to Anna Manalastas, an Ashtangi, Vinsaya, Yin Yoga and Pregnancy Yoga teacher. It all began with curiosity to try something new. Back in 2012, she was working for one of the biggest film production companies in the Philippines. "I remember I was very stressed and needed an outlet to keep myself healthy," she said. "And there was this yoga studio that opened up near my office, so I was very curious and wanted to try it out."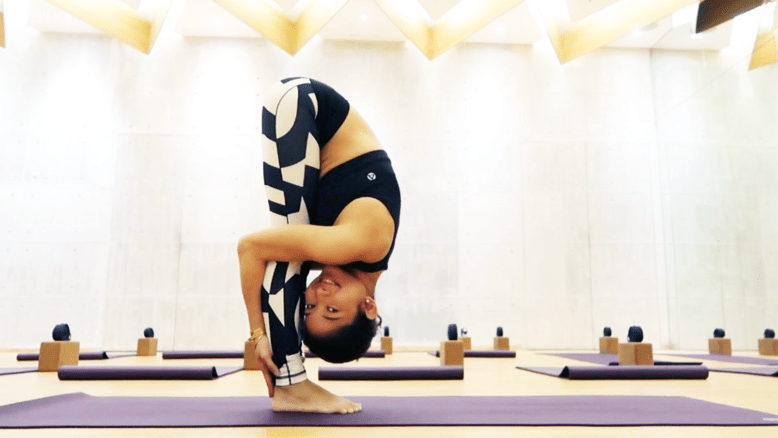 After several months, Anna found herself enjoying the yoga sessions so much that she pursued yoga teacher training. And from there, she discovered her newfound passion. "I liked yoga because I went there without expectations; whatever comes, you just take it and experience the moment." Read on as we chat more with Anna about what it's like to be a yoga instructor and how yoga can transform your perspective in life.
Fill in the blank: I'm a yoga teacher, a student of life, and a __________.
Human.
You were in the film industry for quite some time. What was it like to change career paths?


I was at the time in my life that I really wanted to get out of my current career path. I know I will not have any regrets because pursuing filmmaking is not something that I'd like for my future. So because of that, I was open to possibilities. Yoga came into my life, and it was something I love so I went for it.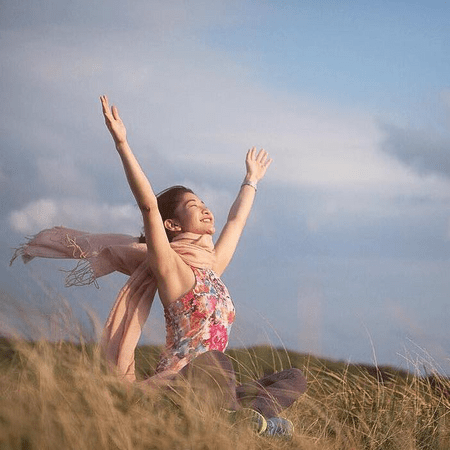 As someone who loves planning, security and knowing what to do, it's surprising to say that it wasn't quite scary for me. Being a yoga teacher is not really a stable job when compared to office jobs, so at some point, I had my doubts. It was when I accepted and realised that I may not be as rich as my peers, but I get to do what I love and continued to pursue that things eventually started to fall into place. I started getting more opportunities, and before I knew it everything was provided for. It made me realise that you don't need to control every single thing, you just have to trust yourself, do what is needed of you, and it will all work out.
How can yoga improve a person's well-being?


It fosters a better relationship with your body because you're discovering your capabilities and limits. You learn how to move your body with ease, and because of that, you gain confidence. It also helps you to be more kind to yourself. I used to be a huge overthinker and was very critical and judgemental about myself. Through yoga, you become more focused, patient and aware of your thoughts as you breathe and hold each pose.
At the same time, you'll also realise that every person has their own weaknesses. You'll learn that people may have different bodies, but none is better than the other. And so, you become more compassionate to yourself and your body.
What's a common misconception about yoga that you encounter?


The common misconception is you're automatically gonna lose weight if do yoga. Yes, it may help you lose some weight but not as much as if you went to the gym because yoga is not really an activity designed for losing weight. In some cases, like myself, I think I even gained some weight because my muscles got toned. That's what yoga does; it won't make you muscular but it tones your body. It makes your muscles stronger, helps the body mobilise and circulate energy, breath, and blood.
There are also a lot of factors to take into consideration like diet, lifestyle and the kind of yoga that you do. For example, Yin Yoga is slower-paced so you can't expect to lose much weight if that's your practice. One thing is for sure though, yoga will keep your body balanced and healthy.
How do you stay inspired to do what you do?

I open myself up to new experiences; I explore different styles of yoga. In other words, I bring myself into student mode again. The simple act of walking also helps, whenever I'm bored and feel like life is so monotonous I take a good brisk walk and just observe sceneries because it gives you perspective into other facets of life. Gratitude journals also help because no matter how 'ordinary' your day was there is always something to be thankful for.
Share with us your Clozette essentials right now.

First is a good yoga mat. I like Manduka yoga mats because they're sturdy, eco-friendly and really resilient. Once, I thought I ruined it when I folded it the wrong way but after a few days, it bounced back like it was good as new. Second are massage balms like yoga love to help with aches. Then, bottled water for hydration. Finally, a pen and notebook just so I can jot down some yoga sequences or insights that I'd like to share with my class.
If you were a yoga pose, what would you be?

A Handstand. The reason this resonates so well with me is that my life has turned 180° upside down. I started as being very judgemental to myself and now I'm more confident and accepting of who I am. The way that I learned the pose is also similar to my journey with yoga as a whole — that I was curious and open to possibilities. Even if I fall when I'm on shaky ground, I know I have the strength to get back up and the courage to fall again. The pose also teaches me humility, as you'll realise that when you're up there's no other way but down.