Our "I Am Her" series features the female movers and shakers of the industry to learn how femininity and power coincide beautifully and seamlessly together.
Fast fashion? How about fast beauty? Because why spend 30 minutes when you only need two minutes a day for your skincare routine? With a strong sense of resolve, founder
Claire Au
established
Auolive
, a Singaporean brand that simplifies Swiss-formulated skincare for the everyday woman. The brand's
Night Booster
, for instance, is a beauty multitasker fit for the multitasking woman; it is a serum, moisturiser and sleeping mask packed into one. We talk to Claire about her fast beauty quest.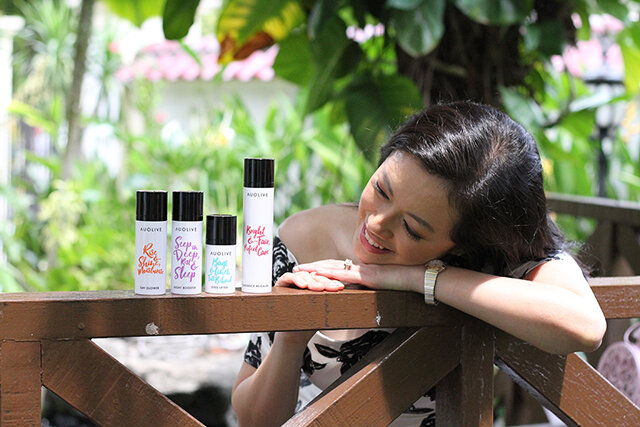 Fill in the blanks: I am a beauty entrepreneur, a former hawker storeowner, and a _____________.
Mum of a 5-month-old baby boy!
Share with us five essentials in your Clozette (a.k.a. closet). It can be anything from fashion and beauty to lifestyle.
My 'Clozette' used to be stocked with tons of skincare products to serve the many-steps beauty regimen. Now being a mum and entrepreneur, I am thankful I have mooted and launched Auolive, which cuts down all the steps and still allows me to have good skin. On weekends, I do a quick exfoliation with my Auolive Radiance Revealer to remove dead cells to have brighter and more radiant skin.
In today's environment, we should not leave home without sunblock, another essential. The Auolive Day Glower is also a sunblock with SPF 30 for UVA & UVB protection.
The eyes are important so I pay more attention to them. I use a Laura Mercier eyeliner which doesn't smudge on my single eyelids. I also love my ZA mascara. Last but not least, the quintessential black dress, black pumps and also, a colourful piece to jazz up any occasion.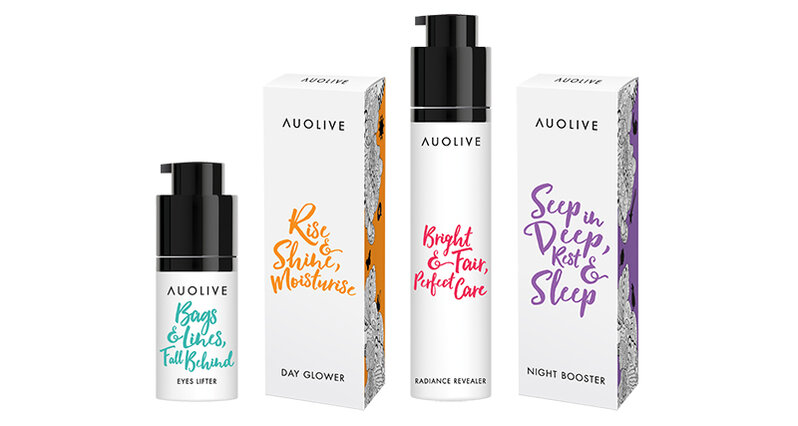 We love the Auolive packaging! Tell us more about it.
We wanted to simplify skincare for women and refresh them, hence the design, colours and words on our packaging are like a burst of fresh air to invigorate and inspire. We've also used hand lettering as it evokes emotions at a deeper level to deliver our message. When you read, "Rise and Shine, Moisturise" which is orange in colour, you know that Auolive Day Glower is a moisturiser meant for day use. The Auolive Eyes Lifter is in a bright cyan colour as the eye serum has invigorating properties.
Share with us your number one beauty hack that we should know about.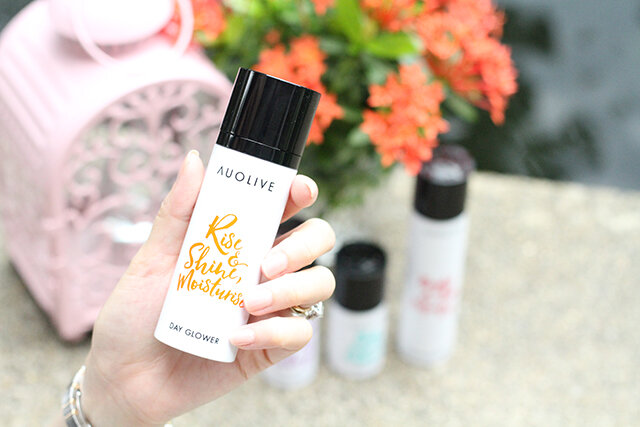 My number one beauty hack is the Auolive Day Glower. It's the product that lets me get out of the house fastest in the morning as it's an all-in-one day moisturiser with brightening, anti-ageing, hydrating, nourishing, antioxidant and sun protection properties. It means I just need to put one product after cleansing my face, which is such a breeze! Now that I have a 5-month old son, mornings are even more rushed and the Day Glower is my life-saver!
Read more stories about inspiring women here.