Our "I Am Her" series features the female movers and shakers of the industry to learn how femininity and power coincide beautifully and seamlessly together.


The story of Ektory started with a few scraps of paper and the ingenious woman who transformed it into something magnificent. It all started when Dawn Koh wanted something original for her wedding shoot. From pieces of paper, she created a huge, beautiful flower wall. After posting the photo on Instagram, she got a lot of rental enquiries. "I thought, sure, since I have it why not rent it out," Dawn said. "One thing led to another, and that's how I stumbled into the business."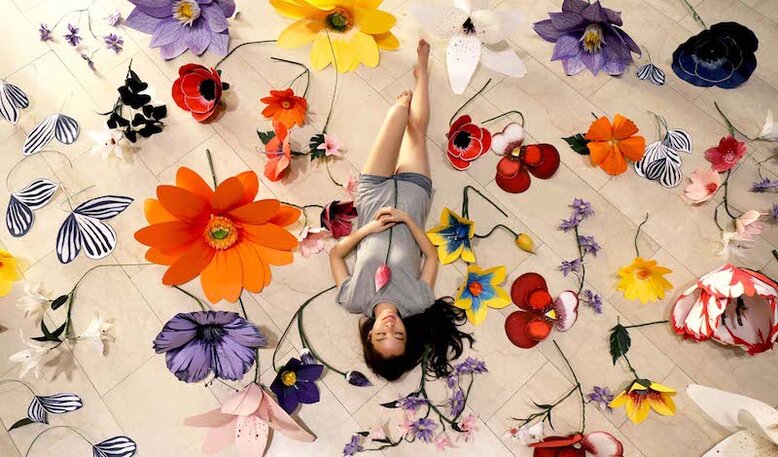 Since then, Ektory has enjoyed success and popularity not just as an art studio but also as a provider of bespoke wedding event designs, retail interior display and other unique pieces. Despite all this, Koh is determined to take it to the next level as she plans to lead Ektory into projects that require more elaborate work like commissions and full-concept designs.
Keep reading to know more about Koh's creative process and her take on what happiness means.
Tell us about your design thinking process. How do you set out to understand your client's needs and wants?
I put myself in the client's shoes a lot by spending more time talking and trying to understand where they are coming from while reminding myself that the work has to be original and must have design integrity. It is important to find a good match. The best works are born out of a win-win situation where both parties appreciate each other.
What is Ektory's most memorable creation to date, and why?
Please don't make me choose. I love so many of them! Personally, I find fulfilment in artist projects, which is what Ektory will be leaning towards in the future. A most recent example is the New Balance artist collaboration where I was commissioned to do an art piece for their #NBgreyday global launch.
You're a strong believer in designing a life for happiness. What is happiness to you?
It is living with a clear purpose, having a growth mindset and being present in the moment because 'now' will always be the best moment. It took me a while to realise this but I am happy I did.
Who is your role model, and why?
I don't think I have a role model but my favourite person has to be my mum. She taught me what grit and unconditional love mean.
Share with us five of your Clozette (a.k.a. closet) essentials right now. It can be anything from fashion and beauty to lifestyle and gadgets.

My new Givenchy wallet, which is very compact but has so many useful compartments, Mansur Gavriel tote, Jurlique travel-sized body cream, iPod shuffle, and Mamonde lip tint.
Explore Ektory's designs and services here.