Our "I Am Her" series features the female movers and shakers of the industry to learn how femininity and power coincide beautifully and seamlessly together.
Running a successful firm in the dynamic industry of public relations is a challenging endeavour. You have to be quick in adapting to trends, have a sharp eye for detail and, constantly provide creative solutions to clients' needs. For Leigh De Armas, the president and CEO of BrandSpeakAsia, the biggest key in leading her firm effectively (while still keeping herself and her team sane) is through setting priorities and doing things one at a time. Read on as Leigh shares her experience in her challenging but ultimately fulfilling role as a #ladyboss.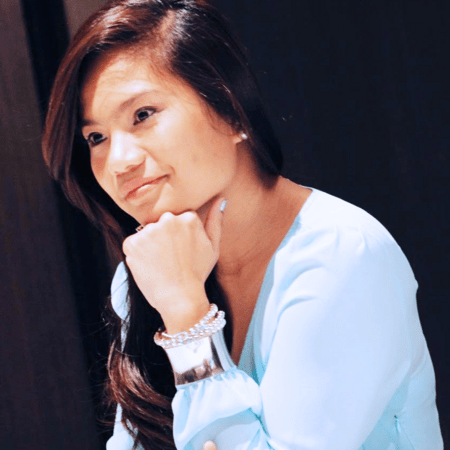 Fill in the blanks: I am an entrepreneur, a mother, and I am __________.
I am an entrepreneur, a mother, a wife to one passionate guy, and I am deeply loved and accepted by the people I love.
How are you able to build BrandSpeakAsia to be a successful PR firm that it is today?
Building it was a step-by-step process. When I received inspiration to build BrandSpeakAsia in 2006, I had to create a certain level of expectation from myself and from the people whom I chose to work with. Having a clear expectation for myself and the people was a mindset that has kept me (us) sane throughout the building process — that truly, we have to do things one step at a time, thinking forward and pushing the boundaries of what has been traditional methodologies, making mistakes and growing from them, exercising one talent and strength at a time and being faithful to it until we see the level and strength of service that we can do to become higher and more effective for us and for our clients.
In this building process, I had to admit that I cannot do things on my own; I realised that having the right people with the right heart and mind who have come to you at the right time will be the biggest asset that you can ever have in building something. I wasn't able to build BrandSpeakAsia for what it is today if not for the people who have chosen to come along with me, served with the same passion and excellence that we have, and have the humility to be challenged by the industry to always start anew and work at higher levels in creativity and execution of branding campaigns.
Being an industrial economics graduate and serving in a financial firm for the first three years of my career proved to be a challenging start (in the PR industry) but it was an important part of how I was moulded as a person. Assessing and seeing real needs of individuals and families, providing solutions for them, meeting and engaging with various people (and experiencing rejections) became a pillar in how we built BrandSpeakAsia later on.
While being in the financial world helped shape my business principles and practices tremendously, I realised that there were unexercised passions in my heart — creativity and communication. I realised that the hectic activities of the right side of my brain did not really fill the happiness in my heart. My left brain wanted to create, write, and ideate. I was invited by my insurance client to try the PR industry and when I set foot on its waters, I felt at home and never left. Up to this day, I continue to explore what could still be on the shores of Public Relations — untested ideas, new creative processes, making what is local global and bringing what is global to our local landscapes.

With the hectic schedule of being an entrepreneur, how do you balance your work and personal life?
Values and Priority. The act of balancing is composed of little decisions you make every hour, every day, every week as you move into your months and years that comprise the sum total of your life. Being an entrepreneur has given me the liberty to use my time but it has been dictated upon by my priority and value system.
What I consider important and urgent will take the number one spot on my "to do" list in the morning. Many things can come to my attention on a daily basis and each one will pose itself as important. So, I assess daily what my priority is in terms of achieving the company's goals. I must say that setting my daily priorities is anchored to an overall vision and goal for the company, which has been set as a target in the long term. This goal and vision keep me and the team on track for what we truly want to achieve.
The second aspect of the pie in this balancing act is knowing deep inside what you value the most. There will be moments where it is hard to discern and decide simply based on a priority list. And this is where my value system helps me. What I consider valuable will have to take up large portions of my time. For instance, my family, my church and my time with God. At the end of it, I don't want to be a successful entrepreneur and career person but lose the values that make me who I am. That is not real success for me. I want to be able to share the process of success to the people I value the most.
For me, there are three attributes that any entrepreneur should have: faith, hope and love. Faith because you need to know that nothing comes to you solely as a result of your own effort or ability. Hope, so that when things seem to go down, it will tell me to stay until I see things move up again. When you are down, there is nowhere else to go but up. On the other side of the coin, when I am experiencing success, hope encourages me to move higher and believe that something bigger than what I have already achieved will come. And of course, love is my motivation to stay when trials in business come — love for my work, love for my team, and love for the vision that God has given me.
Share with us five essentials in your Clozette.


At least five pairs of 5-inch ALDO shoes, a little black dress from H&M, Dior Nude Airbrush Foundation and L'Oreal Red, Brown, Nude Shades of Lipstick.
You're the definition of looking good while doing what you do. How do you stay inspired and empowered to make that happen every day?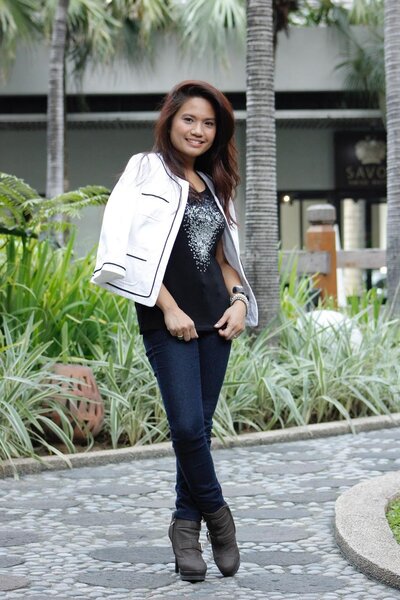 I love fashion and I love myself — enough to ensure that my husband and my #FabFive (I have 5 kids) would be proud to say that that woman who tries to be beautiful is the queen of their household (Hahaha). Fashion and my love for heels have helped me (I think) stay within the boundaries of my ideal size and remembering that looking good is already a testimony to others of having a blessed and favourable life; it makes me inspired to come to work with neatly ironed clothes and hair curled away like Frozen's Elsa.
Read more stories about inspiring women here.