Our "I Am Her" series features the female movers and shakers of the industry to learn how femininity and power coincide beautifully and seamlessly together.

Back in 2006, Lia Ramos won the crown for the most prestigious beauty pageant in the Philippines. Eleven years later, she's still making waves as the CEO of her own company, Glamourbox, an online beauty store and subscription site perfect for beauty enthusiasts who want to try the latest trends without spending too much.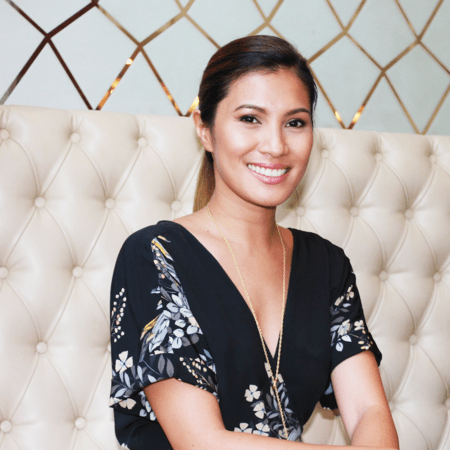 Read on as Lia shares her journey from becoming a beauty queen to an entrepreneur.
Fill in the blanks: I am an entrepreneur, a beauty queen, and I am __________.
Currently looking for the next best idea.
How were you able to build Glamourbox to be a successful cosmetics online retailer that it is today?
In a nutshell, it is what it is right now because of a combination of luck, hard work, and a really great team. It has been about four and a half years of a journey for us. There are lots of trials and errors plus adjustments depending on the market needs. We actually started out as a beauty subscription service, but in the last two to three years we have also become a cosmetics distributor where we have our own exclusive brands that are under Glamourbox.
The idea of venturing into the beauty e-commerce industry just came to me when I made a conscious decision to be an entrepreneur. I was working for a PR and media relations firm, and at one point I felt like I needed to do something on my own. And at the time, in 2012, e-commerce was gaining traction. I came across this subscription box business model, which back then was not available in the Philippines. So my business partner and I thought that it would be good to bring this to the country. Since then, it was a natural progression for me since I was a beauty queen and former model so I was exposed to the beauty industry. It was just a natural fit for me.
With the hectic schedule of an entrepreneur, how do you balance your work and personal life?
So when I quit my job to start my own business, I was thinking that I'll have more time for myself. Because when you're your own boss, you have this idea that you'll have more free time. On the contrary, when you run your own business you don't have a lot of free time since you have to constantly grow your business and take care of administrative concerns like payroll, stocks, and inventory. So you have to welcome these challenges and enjoy the fact that even if you don't have a lot of time for yourself, you're actually growing something.
For me, you just listen to what your body needs. I'm a very passionate person and as an entrepreneur, I'm very wired. I constantly see opportunities; I'm constantly working. But there's a point where you realize that you have to take care of yourself. So personally, and maybe this is because I'm also a beauty queen, I love taking care of myself. For example, working out is a way for me to de-stress. I also go out with friends and family because I think it's very important to surround yourself with people whom you enjoy being with. It's very hard to draw that rigid line between work and life, so you kinda have to go with the flow, like work when you have to work but also set aside time for yourself.
Can you tell us about your experience as a beauty queen? What was it like and how did it shape you as the person that you are today?
Oh, it completely changed my life. It started when I was in senior year in college, talent scout Jonas Gaffud came across my photo in the hallways. It was there because I was part of the student council and was asked to model for the sample graduation photo. And so, Jonas looked for me and said that I have the look of a beauty queen. I remember telling him that it was not my cup of tea, so I told him that I was not interested.
And then five years after that encounter, many friends teased me about joining the pageant. So I thought about it, and then I casually texted Jonas and asked what the cut-off age for joining the Binibining Pilipinas (Miss Philippines) pageant is. He replied that it's 25 years old. I was already 25 then so I took the leap. Three weeks later, I was already auditioning for Binibini, and luckily I won. When I joined the pageant, I was determined to win because I was already there, so I might as well win, right?
With that experience, I learned discipline, commitment, and grit. I was out of my comfort zone. Before that, I didn't know how to put makeup on or wear heels. So in a way, that experience prepared me for being an entrepreneur. It definitely helped build my character.
Share with us your Clozette essentials.


I have combination-sensitive skin and some of the products that I use are from my dermatologist, Dr. Genevieve Chi De Guzman. I use her facial wash and night cream. For the other skincare products, I use Pixi Glow Tonic; it has 5% glycolic acid, which is great for gentle exfoliation. I'm also a fan of essences. I love Missha's Time Revolution First Treatment Essence. For masks, I love Glam Glow, Pixi Glow Mud Mask and Korean sheet masks like Lioele and Dewy Tree. I also use SK-II's eye cream. Lastly, I love Avène's Thermal Spray.
For makeup, my must-haves are Eye of Horus brow liner, Ofra brow gel in dark blonde, Ofra lipstick in shade Rio and Atlantic City, Pixi Lipstick in shade Au Naturale, Pixi Cheek Tint Gel in shade Rosy, Ofra highlighter You Dew You.
For fashion, I like jumpsuits, LBDs, and skirts. My favourite brands are Zara and Uniqlo for basics. My favourite shopping sites are lulus, ASOS and Seek The Uniq.
You're the definition of looking good while doing what you do. How do you stay inspired and empowered to make that happen every day?
As I've said, I like taking care of myself and it really helps me a lot with my day if I put effort into how I look. As they say, it's outward looking. You know when you have your down days and you just don't want to face the day, it helps to pick a great dress and swipe a lovely shade of lipstick. It definitely boosts your confidence. Also, it favours the way people interact with you when you present yourself well.
Read more stories about inspiring women here.