Our "I Am Her" series features the female movers and shakers of the industry to learn how femininity and power coincide beautifully and seamlessly together.

For a woman who's always on the go, finding time to attract and inject positivity into the most tedious tasks can be challenging. But for Mary Kay Philippines' General Manager Sobee Dueñas Choa, a busy schedule and a pile of responsibilities don't stop her from channelling optimism and using it as a tool to encourage and empower those around her, even in the toughest of times. Read on as she shares her journey in building legacies, seeing motivational mantras come to life, and navigating her many roles as a superwoman.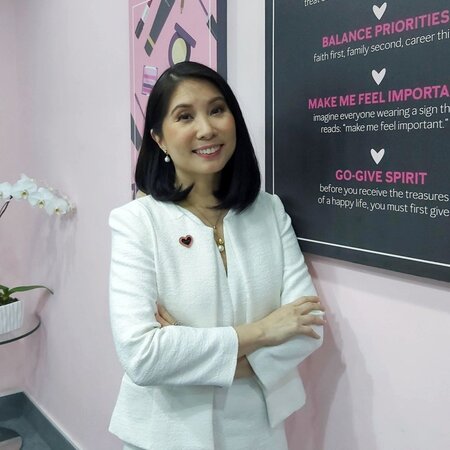 Fill in the blank: I am a woman, a marketer and ___________.

"...a legacy builder.

To break things down, first as a woman, it's the same for all of us — we are daughters, we are wives, we are sisters, we are friends, we are also mums. There are many roles we play.

Next, I think I'm one of the very few people who actually practice the course that they took in college. Mine was Asian Studies and Marketing and I ended up in a regional marketing role. And I can even say that Marketing is my first love. At the end of the day, I believe that no matter what product you're trying to market, you're also marketing yourself and your skills and the impression you leave in the world. Which leads me to be a legacy builder.
No matter which company you're in, I think we all wonder what, once we're gone, would we leave in order to make the world a better place?"