In marriage, you share everything. Well, not your toothbrushes. But you get the point. And as a married couple, we not only share material possessions but also different traits. While my husband and I share a lot of similarities, we are also different in so many ways. One thing we don't have in common is subscribing to the idea of skincare as self-care. Whereas I am a fan of an extensive routine that's not only emblematic of taking care of your self but will also, in the long run, actually help improve your complexion, he's a no-fuss kind of guy.

Every now and then he'd agree to let me put a mask on his face. But one day, after a masking session, I thought why not make him follow my entire routine? It'll be fun! And I'll finally succeed in making him use sunscreen. I was giddy when he agreed to do it for a week. Here's what happened.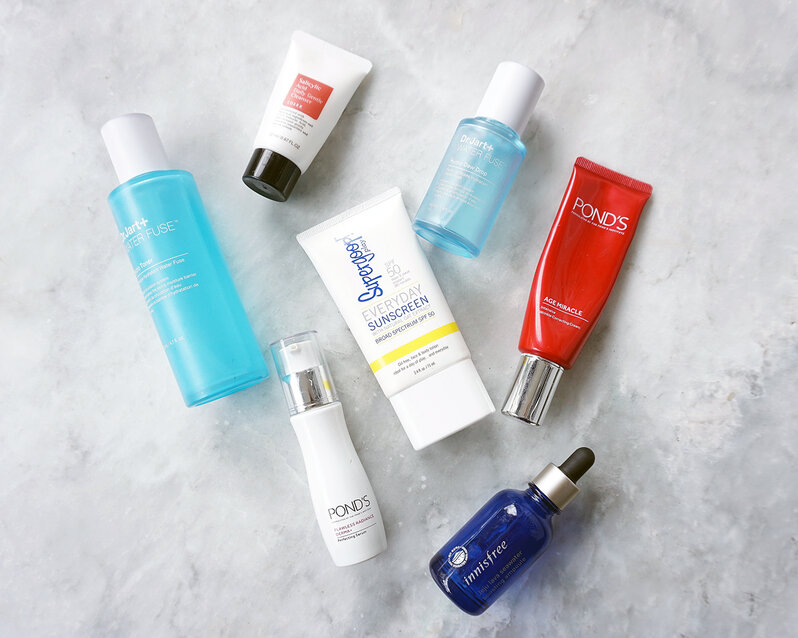 The routine
I do my routine twice a day, with a little tweak for the nighttime. "Do you do this two times a day, really?" my husband asked me on the first night. Granted, in the almost eight years we've been living together, I haven't faithfully followed a routine until now so his surprise is valid. But it's not like I do a 12-step routine, though. I removed a few steps. So that makes it more than five still... which, okay, is quite a lot.
In the mornings, I wash my face with a cleanser. Right now, I'm testing out the
COSRX Salicylic Acid Daily Gentle Cleanser
. I follow it with the
Dr. Jart+ Waterfuse Hydro Toner
and the
innisfree Jeju Lava Seawater Boosting Ampoule
. And then I use either the
Dr. Jart+ Waterfuse Hydro Dew Drop Moisturizing Serum
or
Pond's Flawless Radiance Derma+ Perfecting Serum
. After that, I moisturise with the
Dr. Jart+ Water Fuse Ultimate Hydro Gel
. Sometimes, I skip the moisturiser and move straight to the
Supergoop! Everyday Sunscreen SPF 50
.
At night, it's basically the same routine but I swap out the moisturising gel with the
Pond's Age Miracle Intensive Wrinkle Correcting Cream
. Twice a week I will exfoliate using either the
Pixi Peel & Polish
or the
Tatcha Violet-C Radiance Mask
. I also use sheet masks mask twice a week, usually after I exfoliate.
Days 1 to 3
"I'm too lazy to do this," he said on the first day. But he gamely followed every step. By the third day, he was, I would say, already getting used to the routine. He wasn't as lazy to do the many steps anymore and even jokingly commented "I look like a celebrity now" as he gazed at his reflection in the mirror after putting on all the products.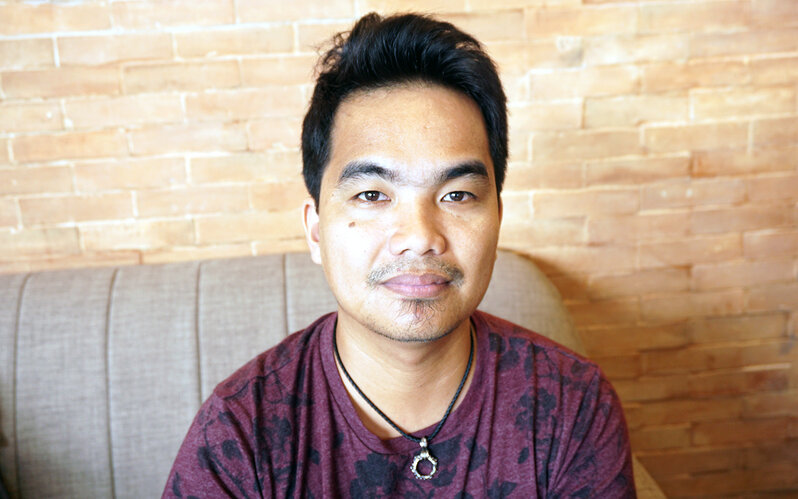 My husband on the third day of the challenge
Days 4 to 7
By the latter half of the "experiment," he no longer had an aversion to doing it. In fact, there were a couple of days when he'd be the one to initiate. On the last night, he was able to do the steps by himself.

The last day of the challenge


Beyond the experiment
There's been a little bit of improvement on his skin's texture and overall complexion, but it is a bit too early to tell. He has dry skin, but as you can see in the photo, it's now well-moisturised and even glowing. And while I'm happy that I found another thing my husband and I can share, I had to get the word from himself.
"Yes, I will continue following the routine, although maybe not as religiously. But I will definitely care for my skin more," my husband says. "I appreciate the noticeable changes and loved the therapeutic effects of essentially massaging my face when applying the products." To sum, "My key takeaway [from the experience] is that skincare shouldn't be thought of as something exclusive to girls because that's sexist. We all have skin after all. Another thing is that as in any endeavour, you really have to put in work if you want better skin."