The 'drunk blush' is probably one of the trendiest makeup looks in both the East and West today. Not only is it easy to do by simply extending your flush from cheek to cheek through the bridge of your nose but it also suits most face shapes and skin tones. But did you know that before it shot to fame in late 2018, it originated in Japan under the name Igari in reference to famous Japanese makeup artist Igari Shinobu?
While it's unclear whether she was the one who actually created the look, Igari's clientele of models and celebrities made Igari makeup one of the biggest makeup trends not just in Japan but also in South Korea since late 2015. Now, it's been a global trend strongly attributed to its Japanese origin, with many makeup artists and enthusiasts using it as a reference to create their own version of the look. Taking ownership of its popularity, Igari Shinobu, at present, continues to thank people in her current Instagram bio for naming the trend after her even after years of its debut.
As Asian makeup looks tend to have the eyes as the focal point, what's dubbed as 'hangover makeup' does exactly that, mimicking a strong yet natural flush that's usually acquired when one is intoxicated. Soft and vulnerable-looking peepers, youthful blushing skin — that's the main goal. But how exactly do you recreate the perfect Igari makeup look as inspired by Igari Shinobu's original technique? Follow our step-by-step cues below to ace the look.
Start with a clean and moisturised base
With Igari makeup being a minimalist look, you definitely want to bank on plump and smooth-looking skin to start off. J-beauty is quite simpler compared to K-beauty, and it usually puts emphasis on just three things: cleansing, moisturising, and packing on suncare (Japanese people love their sunscreens!). Making sure that you have these things on point before you start working on your actual base makeup significantly helps with that 'my skin but better' finish, considering that this look requires you to keep your foundation as light as possible.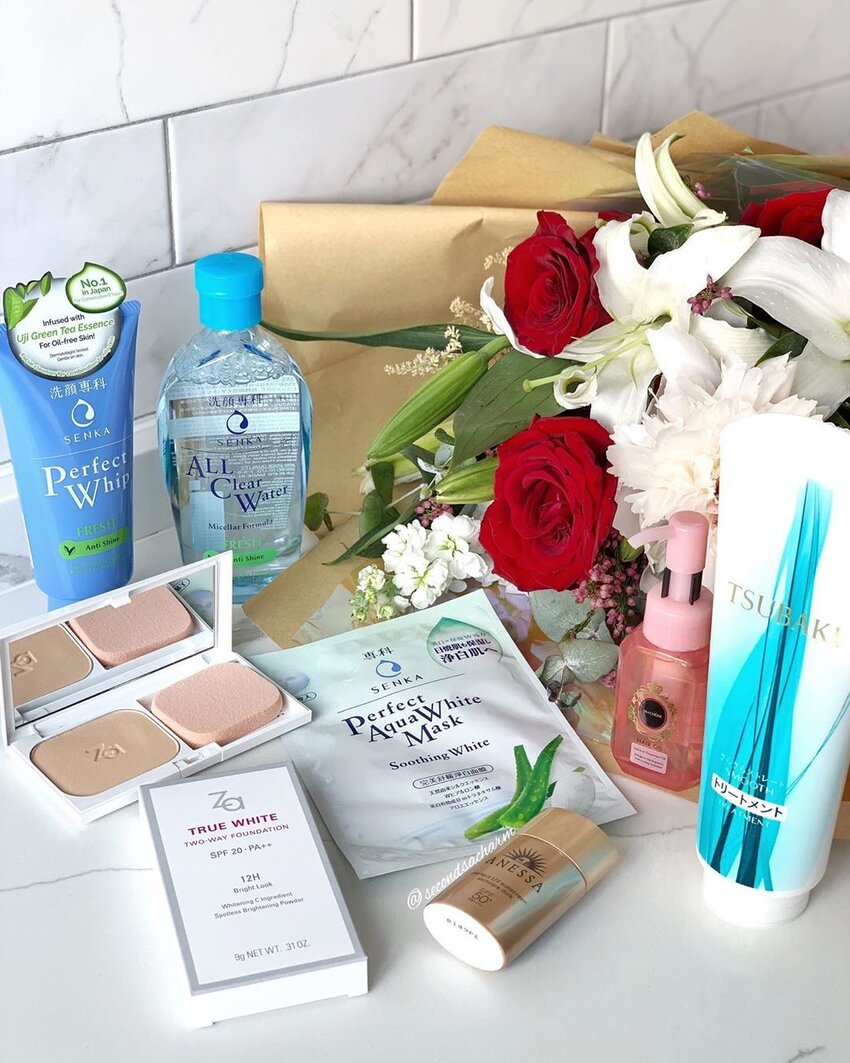 Mochi skin
In contrast to Western makeup where everything is almost always full-coverage, J-beauty is all about keeping it sheer and dewy. However, compared to Korea's glass skin, which almost looks wet to the touch, Japan prefers the mochi skin trend where a velvety-looking finish is the most ideal.
To achieve this, use a thin layer of foundation (BB and CC creams are also preferable because of their skincare properties) to provide the lightest coverage, as well as balance the colour of your skin tone. While a second layer is not exactly recommended in order to prevent a thick and cakey look, make sure you buff your makeup completely before proceeding to the next step. Once you're done buffing, proceed to concealer.

Unlike Western makeup where it's all about drawing triangles under your eyes and using two shades of concealer for highlighting and correction, Japanese makeup is all about using concealers only for spot correction. This ensures that the thin and skin-like layer of the base is maintained, still allowing the skin to breathe and appear translucent. Cream concealers are also preferable given that they add extra dewiness to the base makeup's finish.
After this is done, dust the skin with the slightest amount of powder to set everything. In Japan, 'marshmallow' or 'mochi' powder formulations are quite common as they're not as heavy as Western powders and also have a slight sheen/mineral-like flecks of glitter on them to contribute to that glowy look.
Kirakira + warm eyes
Speaking of glow and glitter, give your Igari makeup look a twist by enhancing your eyes with neutral shimmer eyeshadows. Kirakira, loosely translated to shining or glittering, is also another J-beauty trend that's present in almost every look in the region and one that complements the strong and exaggerated blush in Igari. Unlike Western makeup where you have to blend a multitude of colours to create an eyeshadow look, one to two layers of shimmer shadow (or four if you're feeling playful) is enough to channel the kirakira eye makeup (see above). Finish it off with a soft black or brown liner that you can even smudge for a subtler tightline and whip out your favourite mascara to seal the eye look.
Know where to place your Igari blush
Ever noticed why cream blushers are bigger than tints or powder blushers in Japan? This is because creams tend to be easier to manoeuvre when recreating the Igari look compared to other blush forms. Unlike the drunk blush we know where the concentration is mostly on the apple of the cheeks and the bridge of the nose, the Igari blush has a variety of styles. The most common is placing the pigment under the lash line and just above the cheekbone like an extension of your undereye eyeshadow.
In other variations, most of the pigment focuses on just the apples of the cheeks to deliver an innocent and youthful appeal. The nose blush also varies, with some focusing on the tip for an 'I'm feeling cold' type of look, while others dab the slightest amount of red on the topmost part of the bridge just to make it cohesive with the cheek colour.
Contouring and highlighting are not as tedious in J-beauty as it is in Western makeup. Looks like Igari tend to use the blush and the soft eye look to complement a rather neutral and uncomplicated base. But if shading and highlighting is your thing, feel free to do so, as long as you remember that minimalism is key in the look you're recreating.

Just bitten lips
Similar to South Korea, soft and diffused lips are also a thing in Japan. Colours that are barely-there are perfect for complimenting their preference of subtle beauty, which doesn't go any differently for the Igari makeup look. And if there's one thing that the rest of the world turned their backs to in the 2000s that Japan didn't, it would be lip glosses. Adding to the whole 'innocent' vibe, J-beauty still incorporates gloss into their chosen lip looks as it delivers youthful plumpness to one's appearance.
(Cover photo from: @niki_sakino)