If there's one thing we took away from our chat with
Estée Lauder's
International Pro Make-Up Artistes —
Leo Wong
from Hong Kong,
Fahmi Zulkafli
from Malaysia, and
Justin Lien
from Taiwan — it's that these men know beauty better than us ladies.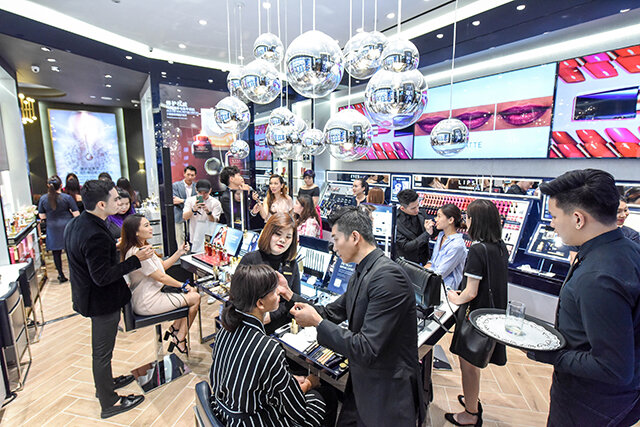 Besides that? Read on as we uncover four things we learnt from these make-up pros — straight from the new Estée Lauder boutique at Marina Bay Sands, Singapore. P.S. they all swear by one beauty product!
With great skin comes great make-up
Sure, make-up not only enhances your features, it also hides flaws. But at the end of the day, wearing make-up is just a vain attempt if you don't take care of your skin. "I believe that beautiful make-up comes from beautiful skin," says Fahmi. "You have to take care of your skin to have a beautiful canvas."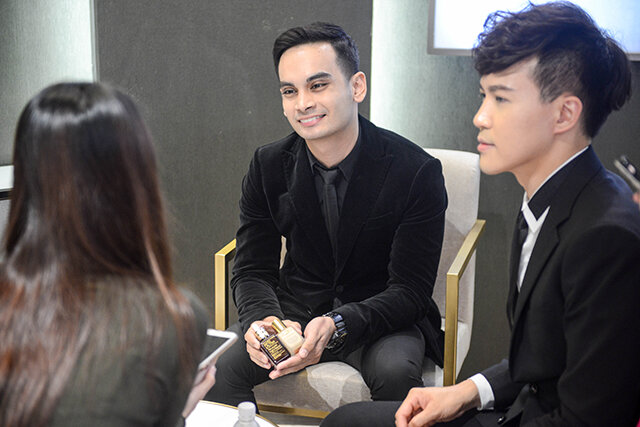 Fahmi Zulkafli
"These days, make-up is about being natural with the whole "real you" look," says Leo. "It's about anything that suits your own personality and something that comes from within."
So, how do you go natural? It's simple, really, according to Justin. "My philosophy when it comes to make-up is to use the simplest method to show off the most beautiful version you. After all, everyone has a specific feature that they care about and would like to conceal or accentuate."
Heed these tips for a quick fix
Good news: you can still look polished even if you're always in a hurry. Leo recommends what he proclaims the best combination: "The
Estée Lauder Advanced Night Repair
, together with the
Double Wear Cushion BB
, helps you achieve a nice finish in a flash."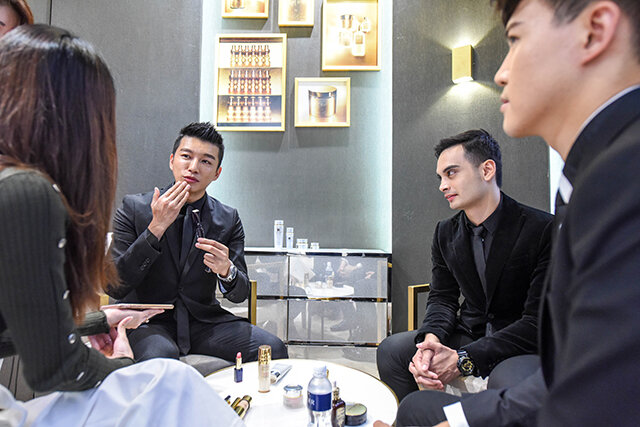 Justin Lien
If all else fails, reach out for a lip colour. "In my opinion, lip colour can instantly transform a look or personality," says Justin. "Keep three to four lipsticks in your bag so you can easily change up your look anytime. With that, lip care is very important for a beautiful lip look."
If you have a bit more time for a colour boost on your peepers, mix eye shadow with water. "Spray your brush with water before applying eye shadow to give your eye shadow a creamy texture," recommends Fahmi. "Many people don't know that technique, but it's beautiful. Even without eye shadow base, the colour will appear stronger."
Primer or setting spray or not, never forget to set your make-up
Besides using a primer or setting spray, there are other handy ways you can try to set your make-up in place. For one, opt for oil-free moisturisers. "In Hong Kong, the ladies use different types of moisturisers for different parts of the face," shares Leo. "They use an oil-free moisturiser for the t-zone, and something more nourishing for the cheeks, which are more prone to dryness."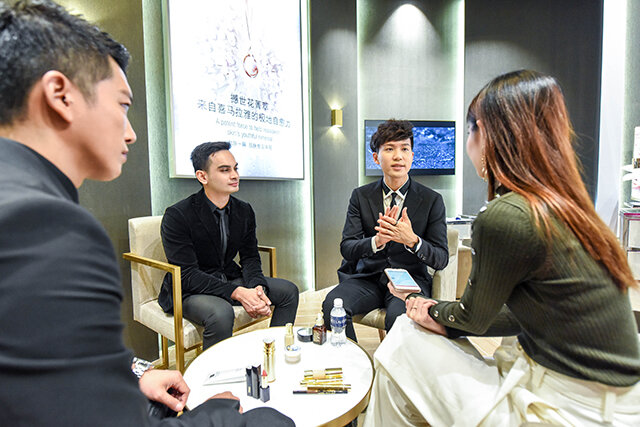 Leo Wong
No matter what, skin hydration should not be neglected. "Ladies with oily skin often neglect moisturising," says Justin. "Before applying your make-up, spritz on the
Estée Lauder Micro Essence Aquaceutical Mist
and pat in the product to allow absorption. Repeat these two to three times for intense hydration and lightness."
"When touching up your caked up make-up in this weather, make sure you apply a very thin layer — layer by layer — especially on the t-zone area" stresses Justin. "And only apply your BB cushion on your cheeks. Your make-up will last you the whole day."
If you're one for make-up that lasts until you want it off, make sure you have your primer, setting spray, and loose powder on hand. "After primer, apply your loose powder to set it in," says Leo. "Then put on your foundation before buffing on loose powder again. Finish with your setting spray."
They all swear by this one product




When asked about their favourite Estée Lauder product, the answer was unanimous: the
Estée Lauder Advanced Night Repair Serum
. Here's what they said:
Justin:
I like everything from Estée Lauder! But if I have to choose one, it'd be the Advanced Night Repair. My skin gets sensitive, especially during the change of season in Taiwan, but the ANR improved my skin tremendously. It has a high hydration factor, and it actually makes your skin healthier and more youthful-looking.
Leo:
The ANR, of course! I have been with Estée Lauder for 13 years, and I have been using the ANR since day one. I personally endorse this product for its youthful benefits.
Fahmi:
The ANR is my Holy Grail product. I used to have acne-prone skin and an uneven skin tone, but the ANR really helped. You're basically buying insurance for your skin.
Find out more about Estée Lauder here.