Cheers to the end of the working week! Relax, put your feet up and pat yourself in the back for a job well done. Kickstart your rejuvenation routine with these refreshing news from the worlds of fashion and beauty. From a record-breaking achievement in jewellery-making to the rumoured expansion of a big beauty brand, here are the latest updates that you shouldn't miss.
The Graff Lesedi La Rona
London-based jewellery company Graff just broke a world record when they unveiled Graff Lesedi La Rona, the largest square emerald cut diamond in the world at 302.37 carats. Found in Botswana, it was the largest gem-quality rough diamond discovered in over 100 years and the second largest ever found. From the initial cutting and shaping to the faceting and polishing, Graff's diamond artisans took 18 months for the process to be completed. You can learn more about this rare jewel here.
Kim Kardashian West is on her way to becoming a lawyer


Following the footsteps of her father Robert Kardashian of O.J. Simpson murder case fame, Kim Kardashian West is venturing into law studies and hopes to become a full-fledged criminal lawyer by 2022. Last year, the social media star met with US President Trump to plead the case of Alice Marie Johnson who was imprisoned for drug-related charges. A week after, clemency was granted for the 63-year-old inmate. This particular case is one of the highlights of Mrs. West's apprenticeship at a San Francisco law firm that she joined last summer. What do you think of Kim K.'s career move?
Where's Rexy? At Paragon.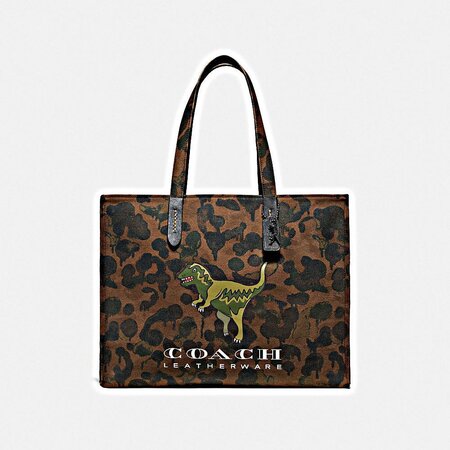 COACH launches special pop-up booths around the globe featuring everybody's favourite T-Rex, Rexy. In Singapore, you can find it at Paragon Shopping Centre from today until 21 April. It will be hard to miss the colourful booth especially when it features a life-sized Rexy in neon at centre stage. Inspired by a new era of streetwear melded with luxury fashion, the Rexy Capsule collection leverages on the playful nature of Rexy and is paired with elevated basics. From bags to beanies, this collection features a variety of quirky designs that will catch your eye.
SK-II #BareSkinChat returns with a brand-new episode
SK-II #BareSkinChat releases its fifth episode! This mini web series starring comedian James Corden and actress Chloe Grace Moretz explores skincare in a fun and unintimidating way with just the right splash of humour.
Another version from SK-II Japan
featuring Naomi Watanabe and Kasumi Arimura is also garnering attention for its entertaining storyline. Together, the series has garnered more than 40.6 million views to date. Make sure to subscribe to the
SK-II Youtube channels
so you won't miss the latest episodes.
Fenty Beauty rumoured to release a skincare line
It's been two years since it was first rumoured that the young beauty empire will release a skincare line. And today, it looks like we have a clear answer. Will Rihanna be launching a skincare brand? All signs point to yes. The most obvious evidence, pointed by Page Six, is the official listing of the trademark "Fenty Skin" at the United States Patent and Trademark Office. It seems that we're closer than ever to the official launch, so stay tuned.
(Cover photo from: @graff)
Don't miss updates from earlier this week. Read all about it here.