Another week has passed, leaving us with a fresh list of news to dissect and mull over during the weekend. And we've got quite an exciting mix this time around. From BLACKPINK's Lisa joining Penshoppe's list of global endorsers to Facebook surprising everyone with their sudden logo change, we've got them all right here in this week's Insider Roundup.
BLACKPINK's Lisa for Penshoppe
PH Blinks, here it is! After a ton of speculation following Lisa's BFF accidentally posting an IG story featuring a Penshoppe box weeks ago, it's finally confirmed. The BLACKPINK main dancer and first-ever non-Korean YG artist has officially joined fellow Hallyu stars Dara Park and Nam Joo Hyuk in the lineup of international ambassadors for the Filipino fashion brand.
Feel the holiday spirit in full swing at Santa Maria Novella's holiday wreath workshop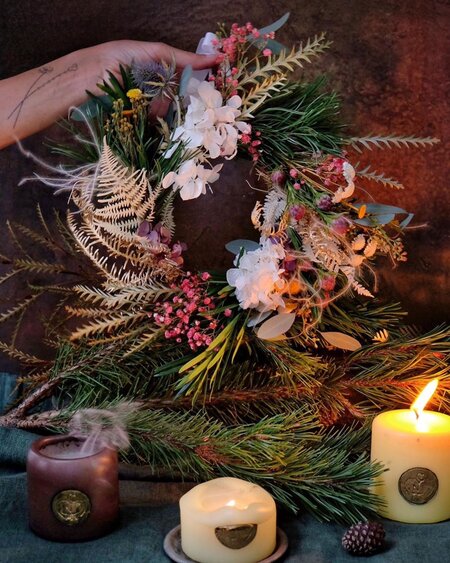 Getting your holiday cheer on? Why not go all out by joining a holiday wreath workshop courtesy of Santa Maria Novella. In partnership with Ask A French-Flowers, learn how to craft a beautiful and fragrant centrepiece to complement your Santa Maria Novella candles, fully igniting the holiday spirit in your home. Happening on 30 November 2019, you can reserve your spot at two different timeslots here.
Zac Posen shuts down namesake brand
Joining the list of fashion brands folding this 2019, Zac Posen bids goodbye to his namesake brand after failing to secure buyers and investors. According to reports, the label's spring collection will no longer be shipped and almost 60 jobs are to be axed given the shutdown. Sighs.
adidas will start running sneaker product trials in space
Onto more out-of-this-world news — literally — sportswear brand adidas is partnering up with the International Space Station to start product-testing in, well, space. Pushing boundaries on innovation, the project is set to use the concept of microgravity to make their footwear's functionality and comfort better for both athletes and general patrons. Cool, right? And who knows? Maybe we'll be seeing more astronauts donning these sneaks on the next moon expedition.
Facebook changes their corporate logo
To put a lid on this week's Insider Roundup, we saved the most brow-raising one for last — at least when it comes to the internet's standards. We're talking about Facebook announcing their corporate logo change, which is said to be a 'bid for transparency'. Now, before you go checking your FB app to see it for yourself, it's worth noting that the social networking platform will keep its signature blue and white branding. It's FACEBOOK (yes, in caps) as a corporate entity that's making the change.
The logo — which features a cleaner typeface, bigger kerning, and a multi-colour palette — is said to be implemented and inserted in all FACEBOOK-owned platforms, such as Instagram and WhatsApp, to better communicate corporate policies and values to their users. And of course, as expected of the internet, the re-brand caused a lot of memes, with some saying that FACEBOOK's attempt to distinguish itself from Facebook is definitely like a kettle calling...well, itself, black. Others are also confused by the myriad of colours the new corporate logo now comes in — the green one, in particular, jokingly referred to by others as the 'pseudo-Grab' in reference to the ride-sharing platform's similar colour.
Catch free Novu treatments until November 10
Thinking of getting pampered this month? All signs are pointing to 'yes' with all NOVU Medical Aesthetic Clinics' islandwide offer. You can get three free sessions of their signature treatments this month. This is in celebration of their third win in a row at the Singapore Prestige Brands Awards, earning them another Regional Brand Title, as well as a spot at the esteemed Hall of Fame. This promo only lasts until 10 November 2019, so make sure you check out the full details here.
(Cover photo from: @lalalalisa_m)
More news from early this week here.