Happy Women's Day, ladies! Before you go out for a night of celebration, take a moment to catch up with the latest news in fashion, beauty and stylish living. This week, we've got an exciting beauty launch that will make you nostalgic, an amusing royal update and more. Keep reading to know the tea.
Pucker up with these Clueless lip glosses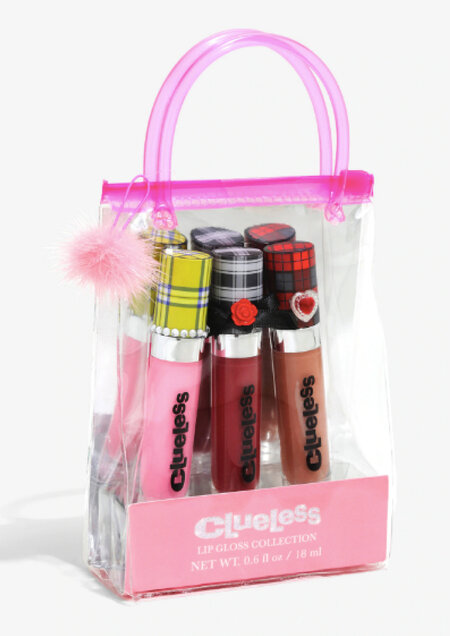 Nostalgia really is a big thing right now and these Clueless lip glosses press the point even more. Following brands like Storybook Cosmetics, Hot Topic and Ciate London who have recently released makeup lines inspired by '80s, '90s and even early 2000s movies and TV shows, pop culture-centric shop Boxlunch introduces glosses that Cher and Dione would totally be proud of. Aside from featuring the iconic title in its tube, the caps also feature designs referencing Cher and Dione's signature looks from the movie. The three high-shine glosses are packaged in a PVC pocketbook-style mini bag, complete with a pink pom-pom on its handle.
Tarte launches 'Foundcealer'
Tarte's newest launch mixes the powers of foundation and concealer by introducing the Babassu Foundcealer Multi-tasking Foundation. As the name suggests, the foundation is said to be intensely full-coverage that you wouldn't need to top it off with concealer. It also boasts skincare and sun-protect properties like hyaluronic acid, vitamin E and, of course, a ton of SPF. Tarte also seemed to have learned their lesson when it comes to shade range as this new release gets an expansive treatment, giving us 30 on its initial launch.


Ofra is getting a makeover
Goodbye, old Ofra! The beloved Florida-based beauty brand is going through a makeover. Soon, we'll be seeing a fresher and cleaner design. But before we completely say farewell to the classic look, the Old Ofra will have one last hurrah. Starting this month, until supplies last, you can buy two best-selling long lasting liquid lipsticks for the price of one at PHP850. This limited offer will be available at Ofra counters in premiere SM Department Stores, Watsons and Landmark Department Stores. You can also purchase various Ofra products at 50% off on Glamourbox PH and Ofra's official stores on Lazada and Shopee.
Queen Elizabeth II makes her first Instagram post


Everyone was surprised and amused when Queen Elizabeth II created her first Instagram post on the British royal family account. It was a snapshot of a letter written in 1843 by 19th-century inventor Charles Babbage addressed to her great-great-grandfather Prince Albert. In the letter, Babbage wrote about his work the "Analytical Machine," which is the foundation of modern computers. Queen Elizabeth II personally shared the post via an iPad at the Science Museum in London.
Game of Thrones' final season trailer finally arrives

HBO dropped the Game of Thrones' final season trailer last 6 March and boy, oh, boy the internet is quaking. Just after eight hours of its release on YouTube, the video already has more than 12 million views and has quickly hiked to 27 million after 24 hours — this does not include views and re-shares on other platforms such as Facebook, Twitter and Instagram. The final battle scene was teased to be bigger than Lord of the Rings: Two Towers Battle of Helm's Deep, which was one of the grandest fantasy battle sequences within the last two decades.
Kylie Jenner named youngest 'self-made' billionaire
Forbes announced that Kylie Jenner, 21, finally made the cut as the youngest self-made billionaire to date — and we can't even imagine how many lip kits have been sold to get to that number. The previous title-holder was Facebook's Mark Zuckerberg, who built his social media empire at 23. But many question the use of the term 'self-made' since we know Kylie's fame and the success of her makeup line can be attributed to her family's initial success on the reality TV front. But we want to know, who will take that crown next?

(Cover photo from: boxlunch.com)
Missed our last updates? Read about it here.