Today is one of those days when good news dominates the latest happenings. Here are some pick-me uppers to boost your festive hump day mood.
Robin Wright Takes The Lead
Even after the dismissal of Kevin Spacey in House Of Cards, allegedly due to multiple accusations of sexual misconduct, production for the next season will still push through with Robin Wright as the lead. Funnily enough, life imitated art as Kevin Spacey's character in the show resigned as president in the finale with his wife, Claire (played by Wright), taking over. Well, it's about time for Claire Underwood to step out of her husband's shadow and start calling the shots.
Stella McCartney Receives First-Ever Award For Innovation


Stella McCartney is the first recipient of the Fashion Awards Special Recognition Award For Innovation for her work and advocacy in finding cruelty-free, eco-conscious alternatives to traditional luxury good materials like leather and fur. Now, that's what you call fashion forward!
Selena Wears Coach For 2017 Fashion Awards



Image Source: Getty Images. Full rights to image courtesy of Coach.


This year, several styles from past decades have made successful comebacks. And it looks like we're not gonna stop there as we see Selena Gomez in this Victorian-inspired ensemble at the 2017 Fashion Awards. The custom Prairie Dress, Lace Up Western Boots, and the fabulous Pre-Spring 2018 Shearling Coat are all from Coach. What do you think of this style?
Dior Homme To Launch A BMX Bike
Giving a whole new meaning to street style, Dior Homme will release a BMX bike in collaboration with Bogarde. It's said that only 70 pieces will be released and you can get one for USD3,200.
Natalia Dyer And Charlie Heaton Are Now Officially A Couple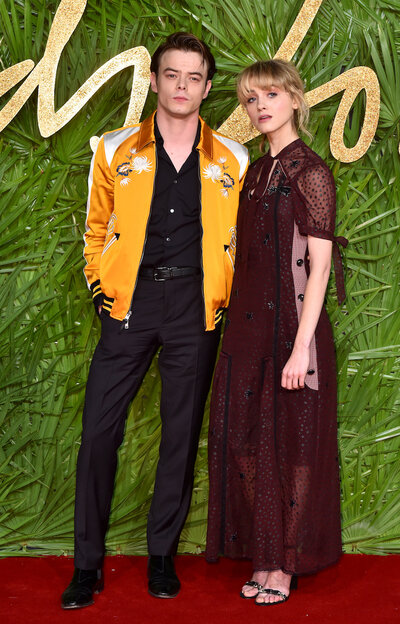 Image Source: Getty Images. Full rights to image courtesy of Coach.

Stranger Things co-stars Natalia Dyer and Charlie Heaton just made their first red carpet debut as an official real-life couple at the 2017 Fashion Awards. They arrived wearing gorgeous pieces from Coach. Natalia wore a printed, straight dress from Coach 1941 Pre-Spring 2018, while Charlie was in an all-black ensemble matched with an eye-catching varsity jacket from Coach 1941 Spring 2018 collection. Totally rooting for this couple!
(Cover photo from: @houseofcards)
Missed Monday's headlines? Click here to catch up.