This week was undoubtedly jam-packed with a lot of excitement, especially with 2020 greeting us right in the face. We've all spent the past few days reminiscing about our memories of the past year and decade, so now, it's time to look forward to all the new surprises in-store for us this New Year. From SK-II PITERA Essence's collab with Disney's Mickey Mouse to Kylie Cosmetics' upcoming Valentine's Day 2020 collection, new releases are abound to celebrate the new times. Read on to find out all the things to expect this year.
SK-II PITERA Essence and Disney's Mickey Mouse ring in the Year of the Mouse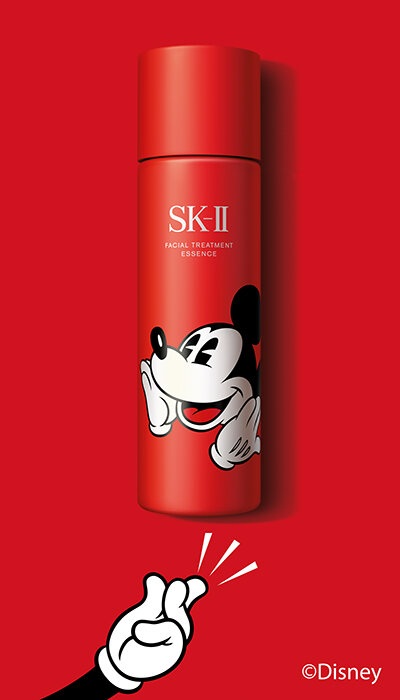 SK-II PITERA Essence x Disney's Mickey Mouse
Celebrate the upcoming Year of the Mouse — or rat, depending on who you're asking — with two icons we've grown to love: SK-II's PITERA Essence and Disney's Mickey Mouse. In a limited edition release, the cult-favourite facial treatment essence is wrapped in red for luck and will feature the adorable cartoon character. With Mickey Mouse doing the "pat pat" move on the bottle, he demonstrates the signature application method which would help us reap the benefits of PITERA to the fullest. So, to achieve your skin goals this year, grab the limited edition PITERA Essence from all SK-II counters islandwide for SGD289.
Kylie Cosmetics Valentine's Day 2020 collection is in works
Kylie Jenner just gave us a sneak peek of her first collab this 2020 and she's working on it with none other than her daughter, Stormi. The beauty mogul shared a behind-the-scenes snap of Kylie Cosmetics' upcoming Valentine's Day 2020 collection that's inspired by her daughter and their love of butterflies. From the photo, we can see that the collection includes a butterfly-inspired Lip Kit and an eyeshadow palette featuring nine colours. Stormi's birthday is this 1 February, so perhaps this release will also celebrate her turning two. We can't wait to see how this turns out!
Pomelo unveils their Chinese New Year collection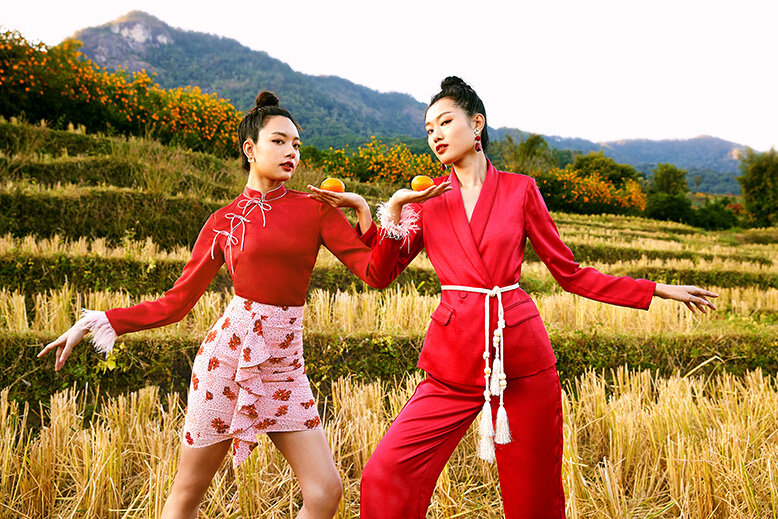 Interesting details like Mandarin collars, feather trims, and more make for a festive look
Of course, fashion mavens are also in for a treat this 2020. Those looking to complete their CNY OOTDs early this year should definitely stay tuned as Pomelo releases their Chinese New Year collection on 6 January. Commemorate the season of new beginnings imbued with elements of spring's true beauty. Choose from over 100 stylish pieces that draw inspiration from oriental landscape paintings. Greet the Year of the Rat with auspiciousness and confidence lent by the hues of scarlet, gold, and blue that dominate the collection. With their diverse silhouette and statement-making details, you can sure face the year with regal confidence.
The BAPE STA Sneaker celebrates 20 years with new styles
Renowned Japanese streetwear brand A Bathing Ape has produced classic staples since their inception in the 90s — one of which is their iconic BAPE STA sneaker. First introduced in 2000, the footwear was the brand's play on Nike's Air Force 1, featuring its own version of the sportswear giant's Swoosh logo. Since then, it has gained an instant cult status, becoming one of the mainstays in the Japanese brand's lineup. Now, as the sneaker turns 20, it gets its own capsule collection as an homage. Alongside the standard black-and-white colourways, the refreshing take on the sneaks includes quirky animal prints.
Immerse yourself in Japanese culture at JW360° 2020 Japan Bazaar
Didn't get to travel out of the country during the holidays? Well, no need to book a flight to immerse yourself in a different culture. Just head over to Jewel Changi Airport at B1 Atrium and check out the JW360° 2020 Japan Bazaar to experience the Land of the Rising Sun. This 4 to 5 January, you can have a taste of their specialty products from brands like Nissin, Sunstar, Kikkoman, and many more. While you're there, you can enjoy various cultural performances featuring artistic calligraphy and an NOH performance by Minami. Not only that, but you might also get a Japanese Fortune Bag during each show too. What a great way to start the new year, isn't it?
(Cover photo from: sk-ii.com.sg)
Keep yourself updated with all the latest news this 2020 here.