Delicious food and refreshing drinks form the cornerstone for a nice day out, but an eye-pleasing environment rounds out this combination and hits the ultimate trifecta of chill — especially when in the presence of good company. There's also something to be said for the thrill to be derived from these moments when everything aligns perfectly, even more so if you're big on sharing them with an audience online. Here are some places we find particularly 'grammable in Singapore.
Alchemist
Amidst a cluster of industrial buildings in the Paya Lebar area, Alchemist quietly resides on the ground floor of a former biscuit factory gazetted for conservation in 2005. Its original façade has been carefully preserved, so you can see the café's neon signage peek out shyly from behind the factory's original signboard and intricately painted gates. On the inside, Alchemist's décor boasts a minimalist aesthetic, with a deep marine counter rising up from concrete floors accented with vintage tiling; a holdover from the landlord's rich heritage. Take a snap of your flat white's #latteart before sipping on it, or step outside and pose for your #OOTD at the entrance — this wedge-shaped structure channels major Flatiron Building vibes.
Café de Nicole's Flower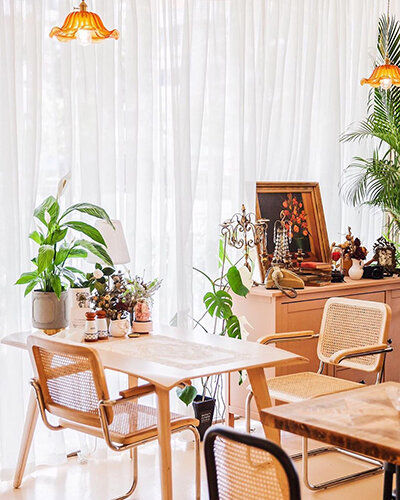 (Photo from: @cafedenicolesflower)
Stepping through the arch framing the entrance of Café de Nicole's Flower is akin to being transported into a flower shop in Provence. Boasting a charming rustic-themed floral aesthetic that will have you snapping away almost the entire time, this pet-friendly multi-concept space is home to not just a café but also a florist's that hosts workshops. Bring your own furry best friend for a nice day out as you tuck into fluffy soufflé pancakes and super pretty drinks. If you're lucky, you might just be able to make friends with the owner's adorable grey cat Lao Ban.
Clan Café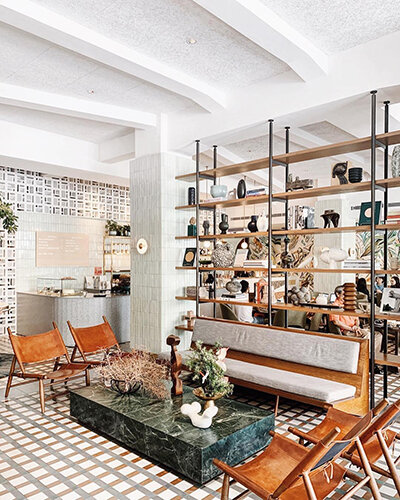 Situated on the outskirts of Chinatown in the lobby of private members' club Straits Clan, Clan Café — which is open to the public — comes across as the sophisticated hybrid of a breezy living room and a traditional coffee shop. Floor-to-ceiling windows overlooking the street draw natural light to an inviting palette of cool green hues complemented by custom made rattan furniture, hand-painted botanical wall murals, tropical floral arrangements, and Peranakan-inspired tiling. Bask in the atmosphere as you enjoy healthy grain bowls and salads infused with local flavours, and the Clan Café's now-iconic otah sandwich — an aromatic spiced fish & prawn paste topped with comté cheese, tucked between layers of crisp, buttery brioche.
Tea-Bone Zen Mind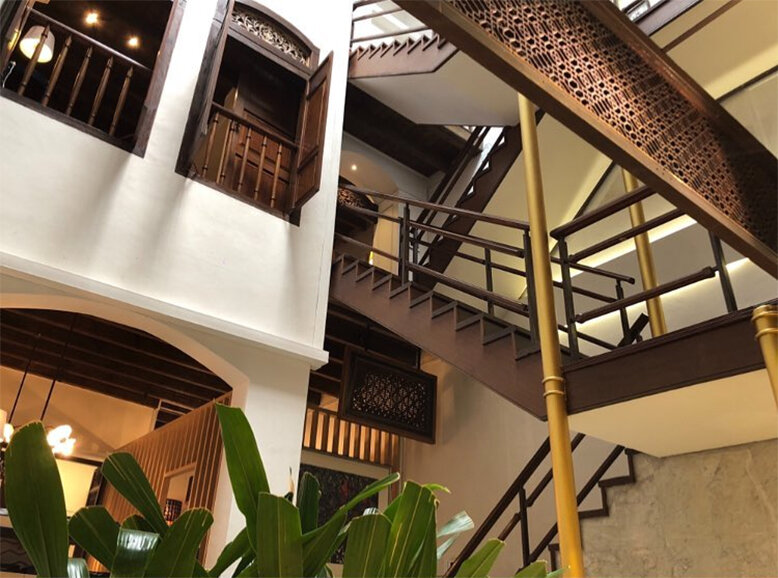 Hidden away in the quiet Emerald Hill neighbourhood just off Orchard Road, Tea-Bone Zen Mind's nondescript entrance (it does not have a signboard!) belies a stunning interior that looks and feels a lot bigger than it does on the outside. Ring the doorbell, and step into a beautifully conserved house bedecked with an artful blend of traditional design and modern Zen aesthetics. Over a two-hour tea sampling session, unwind over a seasonal selection of perfectly brewed fine teas paired with sumptuous bites. You'll need to make your booking at least three days in advance through their website, but this not only means that everything is prepared specially for you, but also that it will never be too busy for you to capture every single moment there perfectly, with minimal crowd interference.
Tiong Bahru Bakery Safari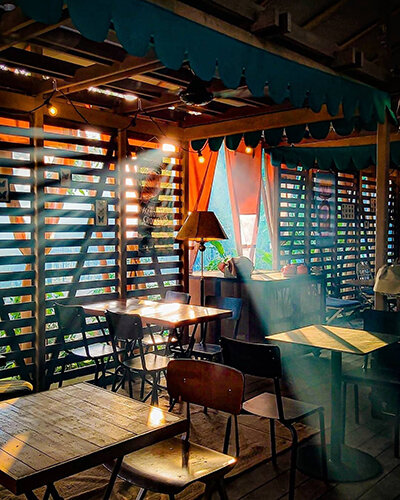 Quite possibly Singapore's first safari-themed dining establishment, Tiong Bahru Bakery Safari (also known as TBB Safari) offers the opportunity to enjoy the glamping experience without having to go too far out of town. Nestled within Dempsey Hill, the café was built to resemble a large tent, and is decorated with rope wrapped columns, Kilim carpets from the Middle East, and even insect taxidermy shadow boxes. While Tiong Bahru Bakery's signature selection of French pastries is available there, TBB Safari also serves an exclusive menu that includes antioxidant-rich, caffeine-free colourful lattes created with fresh ingredients harvested from its own garden, not to mention power breakfast jars infused with fruits and flavours unique to our region such as papaya, pineapple, rojak flower, pandan, and sago.
(Cover photo from: @cafedenicolesflower)