Nothing else would make your food more delicious than by savouring it in an equally pleasing environment. And what better way to enjoy this sensorial experience than by snapping a photo for the 'Gram? Give everyone a treat by getting some fresh and delectable shots for their feed. If you're visiting the Philippines soon, these Instagrammable places around the country will surely satiate your Insta-cravings with a bite and a snap.
Manna and Golde
Manna and Golde, a quaint café tucked in Kamuning, Quezon City is perfect for those looking for an Instagrammable place to bask in the bright afternoon sun. The black and white mosaic tiled flooring and the golden geometric elements on the walls and the ceiling make for an interesting addition to your IG profile. Enjoy your picture-perfect surroundings with their all-day Filipino breakfast offerings like Garlic Beef Tapa and Egg Rice along with unique coffee brews.
Charito by Bag of Beans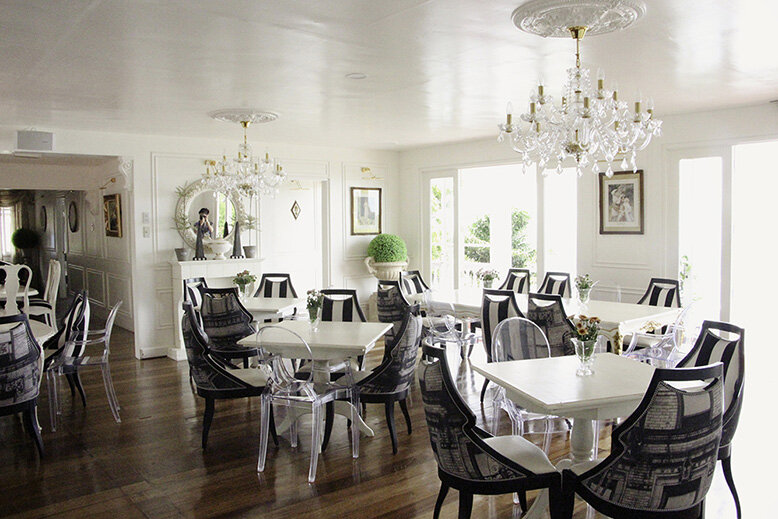 Charito by Bag of Beans is perfect for those looking for a quiet place to stop over during their weekend in Tagaytay. Its modernised Victorian-style furniture make for an elegant ambience that's a perfect backdrop during special moments. Not only that, its outdoor seats provide a scenic view of the Taal for your feed. Enjoy your weekend brunch at the heights by having a hearty bite of their roasted beef.

The Pyramid
If you're looking for a sophisticated OOTD and dining spot in Cebu, head off to The Pyramid Bistro at IT Park. The Louvre-inspired façade of the wine and dine restaurant makes for an eye-catching modern minimalist backdrop, but taking shots in its glass-encased interiors is a must-do as well. Have a bottle of your choice red wine opened and pair it with ostrich steak grilled to perfection for a dinner to remember.
Balay Sa Busay
Sitting atop the scenic Tops Road in Cebu City is Balay Sa Busay, giving you an unhindered view of the city below. Their comfy modern Filipino interiors make for a great shot, especially during a bright sunny day. But the local restaurant isn't only worth visiting for its homey aesthetic but also for its food. All quite Insta-worthy and delectable, their offerings range from various Filipino favourites made with a twist. Try out the Cebu specialty, lechon, in a different way with the restaurant's Lechon Tinola.
Spark Coffee + Crafts
With a small corner dedicated for calligraphy supplies for sale, Spark Coffee + Crafts is a haven for arts and crafts enthusiasts in Davao. But don't worry because even if you're not the artsy kind of person, you'll still enjoy this Instagrammable place and its simple yet sunny interiors. Don't forget to take a shot of their wall featuring works of different local artists before sampling their matcha waffles and fried cheese sandwiches.
(Cover photo from: @kirtubd)
Staying in Malaysia? See the best cafés for your IG feed goals.