"What company takes you to an island resort?" asked Gregory Arlt, Global Director for Makeup Artistry at MAC Cosmetics.
On February 6, we were whisked away from the confines of our work places and transported to the beautiful Shangri-La Mactan resort in Cebu to witness the presentation of MAC's Spring/Summer 2017 trends.

The presentation was done in a tent a few feet from the sea, which proved to be an apt location as the upcoming trends and releases from the brand dared people to return to what feels more natural to us — less of the heavy, more of the raw (yes, "raw," we'll explain in a bit). With that said, what looks should you be sporting now that the cold is slowly starting to leave us? Here's a guide.

--------------------------
Real
Gregory Arlt demonstrating the "Real" trend on model Stephanie Zubiri. The look is

au naturel

with a bold lip.
Say goodbye to heavy, Instagram-inspired looks. It's back to basics with a bold twist. For spring and summer, it's all about getting real. Unfiltered, unpretentious, and easy are just a few words to take note of. In line with this, MAC will be releasing a new face colour called "Next to Nothing," which aims to let you be as comfortable with as little makeup as possible.

Free
Arlt giving singer-actress Karylle coloured lashes — a staple in the "Free" trend.
Fans of colour will not be left behind as MAC also sees the resurgence of 80's beauty trends. It's time to cast away your inhibitions and start embracing colour — everywhere. Put some on your eyelids, eyelashes, cheeks and lips. MAC will be releasing mascaras and eye colours in bright hues.
--------------------------
Wet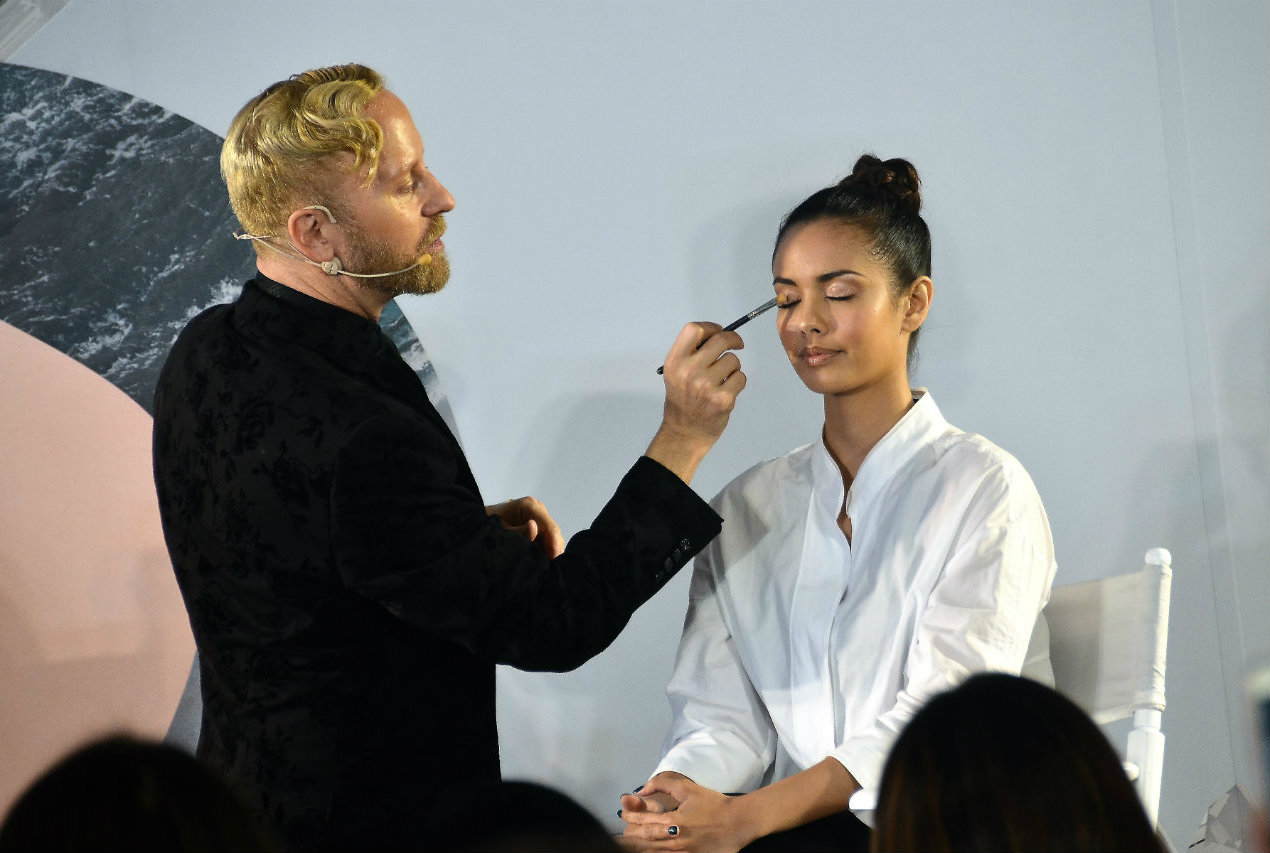 Arlt gives Miss World 2013 Megan Young glossy lids.
While strobing is still a hit among many, powders will take a backseat. Liquids and emollients are the way to go to achieve a more natural-looking glow. Perfecting the glow of your base is always a good place to start. For this, you can mix your favourite foundation with the Care Blends Essential Oils. Put some Clear Gloss on top of your eyeshadow, and you'll have a look that's not only great for pictures but also eye-catching in real life.
Warm
Arlt making model-actress Bianca Manalo look like a bronze goddess.
Embrace the warmer weather brought by spring and summer and show it on your face. Opt for hues that are fiery and feisty for a feminine take on a sunkissed look. Glow with bronze hues on your cheeks, peach tones on your lids, and make sure to swipe on some hot hues of red and orange on your lips. MAC Lipglass, which will have a new packaging, has a huge variety of hues to choose from.
--------------------------
Watch out for new MAC releases you can use to achieve these beauty trends when they hit stores in June.