Have you ever felt the urge to get rid of all of the items in your closet or tried living with less? You are not alone. Call it the 'Marie Kondo' effect if you wish; minimalistic living is here to stay. With COVID-19 serving as a wake-up call for many of us to be more appreciative of our health, our loved ones and the smallest things in life, subscribing to a simpler, refined way of living helps us to focus on the things (and people) that truly matter.
It's tough to talk about minimalism without thinking about Japanese-style interior designs, which often emphasise simplistic, natural elements and focus on making the most out of essentials. With that, here are a few breathtaking Japanese-inspired living spaces minimalists are bound to love.
'Japandi'-designed spaces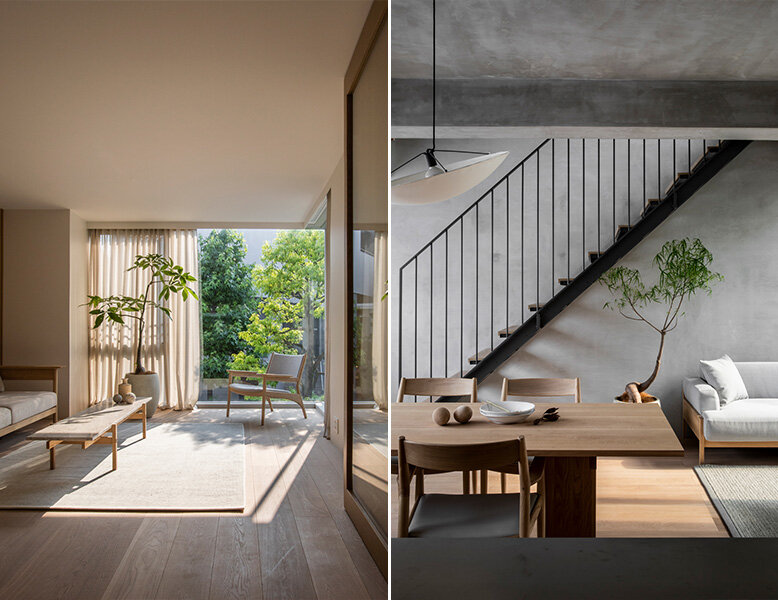 Meet one of the trending buzzwords in the world of interior design and architecture today: Japandi. As its name suggests, Japandi is "a combination of Scandinavian functionality and Japanese rustic minimalism to create a feeling of art, nature, and simplicity," according to Lena Walas of design firm Ward 5 Design in an interview with The Spruce.
The interior of the Kinuta Terrace (above), a residential design project which was completed in 2019 by Tokyo-native design studio Keiji Ashizawa Design and Danish design firm Norm Architects, perfectly showcases the appeal of Japandi. According to Norm Architects, each space within the apartment has been thoughtfully designed to allow air and light to pass through; thus creating a natural flow throughout the apartment. Furthermore, this dreamy space is actually nestled within bustling Tokyo, which makes it a peaceful and safe zone for frazzled city dwellers to come home to.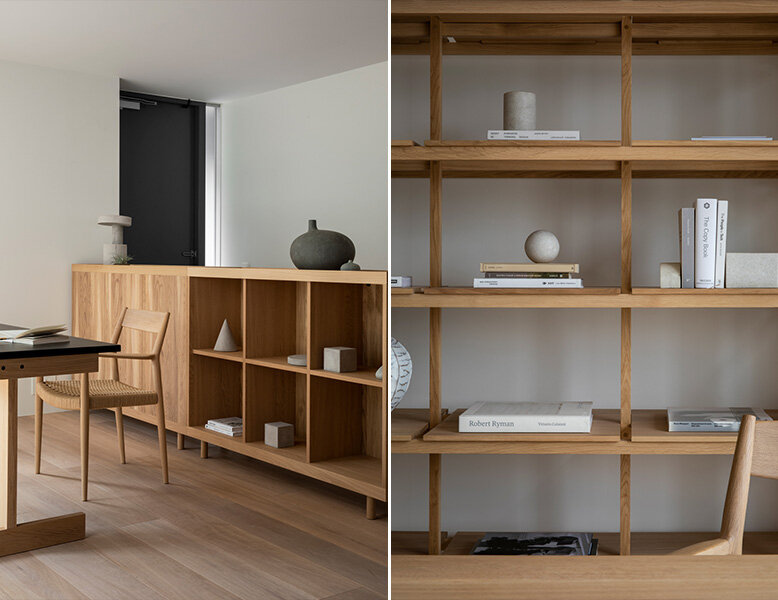 The apartment's bespoke furniture is by Karimoku Case Study, a contemporary lifestyle brand that is run by the same two architecture and design studios behind Kinuta Terrace. The studios also roped in Karimoku, one of Japan's largest wooden furniture manufacturers to develop the pieces. Explaining the rationale behind the design of one of their shelving units (featured above, on the right), the brand shared: "[It] should not merely be considered a functional piece for storing possessions, but for displaying objects that inspire us in our daily lives."
The 'Japandi' aesthetic can also be easily incorporated into smaller living spaces — case in point: this gorgeous walk-up apartment situated within sunny Singapore. Voila, the interior design agency behind this apartment, revealed in a series of Instagram stories that the striking wooden panelling details in the living room are murphy doors which cleverly conceal the study area and the bedroom. The apartment also has an open-concept kitchen that features wood grains and natural-looking stone surfaces. For a closer look at this home, check out Voila's site here.
Home 'Cafe' in Yamaguchi, Japan
160 square metres is more than sufficient for barista Kametani Yasuyuki and his wife, who jointly transformed an old Japanese home in Yamaguchi into a stylish, minimalistic home-cum-cafe. The couple practices 'slow' living and is content with their humble living space. Check out their living room, which boasts high ceilings to let in natural light and a long wooden table that comfortably seats up to a dozen guests. The living room doubles as Yasuyuki's 'workstation' for roasting coffee beans, and is also occasionally used for art exhibitions.
Meanwhile, his wife mans their cafe's 'storefront', a tiny 15-square-metre space which was formerly a storage room. What's interesting though, is that their business is flourishing although they operate the cafe for only two days a week. (Curious? Watch the video to find out why.)
Tatami Livin' in Takasaki, Japan
Formal living rooms are taking a backseat as space-conscious homeowners look for multifunctional designs to accommodate their hectic lifestyles. One of the highlights of this airy home is the raised tatami area, which can be easily converted into a guest bedroom, a lounge area or even a play area for young children. Developed by construction company Wabika Hirokami, the raised tatami area is also an excellent storage solution if you are serious about leading the minimalist life.
Here, in a similar home that's developed by the same construction firm, we see a clearer distinction between the different areas within the living room. In comparison to the previous living space, the raised tatami area in this home is equipped with shoji paper screen doors to provide a little more privacy without making it feel enclosed or stuffy.

Aman Tokyo hotel
Do homes away from home count? We sure hope so. Aman Tokyo is worthy of a spot in this round-up as we reckon that it is the epitome of Japanese minimalism and refined luxury. This luxury hotel and urban sanctuary, which was first unveiled in 2014, is situated within Japan's Financial District of Otemachi. Each of their rooms and suites blends wood, stone and shoji paper sliding doors with modern technology and fine fabrics.⁠ In addition, every room also houses a one-of-a-kind sho calligraphy artwork created by Carré MOJI studio.
Japan has yet to open its borders to foreign nationals from countries including Singapore, Malaysia and the Philippines though, despite the fact that the daily confirmed cases of COVID-19 in the country have been decreasing significantly.

As you wait impatiently for travel restrictions to ease up as soon as possible, consider saving up as much as you can in the meantime — a quick search on TripAdvisor reveals that an evening's stay at this luxurious destination costs at least SGD1,100/~USD789. As a more affordable alternative, you're more than welcome to add these shots to your Pinterest board as inspiration for your next home renovation project.
Are you a fan of Japanese-style interior designs too?
(Cover photo from: normcph.com)
Now, check out the 5 minimalistic rings that we'd wear for 5 different occasions.