Ready to get your style back on point? Makeover series 'How Do I Look? Asia' is returning for its second season on DIVA TV to help women up their sartorial and confidence game this 29th August 2016. Helming the show is none other than the series' original U.S. format host and current executive producer, Jeannie Mai! The vivacious personality will take on How Do I Look? Asia 2 and we cannot wait to see her sassy, always-on energy onscreen.
Behind Jeannie is an all-new glam team: Malaysian TV personality
Marion Caunter
, Singapore social media influencer
Andrea Chong
, L'Officiel Manila editor-in-chief
Pam Quinones
, and Indonesian creative director/fashion academic
Diaz Diaz
. Together, they will transform eight women into a stylish makeover success that celebrates their individuality. As Jeannie puts it, "Fashion is a business, it's something you buy. Style is a personal love letter to your individuality."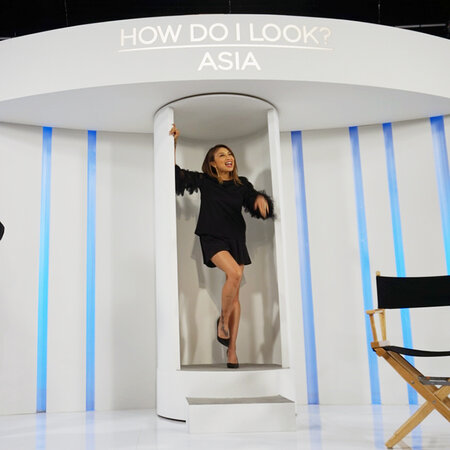 In May, we scored a sneak peek into the set of How Do I Look? Asia 2 at Universal Studios Singapore, where they shot eight episodes under a short span of two weeks -- crazy! At the set, we met up with Jeannie, Diaz Diaz, Andrea Chong, and the one-and-only
Mama Mai
-- Jeannie's mum. If there's one more thing we love about Jeannie, it's her endearing relationship with Mama Mai. Watching the mother-daughter pair candidly interact with each other is precious comedy at its best. Ahead, we talk to Jeannie (and a little guest appearance from Mama Mai) about her take on the second season of How Do I Look? Asia.