Ready to get your style back on point? Makeover series 'How Do I Look? Asia' is returning for its second season on DIVA TV to help women up their sartorial and confidence game this 29th August 2016. Helming the show is none other than the series' original U.S. format host and current executive producer, Jeannie Mai! The vivacious personality will take on How Do I Look? Asia 2 and we cannot wait to see her sassy, always-on energy onscreen.
Behind Jeannie is an all-new glam team: Malaysian TV personality
Marion Caunter
, Singapore social media influencer
Andrea Chong
, L'Officiel Manila editor-in-chief
Pam Quinones
, and Indonesian creative director/fashion academic
Diaz Diaz
. Together, they will transform eight women into a stylish makeover success that celebrates their individuality. As Jeannie puts it, "Fashion is a business, it's something you buy. Style is a personal love letter to your individuality."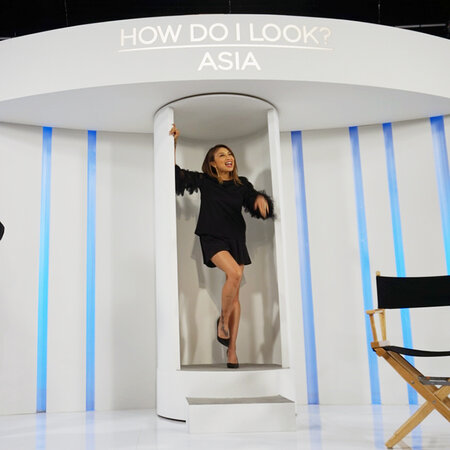 In May, we scored a sneak peek into the set of How Do I Look? Asia 2 at Universal Studios Singapore, where they shot eight episodes under a short span of two weeks -- crazy! At the set, we met up with Jeannie, Diaz Diaz, Andrea Chong, and the one-and-only
Mama Mai
-- Jeannie's mum. If there's one more thing we love about Jeannie, it's her endearing relationship with Mama Mai. Watching the mother-daughter pair candidly interact with each other is precious comedy at its best. Ahead, we talk to Jeannie (and a little guest appearance from Mama Mai) about her take on the second season of How Do I Look? Asia.
What's different about HDIL Asia 2, as compared to its U.S. format?
Jeannie: In America, we [shot the show] in four different locations. We managed to make an even better set here in one space. It's so efficient, I'm so proud. My favourite part [about] How Do I Look? Asia is that you'll see everything. When I'm yelling at the crew [asking], "What do you guys think about this look?" And they are [silent]. I'll be like "No! I want to hear it!" There's nothing hidden on this set. Things like that you're going to see [them] "raw".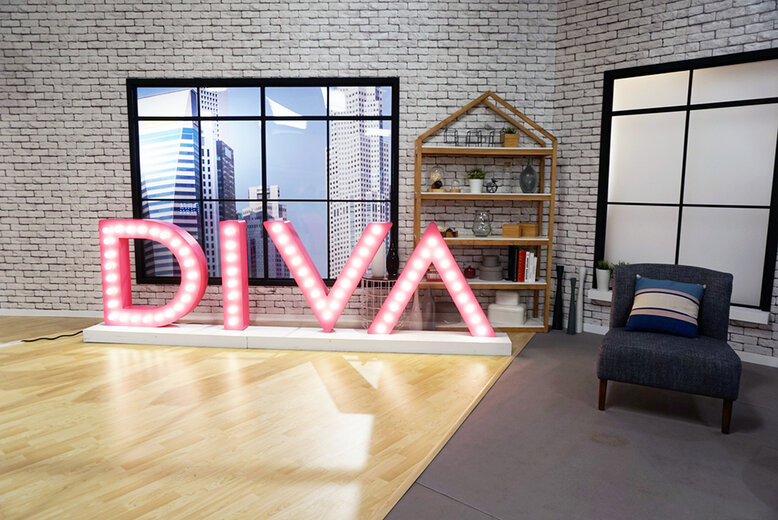 Who was one of the most memorable participants in the show?
Jeannie: We have a woman who lost 40 kilograms and still lives in what we call the "phantom fat". Most of these women still think that they are in their big body, so they still dress oversized. She did, [and] she still thinks: "I can get "fat" any day now, so I'm just going to live in this".
I'm not a psychologist [and] I'm not a doctor. But what I can do is to give one glimmer of light to get her to see what I see in the mirror -- and hopefully that would make a change.
What do you like, and what do you not like, about the HDIL Asia 2 set? What would you like to change about it?
Jeannie: That's a great question 'cause I already have a list of what I want to change. I love the set way more than the one in the US. It's all right there, so I walk less on heels. Number two: I want more snacks. More chocolate, different snacks [every day]. I love our breakfast! Our breakfast and lunch are Malaysian or Singaporean food, like Nasi Goreng or Mee Goreng. I love that, because in the States, you actually gain weight 'cause it's [always] fried eggs and fried sausages.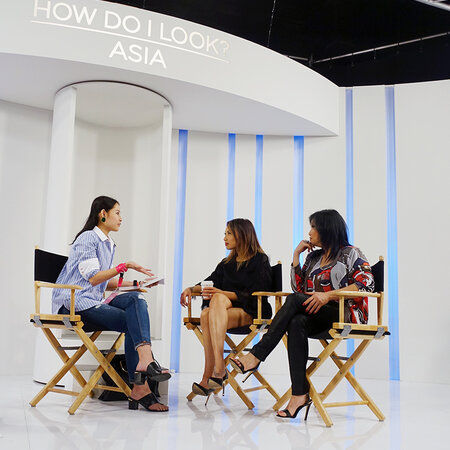 Who are you following on Instagram right now, since you're so hot over Instagram?
Jeannie: Oh, good question. Who are you following on Instagram, Mama Mai?
Mama Mai: Who am I following on Instagram? I follow most people…
Jeannie: You've been following everybody who follows you? Don't do that. We're going to talk about that. I'm going to unfollow some people, because you don't follow everybody on Instagram, mum. For me, I love Andrea Chong. She's beautiful. Her stuff is amazing. I love Nicole Warne. I follow The Real -- my show. I like foodies, I follow a lot of "food people".
Name at least one current fashion trend you'd like to send straight to the Ew Tube.
Jeannie: A current fashion trend… Okay, hold on, there's a lot. I'm excited to pick one. Is it a fashion trend to pose a certain way? Or is that not? I hate these (starts gesturing cute poses). I think it's so annoying. I do it for fun, like when you're laughing at something. When girls are all like (starts gesturing again), I think it's weird. I don't think it's sexy.
Which celebrity do you want to transform?
Jeannie: Oh god, I don't want to transform her, because I think I'll get caught into her spiral of
cray-cray
. But
Bai Ling
is really interesting to me. I will sit from afar and enjoy. I don't [want to] change her. [To Bai Ling:] Keep doing what you do, because I love following you and watching. Like wow, you really did that.
What advice would you give women who are trying to find their personal brand of style?
Jeannie: Style is a personal love letter to your individuality. Start with your individuality. What kind of music do you listen to? What colours move you? What are the things that make you
you
? With that, start to decorate your style.