The beauty industry is made up of researchers, scientists, dermatologists, and wellness professionals that all work together to create products that bring you joy and glowing skin. While we see the products of their hard work everywhere we turn, it's always nice to hear from the people who develop your beauty faves behind-the-scenes. During the launch of
PAYOT
's first retail store in Singapore last month, we sat down with international trainer
Jessica Dardar
to get her take on the beauty industry, including her top beauty recommendations and must-haves. If you're thinking of making a career change, like Jessica did, or are simply interested in the lives of beauty and wellness professionals, read on.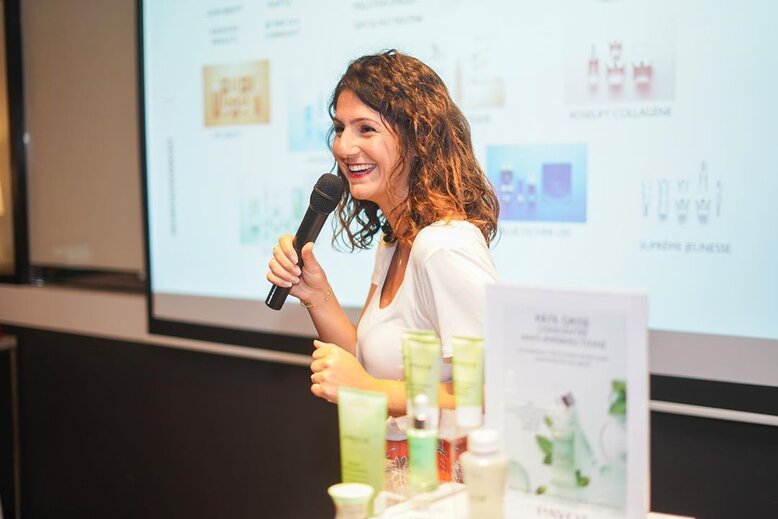 PAYOT International TrainerJessica Dardar during the opening event of the PAYOT store in TANGS Vivo City. Photo from: @payotsingapore.
What role does beauty
—
as in skincare and cosmetics in particular
—
play in your life?
"Beauty for me is about wellness. It's like pleasure, it's taking care of yourself. Nowadays, I feel like we always lack time. We don't have time to really be mindful, think about ourselves, and take the time to relax."
What are your ultimate beauty must-haves?
"My beauty must-haves definitely include the
Hydra 24+ serum
because I really like that I can bring it everywhere. Since it's only 30ml, I can take it into the cabin whenever I have a flight and it's very easy to use. Otherwise, I would say I always have the
PAYOT Uniskin CC Cream
with me to protect from sun rays and the
PAYOT Brume Eclat
facial mist to spray on for dewy, moisturized skin. I also really like it because it's anti-pollution and I can't get enough of the smell."
Fill in the blank: "Some people cannot live without lipstick or mascara with a—"
"Hydrating mask, that I leave on overnight. It's the best."
What made you interested in learning about massage techniques, and which one is your favourite?
"Before working for PAYOT, I was in a completely different career path. I was a sales representative for the clothing industry. When I decided to change careers, I wanted to get into the wellness industry. I went to school and everything. Afterwards, I really wanted to specialise in massages so I decided to go to Thailand to learn their techniques there.
As for my favourite massage technique, I was in school to learn the Kobido massage (face massage) and I love that technique, a lot. I would say it's a mix of therapeutic and relaxing massages because it uses a lot of strokes and varying pressures in the process."
If a woman comes to you for advice on anti-ageing, what advice would you give her?
"I would tell her that's there's no one-size-fits-all when it comes to anti-ageing skincare. It really depends on person to person. So I would ask a lot of questions, take into account her lifestyle, skin issues, and all other relevant factors before giving any advice."
So, in your opinion, what is the biggest skincare mistake that many people make?
"It varies per country, but I've noticed that people are really too harsh on their skin. For example, one of the biggest skin concerns right now is oily skin. People with oily skin tend to over-wash it and be very aggressive with exfoliating and cleansing. This is actually one of the worst things you could do because the skin gets irritated and even more oily.
I also think that people introduce too many new skincare products to their routine too often. They don't give a chance for the products to really work or let their skin adapt to the new product. Sometimes, it's like they use it for just two days and then decide, "No, I don't like it," and just switch to a new product immediately.
I think the biggest mistake people make is that they don't really analyze their skin. They just do whatever they see on the internet or on Instagram. They don't really check if there's anything happening on their skin or if the products they see online are suitable for their particular skin type."
What's your favourite thing about working in beauty?
"For me, it's the opportunity to take care of yourself. And I feel that nowadays we don't have enough time for that. And I really love the fact that we are providing a kind of happiness. For me, beauty is not only cosmetics. Since PAYOT is also a professional brand, and we are in beauty salons and spas, we're really providing escapism, wellness, and relaxation. So for me, that's the best part. I also love meeting new people, every person I meet in the beauty industry is just so passionate about it."

And if there's one — and only one — PAYOT product to recommend to anyone, what would it be and why?
"I think my top recommendation to anyone would be
L'Authentique
. It's one of our recent launches this year and it's like the masterpiece for me. It's super smart. The technology's based on the vitality of stem cells. We pick some molecules from the Saponaria plant stem cells and mix it with pure gold particles, creating a cell booster that reinforces the skin's self-repairing power. If your skin cells are dynamic and healthy, you are going to be able to keep your youth capital. It's a product that's truly suitable for everyone. The earlier you use it, the better. So I would say L'Authentique."
(Cover photo from: @payotsingapore)
You can now visit the PAYOT counter in TANGS Vivo City.