Clozette is proud to be the digital media partner of Singapore Stories 2021, organised by Textile and Fashion Federation (TaFF) Singapore. Stay tuned as we bring you the latest news and happenings on the fashion design competition.
Interstitial. Intangible. International. These were just a few of the terms that Singaporean fashion designer Jon Max Goh used during our conversation and it's proof that he's a creative force to be reckoned with.
Ever so eloquent in articulating his visions and ambitions for the future of fashion, Jon sat down for a chat with Clozette to tell us all about his recent Singapore Stories 2021 win, the importance of breaking away from the mould and the boundless creations that he hopes to build in 2022 and beyond.
Congratulations, Jon! What was going through your mind when you were announced as the winner of Singapore Stories 2021?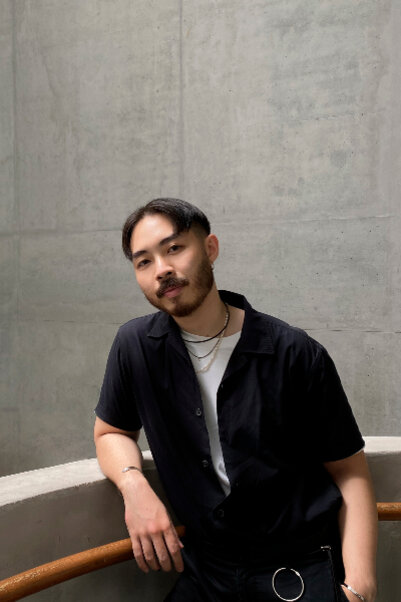 "'Wow, it's really happening!' That's what was going through my head. All five contestants were so different, so it was really up in the air with regard to what the judges would gravitate towards, and how we each presented our work at the finals. I'm excited and motivated that a collection that's a bit more avant-garde and pushing the boundaries around the presentation of gender, viable garment and how it relates to cultural identity is being recognised and celebrated."
Talk us through the inspiration behind your six-look capsule finale collection, "State of Becoming".
"'State of Becoming' is about celebrating a perpetual movement of coming into being, a constant evolution, never being one finite thing: The in-betweenness of interstitial spaces where, to me, identity and memory exist. It's about looking at the intangible space that our histories, our memories, and our identities occupy — and furthermore, it asks to look closer at the space where multiple histories and memories collide, converge and overlay — where new identities and memories emerge.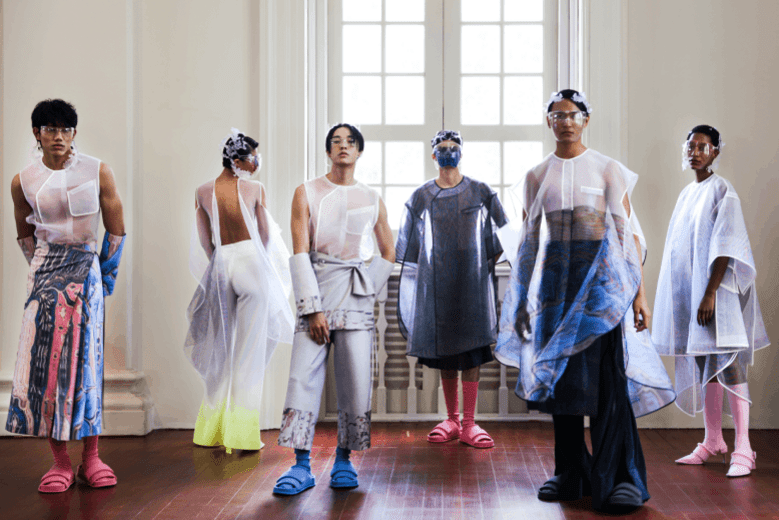 With this collection, my goal was to present a speculative vision of an alternative future, where garments in this parallel future speak a much more distinctly Asia-centric language than what we are used to seeing today in contemporary fashion. And, as fitting to my body of work, the collection is an extension and expression in re-contextualising our Singapore Identity.

This sense of a nostalgic future that 'could have been', is grounded by shapes we may recognise as East or South-East Asian. Importantly, the sense of Asian-ness I am interested in expressing is one that is Singaporean, and in excavating what our Singaporean-ness is, remembering deeply that we are more than just a Chinese Cheongsam or just a Peranakan Kebaya; we are more: more skin colours, more shapes, more cultural narratives, more backgrounds, more realities, more possibilities."
Which design from the collection best represents your design identity, and why?
"For me, it's the final look on Kalynskye, with the open-back Kebaya and hand-painted flared leg pants. This was the driving look in the collection and was one of the first pieces that I was developing that finally 'stuck'.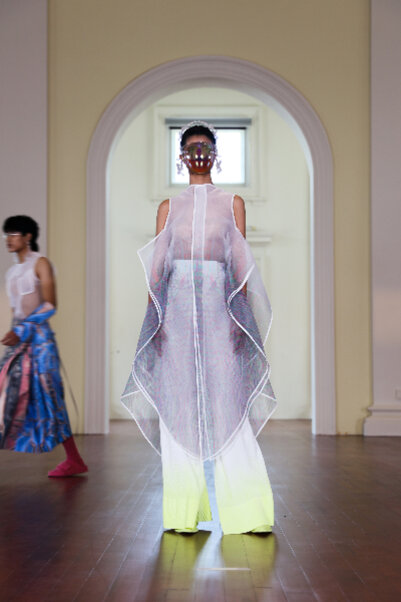 Everything in the collection flowed from here — this was my anchor. It embodies the way I drape intuitively to find form and shapes; aesthetically, it represents a soft elegance, a calm sensuality, and a contemporary interpretation of how heritage inspires us to dress for the future."
Any interesting behind-the-scenes moments from working on the collection that you'd like to share?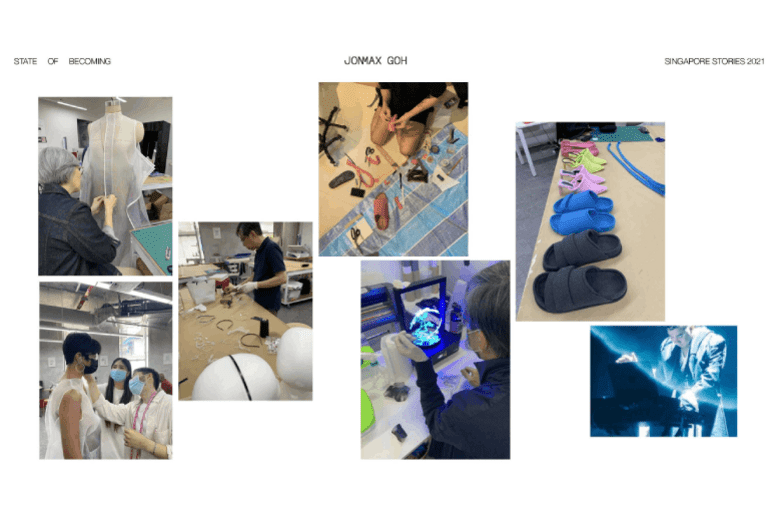 "All the many hands that have helped to put this entire collection together. From my parents who are always raring to pitch in — they're exceptional with fine detail work, and definitely where I get my creativity from — with final touches on the garments, assembling the 3D printed parts; to talented designer-friend-collaborator who worked on the shoes with me, and lastly, my awesome assistant who just graduated from LASALLE's Fashion Diploma programme this year and is on her way to pursue her undergrad overseas."
During the final judging round, one of the judges, Textile and Fashion Federation (TaFF) CEO Semun Ho, remarked that your final collection was "a far departure" from your initial concept. What spurred you to refine your concept and design approach further?
"The reality is that at the juncture of the semi-finals, my ideas and explorations were still nascent — I'll save them for something else one day perhaps, but for the competition, they were not exactly what I needed.
After gathering all the feedback from the different mentors and judges, the resounding theme I took home was that the collection was not yet polished enough: ideas still needed editing, and my identity as a designer was not coming through just yet. That hit really hard and was a difficult phase of the competition, but I agreed with all of them.
There was only one way forward from there! Which was to pull up my socks, cut out all the external voices and opinions, and take a long hard look at what I wanted to say with this capsule, and do it bloody well."
Since we last spoke, you mentioned how fashion in the new normal will continue to be "boundless." Similarly, with your final collection, you've brought up your dream of creating a "future human sensibility — one where we are boundless…" Why was this important to you?
"A few things have happened for me recently, and increasingly so, I believe technology is here to aid us to explore beyond our limits. How do we sustain ourselves as makers and creatives, without being confined by time, material resources, lack of financing? That's one aspect that's ticking at the back of my head.
The other major theme for me, as I continue to explore and re-contextualise our Singapore identity also, is to encourage us to break away from how we know things to exist; to be brave enough to chart our own course and make of what we know something new. Isn't that the true spirit of what the idea of 'Singapore' is?
I think what limits us from accessing the 'future' are the human parameters and constructs we insist so heavily on being confined by and conforming to ideas of pragmatism and conservatism that have allowed us to survive, but in that course, maybe we have lost some greater ideals that allow us to thrive. I want my work to inspire us to aspire towards the uncharted, to be able to present to the world the exceeding potential of what (fashion and the creative industry in) Singapore has to offer."
You've also talked about your goal in building an atelier, where you wish to involve artisans and craftsmen to showcase Singapore's capabilities in "making great fashion for the international audience." Tell us more about that.
"It is a fact that we have a multitude of extremely talented, internationally, and locally acclaimed creatives in Singapore. There are also exceptionally talented creatives who are not getting the spotlight they deserve (yet). It's always been my dream to work with and showcase the breadth of creative offering in the communities I find myself in. From visual artists to graphic designers, to product designers, and musicians. They're part of the invaluable ecosystem that allows fashion to exist.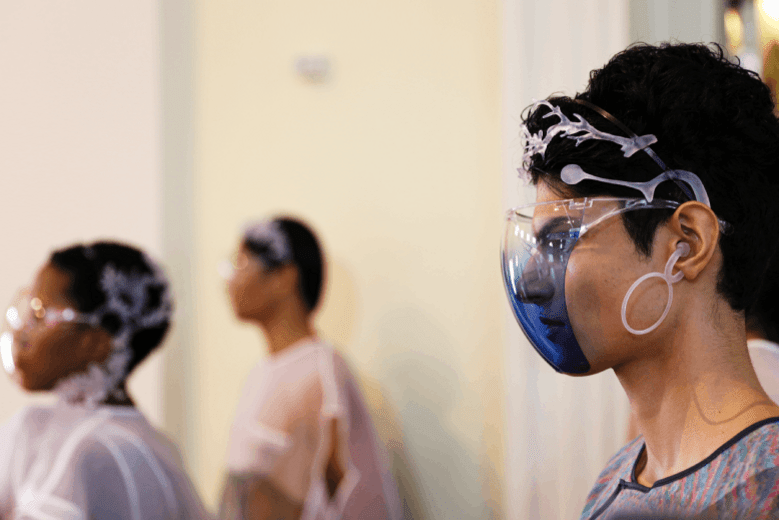 The other struggle we face in Singapore though, are the lack of skilled and talented hands who can actually make fashion come to life. I hope that in the years to come, I'll be able to identify and build a team of creators who are interested in owning and honing specific skills of pattern-making, draping, tailoring, couture finishing; they're all parts of the ecosystem that make great fashion great.
They are truly important because fashion does not exist by simply having designers. It's like having a lab with only scientists, and no engineers. Alone, as designers, we can only ever accomplish so much, and I believe the general public perception of what a designer's role entails, needs to develop."
Finally, what are your plans for 2022?
"The idea of my label and its existence is but a baby. The next year is going to be a lot of conversations with mentors, peers, and the community to identify people who believe in my vision and are willing and able to come on board to support this journey.
I talk about the team I dream of, and the boundless creations I hope to build — at the end of the day, this takes resources and funding. I'll be actively seeking financing and investment to help me make these goals slowly come to reality, and to build a business that is made for a new landscape of fashion consumption and creation: one that is much more agile, and much more boundless in the way we make, create and consume."
Next, learn more about Japanese fashion designer Issey Miyake.