Jewel is — literally and figuratively — a striking gem newly mounted on Singapore's crown. A multi-faceted development with gardens, attractions, retail, dining, a hotel and facilities housed under a stunning glass and steel dome at Changi Airport's Terminal 1, it's a phoenix risen from the ashes of an open-air carpark. Someone remarked to me that Singaporeans are a rare breed who go to the airport while not flying. I say, there are good reasons behind it. After all, at which airport can you find a Canopy Bridge suspended 23 metres above ground? Where else can you take a walk on Singapore's largest hedge maze? Or take a mandatory selfie (of you open-mouthed drinking in the fountain water) at the Rain Vortex, the world's tallest indoor waterfall at 40 metres high and the darling of Jewel?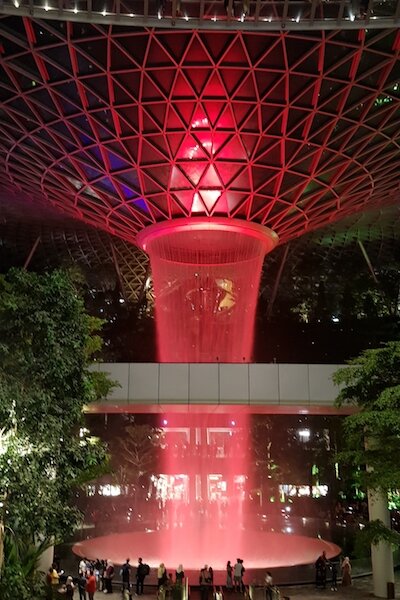 Rain Vortex is surrounded by a four-storey terraced forest
Best of all, where else can you be spoilt for dining choices with a bewildering selection of international cuisines and well-known local fares? At Jewel Changi, not to be missed is JW360° (Japan Way Three Sixty) that brings you a slice of Japan's lifestyle and culture in a 3-in-1 restaurant, cafe and retail concept. It is composed of Suju Masayuki, a premium Japanese restaurant; Nomono retail shop that sells artisan and seasonal products; and JW360° Cafe featuring Japanese confectionery and gelato.
Suju Masayuki Restaurant
My favourite of the three is Suju Masayuki Restaurant. Brought here from Japan, it comes with 200 years of history, founded as a "miso-gura" in Shinshu Komoro (current Komoro city, Nagano prefecture) in 1827 — a granary producing a variety of miso and soy sauce. The restaurant first opened in Singapore a couple of years ago at Mandarin Gallery, and is loved for its innovative cuisine centred on the soul foods of Japan: miso and rice.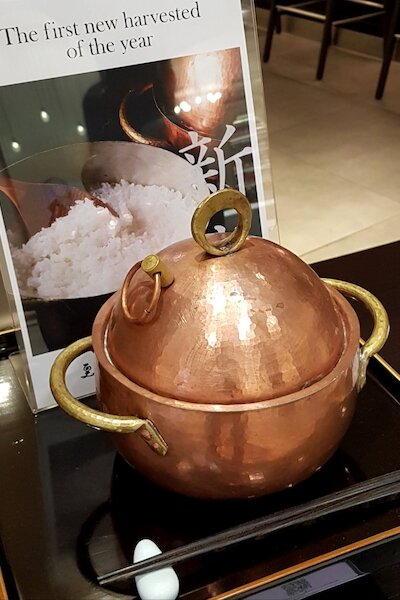 Rice served in a hand-made copper pot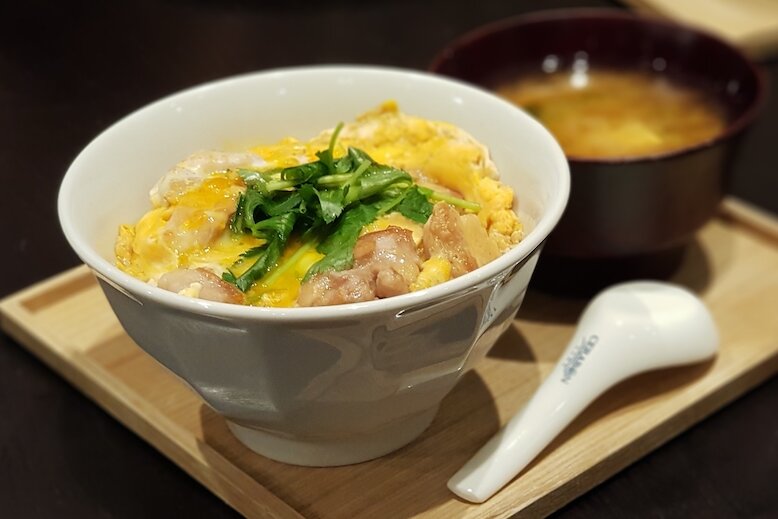 Oyako Don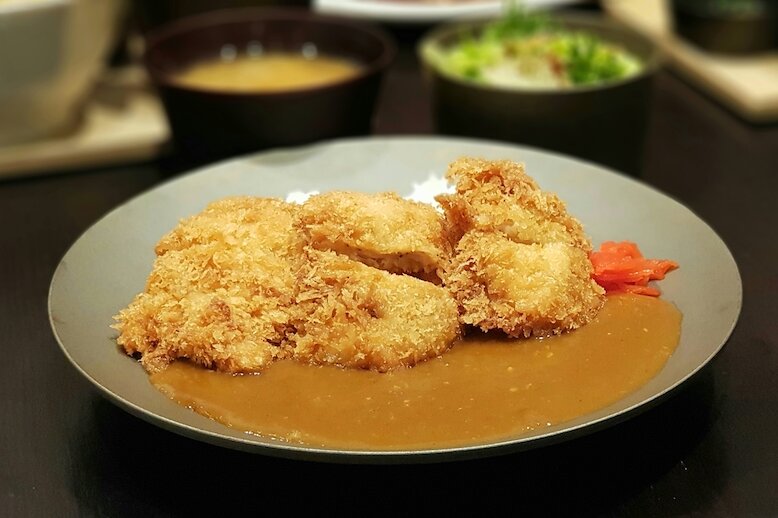 Chicken Curry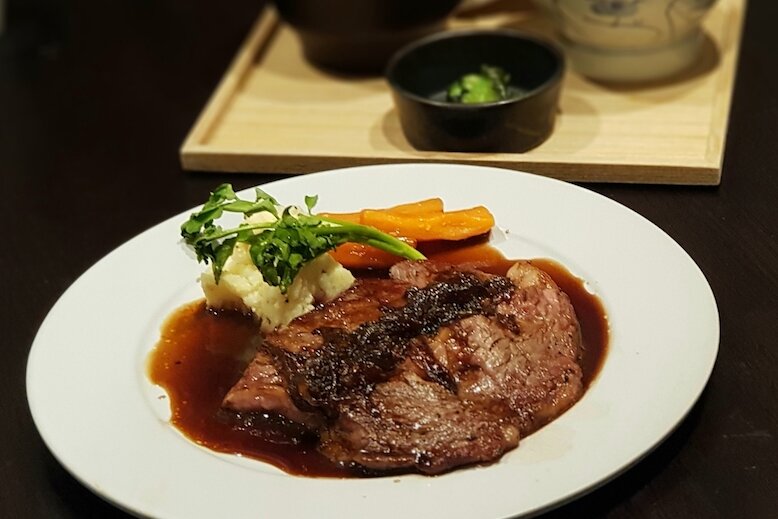 Perfectly medium-rare steak
Ah, the rice — my wife is not a carb lover, and even she cannot resist the rice! It's cooked in a customised hand-made copper pot, served fluffy and piping hot, and matched with dishes that are superbly executed. The Chicken Curry came with a golden crisp and tender chicken thigh nestled in a bed of tasty Japanese curry; the Beef Steak upped the game with a succulent beef chuck done a perfect medium-rare, accompanied by a zesty-sweet teriyaki ginger sauce while the Oyako Don enticed with a steaming rice bowl topped with moist chicken and eggs scrambled with Katsuo Dashi (bonito broth), seasoned with soy sauce and mirin. The final item of Shake Shio Yaki didn't disappoint either with its crisp-skin fatty grilled salmon belly.
Prices at Suju Masayuki Restaurant are more than reasonable, considering that you get top quality ingredients cooked with finesse and served in a cosy, prime locale. Service was good too — we were comped a Chawanmushi as the waitstaff mixed up our orders; a thoughtful and class act indeed.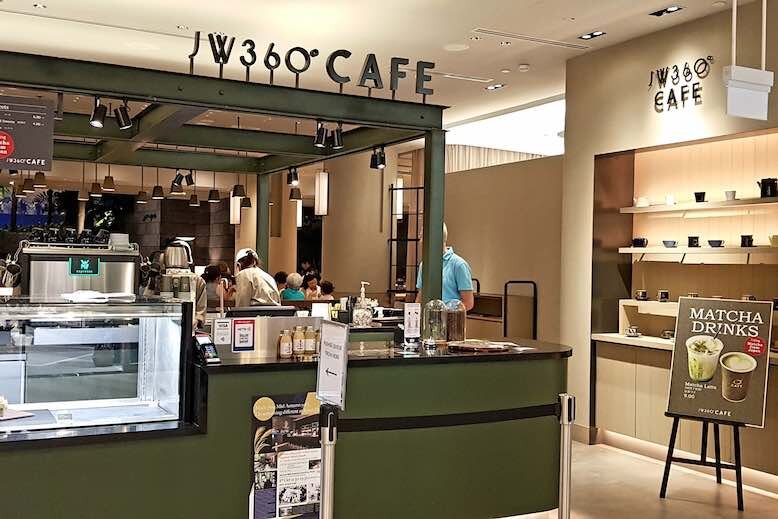 JW360° Café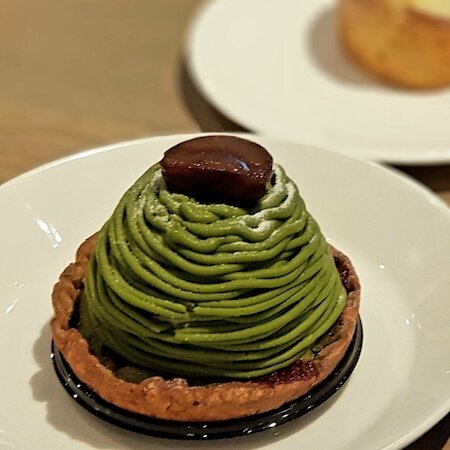 Matcha Mont Blanc
Save room for desserts at the adjacent JW360° Café — don't miss the Instagrammable Matcha Mont Blanc with Japanese chestnut paste and the gelatos. Do try the unusual Soba- Cha, a refreshing buckwheat seed-flavoured ice cream that comes with hint of the namesake tea and a crunchy texture, and the cafe's signature Soy Sauce Flavoured Caramel Nuts gelato that endears with a harmonious juxtaposition of savoury and sweet flavours. Snare a seat at the terrace area for a mesmerising view of the Rain Vortex.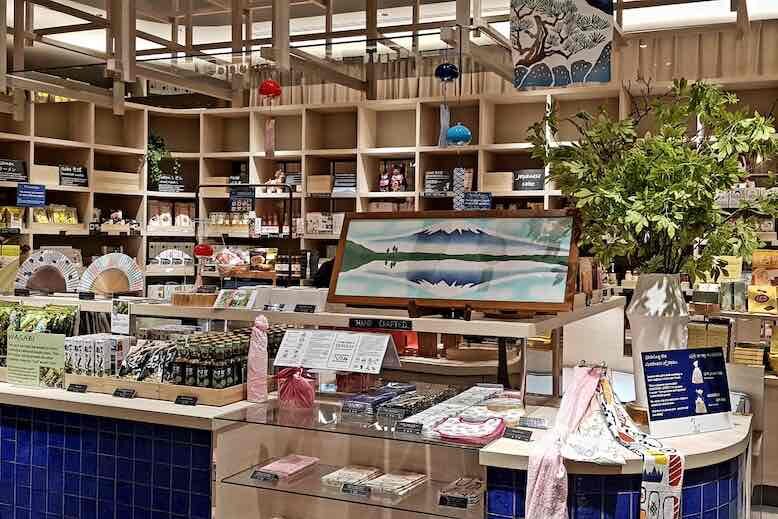 Nonomo, a retail shop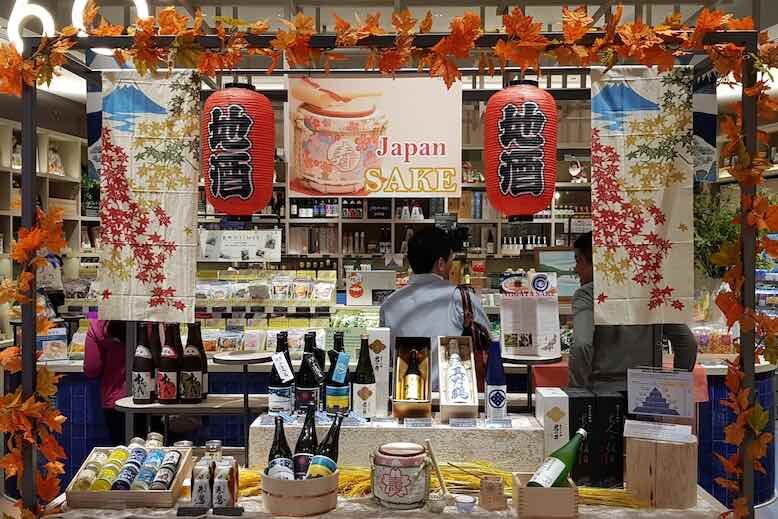 A selection of Japanese sake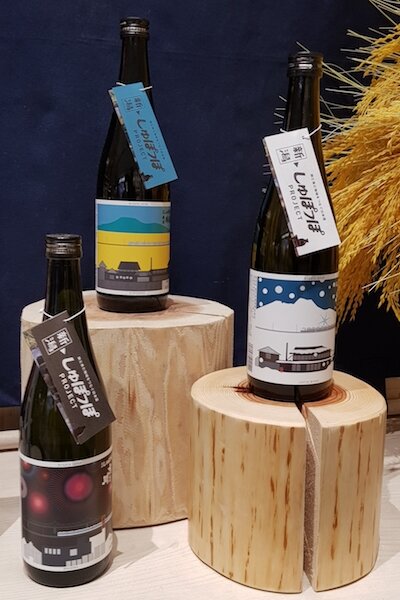 Sakes come from artisan breweries
Before you leave, remember to bring back a piece of Japan from Nonomo, the retail shop sandwiched between the restaurant and the cafe. It's fun to browse through souvenirs; snacks; seasonal produce such as the famed peaches from Fuefuki City; sakes from artisan breweries; and delicacies such as the award-winning wide and thin Hanayama Onu Himokawa udon noodle, fine tea with over a thousand years of history and sea salt from Awaji Island. Products are beautifully packaged the Japan way and make for lovely gifts. Now you have an excuse to go to the airport without flying.
JW360°
Address: Jewel Changi Airport, 78 Airport Blvd, #01-223/224/225, Singapore 81966
Tel: +65 6243 2466
(Cover photo from: Jewel Changi Airport)