One of our favourite things about makeup is its versatility, the ease of creating a variety of looks and moods through subtle changes in colour or texture. Since we've caught the
K-Wave fever
, we got together with
LANEIGE
and gave three of our
Clozette Ambassadors
a Korean makeover, taking inspiration from sweet, girly K-looks and also channelling the makeup style of popular K-Drama actress
Park Shin Hye
and K-Pop star
Hyuna
.
Here are our Clozette Ambassadors Sydney, Celine, and Kymm before their makeover!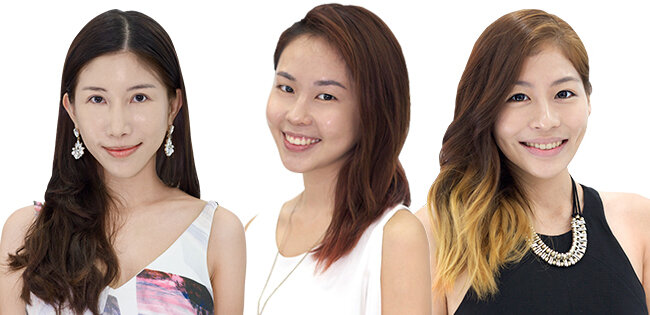 And since one cannot recreate a Korean-inspired makeup look without perfect ombre lips. we were excited to see LANEIGE's latest spring collection launch, the
Two-Tone Lip Bar
, in action!
Sydney with the Two-Tone Lip Bar
With Korean stars rocking perfectly ombre lips from the runway to the K-Pop stage, the
Two-Tone Lip Bar
now makes it easier than ever to achieve that dual colour pout that gives the illusion of a fuller, juicier lips. It features a dual complementary colour combination that naturally blurs colour boundaries, while its moisturising texture allows it to glide smoothly onto the lips for effortless application.
To fully capture the K-Beauty looks, our Ambassadors were treated to a full hair and makeup makeover, with LANEIGE and Clozette's talented team of makeup and style experts who beautifully transformed the girls to be K-Beauty ready.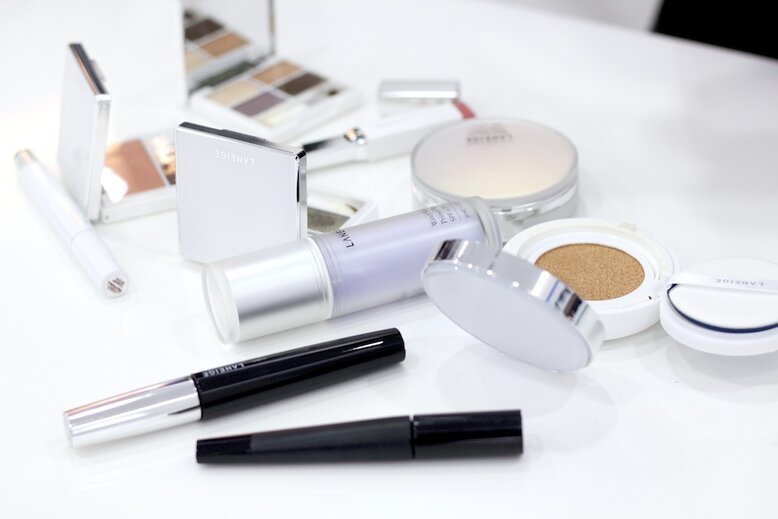 Makeup Makeover Essentials
The LANEIGE makeover team came prepared with the brand's range of top products, such as their BB Cushion, Lumi Volume Primer, Watery Cushion Concealer, K-Secret Cushion Tint, Pure Radiant Shadow and Blush, Jet Curling Mascara, and of course their Two-Tone Lip Bar. The team also prepped the girls' skin with products from LANEIGE's Water Bank line, giving the girls soft, supple skin to complement the K-makeup.
Celine getting her hair done for her "Romatic Spring Look"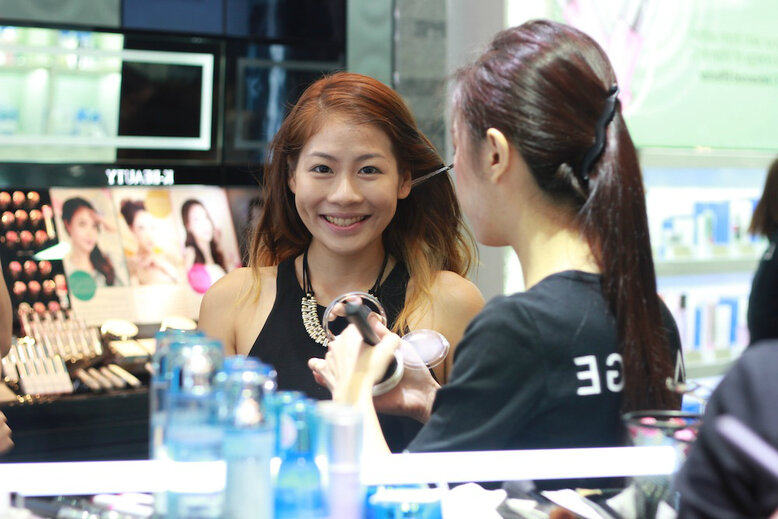 Kymm looking fresh-faced
Click next to see the final looks created for the girls >>
Celine Chiam
Romantic Spring Look:
In line with the coming of Spring, Celine channelled a sweet, romantic vibe for her first makeover look. Soft, pink pastel colours were used to bring a touch of brightness to her face. The look was finished off with a sleek, braided bun that complemented the lace details of her white dress.
Park Shin Hye:
Celine's K-Drama look was inspired by popular Korean actress Park Shin Hye who is best known for her roles in K-Dramas such as Flower Boys Next Door and Pinocchio. Shin Hye's style is that of a sweet girl-next-door with a clean, simple makeup look that emphasizes her natural features. This was a perfect fit for Celine who embodies that natural sweetness to pull this off.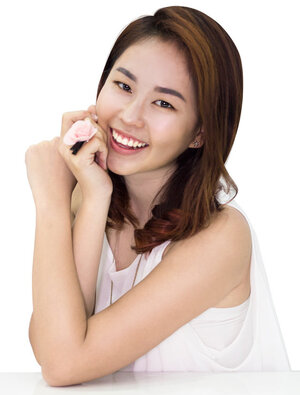 Kymm Liang
Party Look:
Kymm's party-ready look featured a sultry grey-toned smoky eye that was well-blended around the crease for a softened look that will stand out at any party. The eyes were balanced out with a peachy-nude lip that emphasized Kymm's naturally full pout.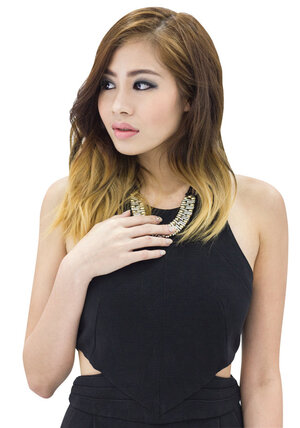 Hyuna:
Kymm's K-Pop inspired look channelled the daring style of Hyuna, the main rapper of the K-Pop girl group, 4Minute. With such a unique edge in her personality, Hyuna is known for bold makeup looks that play with colour and texture. Quite similar to this look which saw Kymm in a bejewelled lips, bright eye makeup, and tousled ombre hair ensemble.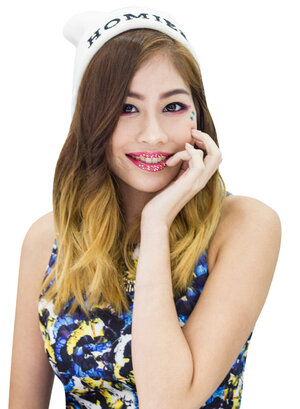 Sydney Ho
Fresh & Dewy:
For Sydney, the team chose to accentuate her features with a fresh and dewy makeup look that Korea has been widely known for. The key to achieving this look is perfecting the skin with a moisturising product for that supple, pore-less look. The skin is then finished off with a light application of base products to keep the face looking fresh and uncakey.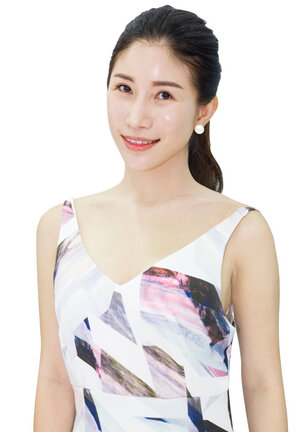 Red Carpet:
With her sharp features and captivating eyes, Sydney was the perfect choice to channel a K-inspired Red Carpet look. Embodying the allure of K-Stars, Sydney's makeover consisted of a polished brow, softly lined eyes, fuchsia ombre lip, and a radiant blush for a subtle glow. The look was finished off with a sultry side-swept hairstyle with softly, flowing curls.
So whose makeover did you like the most?
Vote for your favourite K-Beauty Looks and stand to win 1 of 5 sets of LANEIGE cosmetic products (featured in the most voted look) worth over SGD160*.
Click here to cast your votes now!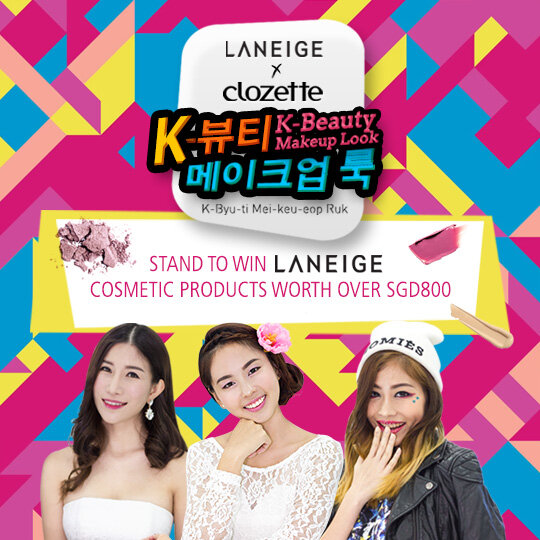 *terms and conditions apply