It's not just the beauty products that catch our eye when watching a Korean drama. The impeccable style of the heroines draws us in, too. And while it's difficult to pinpoint specific designer clothing pieces used in a drama, we can still pick up some savvy fashion tips from these characters' wardrobe and sense of style. Read on as we take you through the best K-drama outfits you can easily cop.
Birth Of A Beauty: Sara/ Geum-ran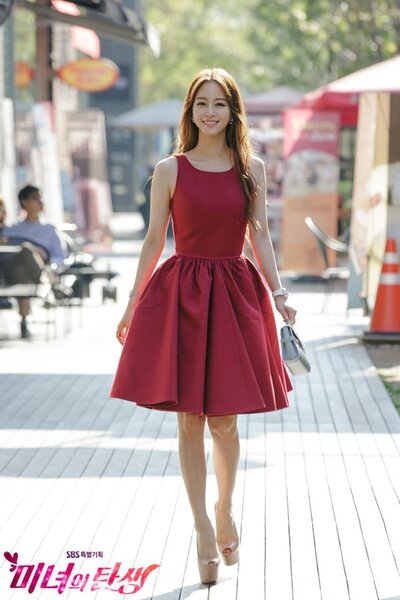 (Photo from: SBS)
Geum-ran started out as an overweight, frumpy ahjumma, but after getting plastic surgery she reinvented herself as 'Sara'. While Geum-ran wears shabby clothing, 'Sara' only wears the most classy and glamorous clothes. All throughout the series, you can spot her wearing lovely pieces from Saint Laurent but her most fashionable moment is during the opening scene when she struts in this gorgeous carmine-coloured, pleated mini dress matched with nude open-toed pumps. Definitely stealing this look!
Descendants Of The Sun: Kang Mo-Yeon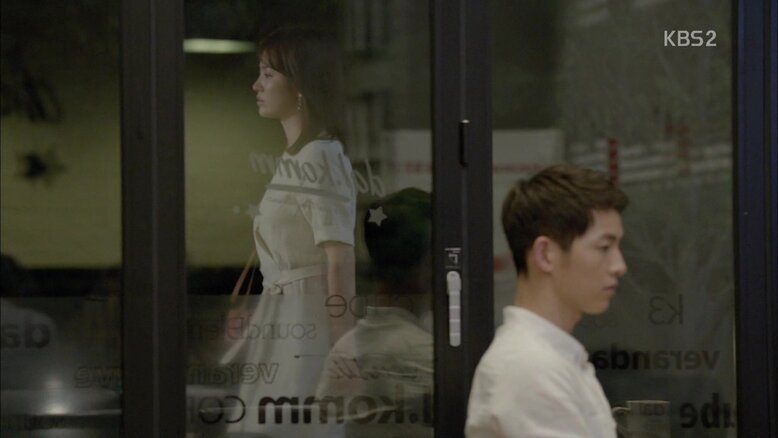 (Photo from: KBS)
Speaking of K-drama outfits we can cop, there's of course the practical yet stylish wardrobe of Kang Mo-Yeon from Descendants of the Sun. During the early episodes, we see the doctor donning lots of long-sleeved shirts paired with A-line mini skirts, which seems to be the fashion ensemble that resonated best with viewers. But we also have to give some love to her shirt dress choices. We're particularly eyeing this elegant white shirt dress with a wrap detail. The tan sling bag and beaded dangling earrings are also equally sophisticated. Great choice for a dressy casual or business casual outfit.
It's Okay, That's Love: Hae-Soo
(Photo from: SBS, Pinterest)
Hae-Soo, the sassy and ambitious heroine, works as a young psychiatrist. As such, we'd often see her in a physician's lab coat. But when she's out of the office, she still wears professional-looking pieces like high-waisted slacks that are usually matched with collared long-sleeved blouses. Her wardrobe is definitely full of corporate chic outfits. And our favourite is this Sandro Virgule blazer worn over a collared blouse with white and navy stripe pattern paired with Sandro Poison stretch trousers. It's very geometrical and gives off a mature, bold vibe.
My Love From Another Star: Cheon Song-Yi
(Photo from: SBS, Soompi.com)
We'd all love to raid Cheon Song Yi's wardrobe. She has the most fashionable clothing items and she always looks fabulous in them. Even in her time of defeat during the episode where she's stripped of all leading roles and sponsorships, Song Yi still struts like the star that she is.
Perhaps one of the easiest K-drama outfits you can still is this particular look, where created balance by pairing a simple tee and jeans with a Thomas Wylde hot pink blazer. And to top it off, she chose an eye-catching animal print ankle boot to add that extra glam vibe.
Age Of Youth: Song Ji-Won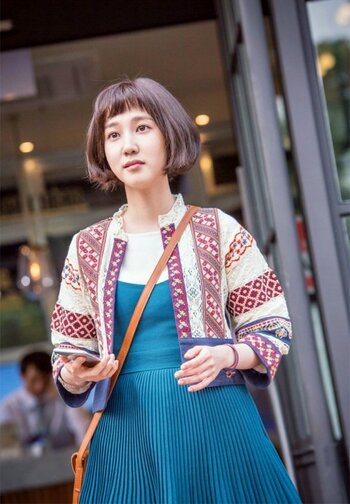 (Photo from: JTBC, dramabeans.com)
Ji-Won is the most cheerful character in Age Of Youth and her bright personality is also reflected in the clothes she wears. Her fashion choices always manage to stand out without looking silly. For example, this pretty ensemble features pieces that are eye-catching on their own but still looks good when paired together. The heavily printed bolero jacket is matched with a plain, blue-green dress and it created a good contrast that made the look wearable.
(Cover photo from: JTBC, dramabeans.com)
Check out these empowering quotes from your fave K-dramas, too!