Kabuke, a portmanteau of "kabuki" and "sake", is an edgy Japanese speakeasy gastrobar hidden up on the second level of a shophouse in Telok Ayer. We were invited by co-owner and sake sommelier Keiji Heng to experience the revamped menu by Head Chef Rio Neo, formerly of Fat Cow. The intimate 50-seater space anchored by a long bar counter is warmly lit, with a private dining area concealed by large vibrantly coloured hand-painted fans inspired by Kabuki (歌舞伎), a traditional Japanese form of theatre with roots tracing back to the Edo period.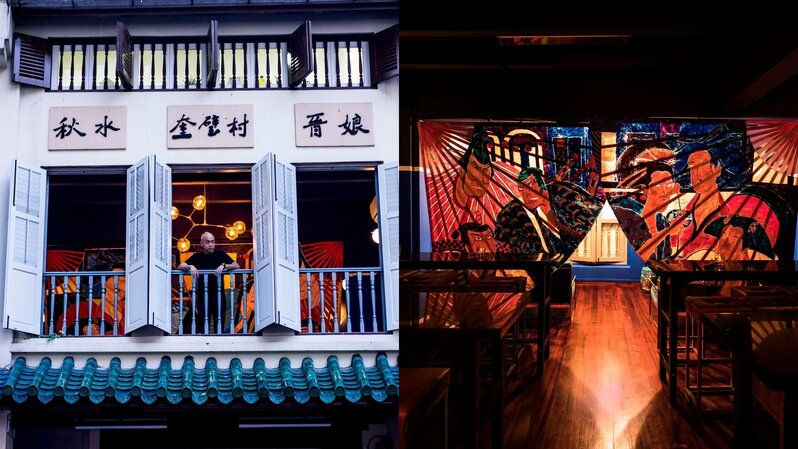 Left: Facade of Kabuke; Right: Large hand-painted fans concealing the private dining area
The new menu is best described as casual refined fusion, where classic Japanese ingredients are given a modern spin and painstakingly paired with sakes specially curated from artisan breweries from different prefectures across Japan. Heng shared that he proactively seeks special blends and rare finds from less-known breweries to add to an exclusive Sommelier's selection.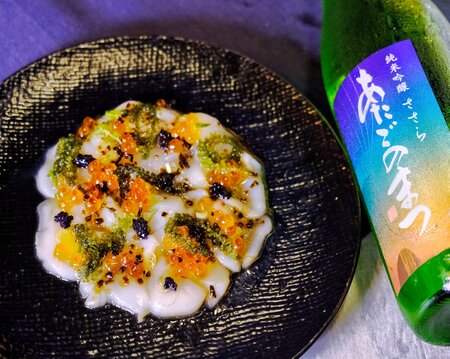 First to take the stage of the metaphorical grand theatre was the Wild-Caught Hokkaido Scallops, Sea Grapes, Marinated Salmon Roe paired with an ATAGO NO MATSU Junmai Ginjo Sa Sa Ra "愛宕の松 純米吟醸 ささら". The semi-dry and refreshing sake by Niizawa Sake Brewery of Miyagi Prefecture, established 1873 in Osaki City, cleansed the palate and heightened the sweetness of the fresh scallop sashimi simply dressed with truffle shoyu.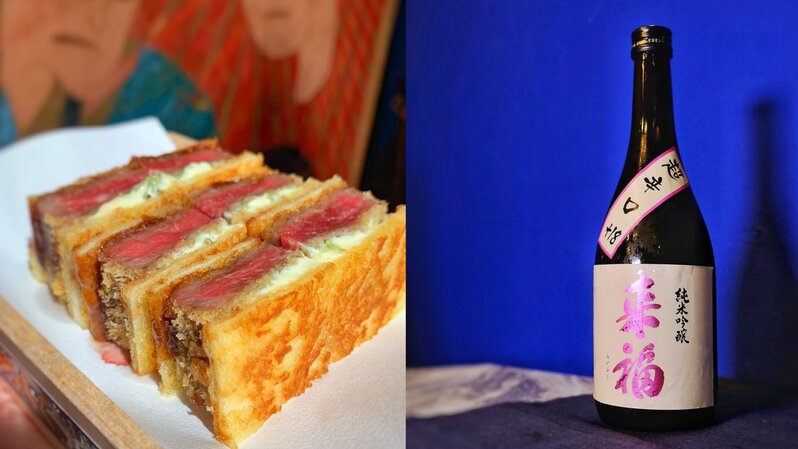 Hearty eaters would love the Wagyu Sando, a Japanese Wagyu Cutlet slathered with house-made Wasabi Cream Cheese and sandwiched between Hokkaido Milk Toast. The beef we had was a Kagoshima wagyu strip loin but the actual breed served will depend on the season, and may include Miyazaki wagyu and Hokkaido snow beef. The dish was paired with a RAIFUKU Junmai Ginjo Super Dry "来福 純米吟醸 超辛口" from Raifuku Sake Brewery, established in 1716 at the slope of Mt.Tsukuba in Ibaraki Prefecture that provides access to superb pure water. Made with Begonia flower yeast, this sake boasts a clean texture and delicate aroma, making it my favourite sake of the evening — usually served with seafood, its bold and dry masculinity goes well with meat dishes, too.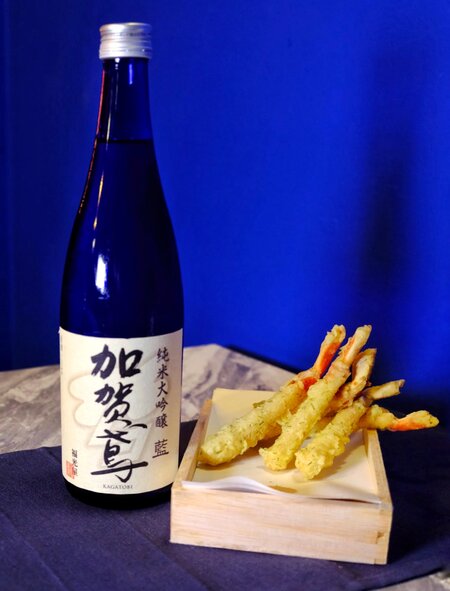 A dish that really goes particularly well with sake is the Snow Crab Leg Tempura Dried served with Green Laver and Yuzu-Infused Sea Salt. Its sweet crispiness is the perfect foil for the KAGATOBI Junmai Daiginjo Ai "加賀鳶 純米大吟醸 藍", a light and dry sake that delighted with a clean and elegant mouthfeel. Coincidently, it comes from Fukumitsuya Sake Brewery in Kanazawa City in Ishikawa Prefecture — the oldest brewery in the city, established in 1625 — where we recently enjoyed a lovely sake sampling at its retail store nestled in the Edo-period Higashi Chaya district. The brewery doesn't officially export its sake outside of Japan, and some labels are only available in that store.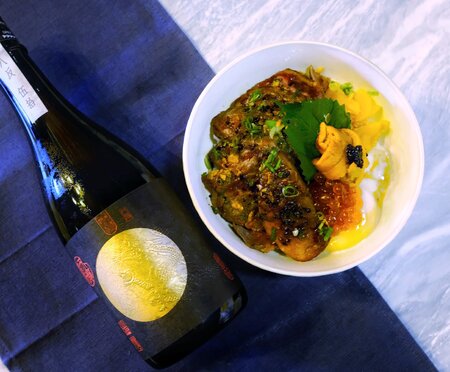 For the ultimate sin, splurge on The Guilty Pleasure Bowl (SGD88) comprising the holy trinity of Japanese Wagyu, Sea Urchin and Foie Gras on a bed of fluffy rice topped with Caviar, Salmon Roe, Truffle Shoyu and Onsen Egg. This dish was matched with a RYUSEI Junmai Daiginjo Hattan Gojyu "龍勢 純米大吟醸 八反伍拾", a sharp and earthy sake hailing from the Fujii Sake Brewery, established 1863 in Takehara City in Hiroshima Prefecture, carrying subtle rice sweetness and light melon notes that balance the complexity of the rich ingredients.

For sake newbies, Kabuke's sake menu is very user-friendly; it's classified into four categories: A, B, C and Luxe in ascending order of price, along with simple tasting notes to aid in the selection process. Don't pass up on the MIYAKANBAI Junmai Daiginjo Jishasaibai Yamadanishiki "宮寒梅 純米吟醸 美山錦", a premium sake produced in very small quantity by Kanbai Sake Brewery in Miyagi Prefecture, apparently available nowhere else outside Japan before Kabuke scored stocks. Sakes on the menu are available by the glass (90ml), a carafe (300ml), or bottle (720ml).

Not into sakes? No worries because guests can enjoy specially mixed Kabuke Kocktails made with quality Japanese whiskies, gins, and of course sake. Notwithstanding the expansive sake selection, the well-executed eclectic menu is good enough to stand on its own.


You can find Kabuke at 200A Telok Ayer Street from Mondays to Saturdays.