Kaftans (or caftans) is one of the most comfortable pieces of clothing that a woman can wear — but it can also look quite dated if you don't know which piece to choose. This flowy piece seems to be too casual for officewear and too summery to just be worn in any weather. But is it? Kaftans have also appeared on the runway, including shows by Gucci and Tory Burch. Stylish status? Definitely up there. Not to mention, kaftans are also wonderfully comfortable. How can you pull off the kaftan and incorporate it into your daily wear? Check out the following styling tips.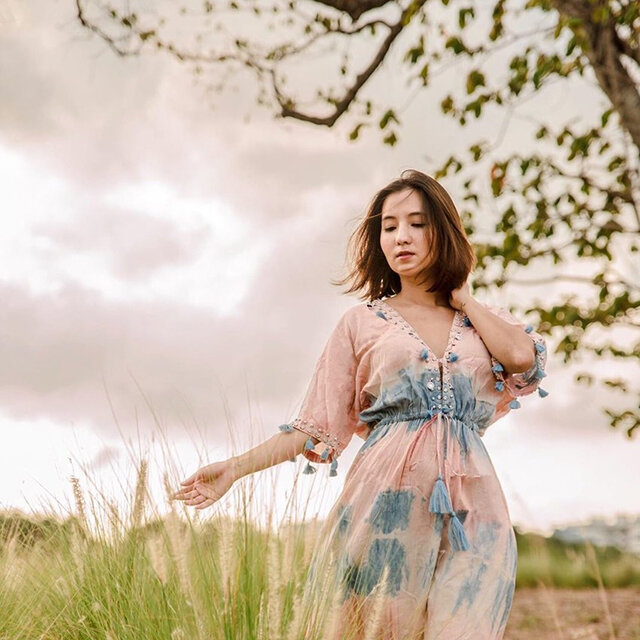 (Photo from: Paperkitties)
Choose white
White kaftans are not only fresh to look at but they are also the easiest to style. Bold and colourful accessories stand out when you're wearing white and accessorising it with leather pieces like sandals, belts or bags just adds a touch of rugged beauty to it.
Pair with pants
Pants and kaftan? Why not? Add a bit of boho flair to your ensemble by pairing a flared denim pants with a mid-leg kaftan. Wear a nice simple tank inside so you have the option to take off the kaftan when it gets too hot.
Over an LBD
Need to go somewhere a bit formal? A neutral-coloured kaftan over a little black dress is a nice elegant option to consider. Simply wear the kaftan over your black dress (better if this is a slip dress) then pair with a dressy clutch and bright-coloured kitten heels.
Leather and kaftans
No, we're not suggesting that you find yourself a leather kaftan but a kaftan paired with leather pieces creates a nice ensemble for going out. Choose a fabric with a plain, neutral colour and then accessorise with leather pieces to contrast. With that, you'd be good to go with a minimalist look.
Embrace the Mexican aesthetic
Do you love the bright colours and floral embroidery of most Mexican fabrics? We do, too. Which is why Mexican-inspired kaftans will always be a big "yes" for us. Choose bright-coloured tunic-types or long dresses with bright embroidery for a nice and fun casual style. Then pair it with your favourite leather sandals, simple jewellery, and woven bag to complete the look.
(Cover photo from: Paperkitties)