[Click here to get 15% OFF from KALAIA Label]
There are two types of "Bohemian" in the fashion world--those that fall under the trend and those that adhere to it as a way of life. In this interview with Clozette Ambassador, designer, and now label owner Coco Mercy, we will talk about the latter Bohemian definition. A bohemian is a free-spirited being that lusts after adventure and creativity, and KALAIA label is such a brand that caters to that kind of woman.
Unlike fast fashion and most Bohemian lines, KALAIA Label is one that allows its muse to create different looks with just one piece. Its Debut Collection entitled "To Anywhere" consists of 8 pieces, but all in all you can create 30 looks if you let your expression and creativity take over your OOTD. It's for the sophisticated Bohemian woman.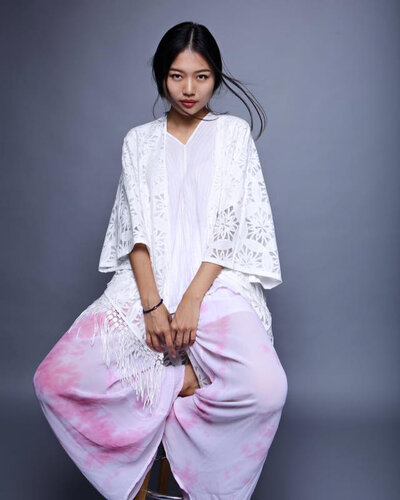 Coco Mercy
We had the opportunity to interview the owner herself, Coco Mercy, and got her talking about how she came up with the name, design, and vision for her very own KALAIA Label.
--------------------------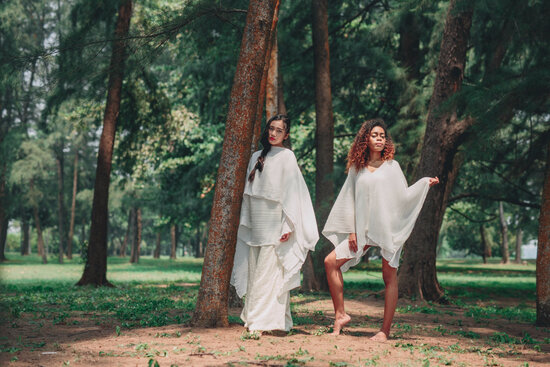 What is the story behind "KALAIA"? What does the name mean?
KALAIA is the artistic child of my love for design, nature, and art. I've always wanted to create an entity that represented myself and my creativity, and it wasn't until last summer in London when the concept of KALAIA was born. I've travelled and lived in many countries since I was young, so I guess the bohemian spirit has always lived in me unconsciously. When I realised that I couldn't find high quality and sophisticated bohemian clothing for myself, that's when I decided to create KALAIA and make clothing for others like me who are constantly seeking freedom and individuality. I also like things that are rare, unique and full of character. As an artist and traveller, I want to preserve the very original and organic bohemian attitude in my label, together with the diversity of cultures and influences that I've experienced around the world.
'KALAIA' is an etymology of the word 'Calla' in Calla Lily, greek for magnificent beauty. The calla lily is known for its enigma and irony, and also represents an entity immersed in mystery and character. Legend has it that when goddess Hera flung the mortal baby Hercules away from her, her milk splashed through the universe and formed the Milky Way, and a few drops fell to earth where the lilies sprung. Venus, who was so jealous of its beauty, cursed the lily with its pistil.
The KALAIA woman loves life and like the Calla Lily, she loves the sun and moon. No matter what life brings, she remains true and unwavered. Strong, adventurous, and free, she takes her KALAIA pieces to a voyage of endless experiences--with the spirit of the naked lily, romantic and rebellious, KALAIA transcends time and distance to places never before been.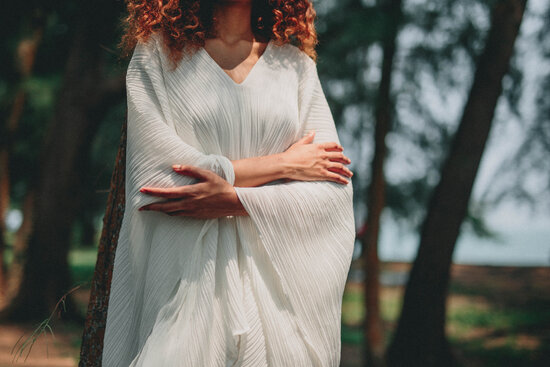 What does your KALAIA offer to the fashion market? Who are you "dressing up"?
The label is focused on creating sophisticated and luxurious bohemian wear that are not only functional, but versatile and extremely comfortable for the wearer as well. Many fashion products serve only singular purposes, and we want to change that. One of our signatures, the Bahamas Waterfall Top for instance, can be worn in at least 7 styles and each style in the reverse fabric so that makes a minimum of 14 looks. We want to treat our designs as art that you can change and adapt with your needs and style. As a modern woman I feel overwhelmed by fast fashion and quantity, to the point that having more does not entice me anymore. I feel that style conscious individuals are increasingly looking to maximise mileage out of their clothing, and want clothes that are interesting to style with. Also, our designs are made with the woman in mind, and is often non-discriminating of body types and age.
I'd like to think that anyone can wear KALAIA clothing as the designs are so ageless and versatile. I leave room in my designs for wearers to play with so they can enhance their individuality when they wear them. Bohemian really, is for everyone with that attitude.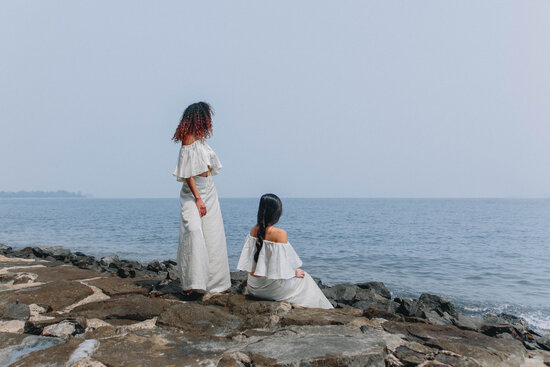 Why focus on the Bohemian style?
The original bohemians were nomads and artists, so that's natural of me to be inclined to it. It's also one of the most expressive and underrated ready-to-wear styles I've ever experimented with. It's bizarre how it's so under-appreciated! It's perfect for all climates, and it can be absolutely flattering for anyone. I like that it's all about the attitude, how the person makes the clothes and not the other way round. I've also not seen any designer labels around who does this, and it intrigues me to create something so original and different.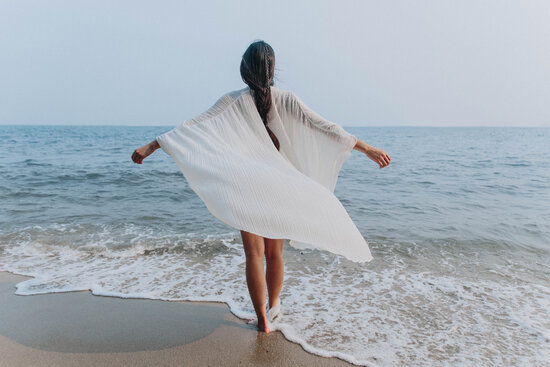 What makes KALAIA stand out?
The fact that we are not what's expected of a typical bohemian label, in terms of aesthetics and meaning. Our philosophy and existence is all about the original bohemian attitude- of pursuing true freedom, enhancing individualistic confidence, and always going back to nature and art. Before I design anything, I'm always thinking about how a piece will enhance someone's lifestyle, how it would tell a story about her personality or allow her to go out and explore anywhere feeling completely liberated and unconstrained by what she's wearing on her body. Clothing should always be a confident reflection of one's inner being and not just lifeless covers that succumb to trends or stereotypes, and we're helping women achieve that.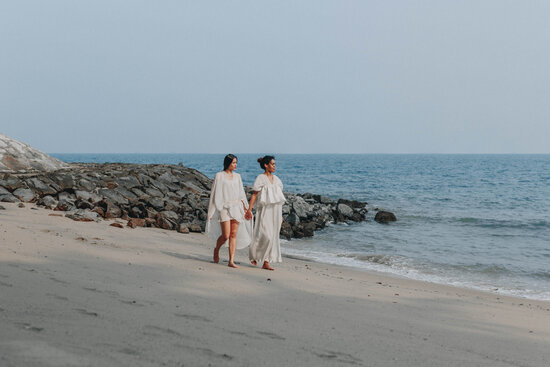 What is the inspiration behind your debut collection?
To Anywhere is a response to my inner calling to travel and explore the wonders of the world, and to be close to nature again. I'm inspired by the interactions between the female body and elements in nature- the sun, wind, and waters. I believe the KALAIA woman is a multi-dimensional, sensual, and enlightened entity that deserves spiritual and physical freedom. I named each design after a place I want to go to, and where I imagine them to be the most beautiful to wear in.
In this capsule collection, I want to capture the essence of KALAIA in just 8 statement pieces that can easily create 30 looks. The focus is on fluid silhouettes, textures and volume. The all white palette is a tribute to the stars and sea foam-- connecting heaven and earth. Silks, pleats, and laces are reimaged to drape luxuriously over the female body and spirit to display different characteristics to each her own.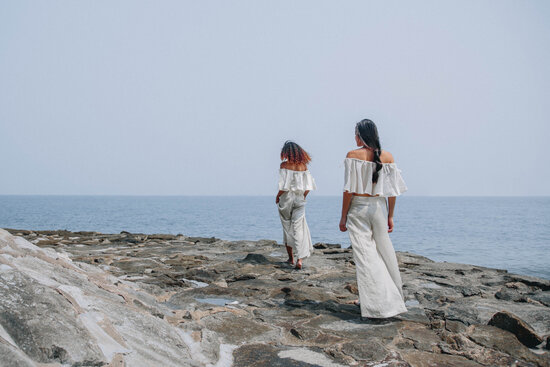 Name 3 of your favorite pieces from your collection.
That is such a tough question- I love every single piece in my collection and would wear all of them! If I had to choose, my favourites will have to be the Essaouira Pleated Kaftan, Fjord Kimono Cape and the silky Bahamas Waterfall Palazzo Trousers.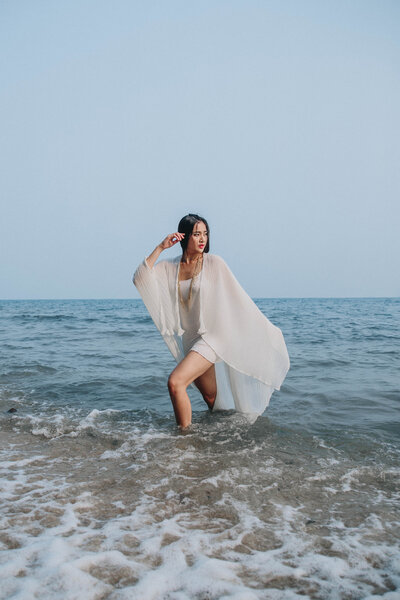 Some women are intimidated by bohemian fashion, do you have any tips on how to incorporate this style on a daily basis?
The one message I want to convey through KALAIA is that Bohemian fashion can be worn by absolutely everyone. It's all about letting your confidence shine through and being comfortable in what you're wearing. A mindset that I want to see woman change is their self-perception on style and body image. I want women to become more willing to experiment and embrace different looks on themselves, and not be dictated by what others think they should wear.
Bohemian style is such a spectrum and there are just so many ways to dress it. The most important thing is to be sure of your identity and what you feel most comfortable in. Only then would your true self and confidence show through. To me, clothing quality, cut and workmanship mean a lot, so I recommend everyone to really understand what they are investing in. I would recommend beginners to start off with accessories like silk scarves and body chains or classic designs, and more experimental people to invest in statement pieces that they are attracted to. You can always switch up work trousers for flare ones, or replace dresses with kaftans on weekends and dates. You will be surprised what a change can do to your mood and perspective!
What keeps you inspired?
Art and nature- I'm so grateful they are both integral parts of my life. I go to museums and exhibitions a lot to learn about things I don't know or haven't seen before. I love artistic films and performances. I like visiting places of nature to experience different emotions at different times and places. I enjoy things that are emotional and meaningful. I still paint and make art whenever I can. They give me peace, keep me grounded and fascinated all the same time, and allow me to connect to my creativity and imagination.
Do you have any tips for budding designers out there?

One of the things that I wish all designers to know is that you need to have the courage to truly love and believe in what you're doing. Your purpose, motivations, meaning, designs, ethicality- all of it. Only when you're fully convinced of it yourself, then you are able to convince others of it. Don't ever create anything you don't believe in. Another thing is recognising that coming out as an independent designer is one of the most difficult career choices you can make, and you need to be sure that you're up for the challenge. It's a tough and lonely path, and passion is the only thing that keeps you going during the hard times.