While the sights in Kanazawa (金沢) are the highlights, its food doesn't play second fiddle. Often referred to as Little Kyoto, this capital of Ishikawa Prefecture in Japan's central Honshu Island borders the Sea of Japan and is where seafood reigns supreme. If you are arriving early by the Hokuriku Shinkansen — about two and a half hours ride from Tokyo — there's no better spot to savour its ocean delicacies than at the tiny
Maimon Sushi
in the Instagrammable Kanazawa Station. The assorted sushi is tasty and fresh, the star being the gently torched "
Nodoguro
", a fatty
Blackthroat SeaPerch
coveted by the locals. The set lunch is excellent value at JPY2,500.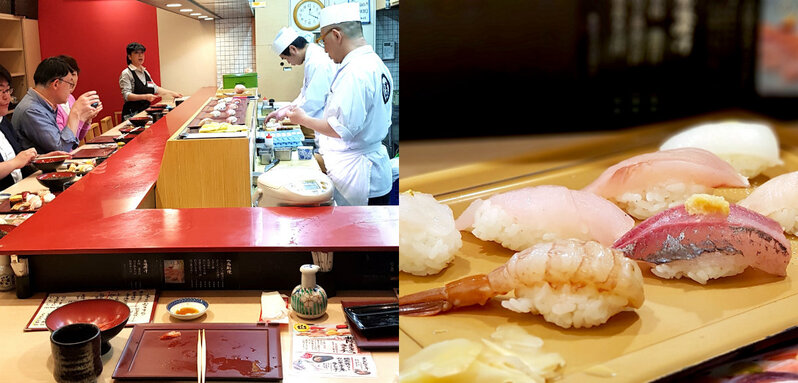 Some of the selections at Maimon Sushi
Seafood lovers shouldn't miss
Omicho Market (近江町市場)
, Kanazawa's largest fresh food market since the Edo period. It still remains a bustling market with a plethora of covered shop-lined alleys where you can buy or sample local seafood and produce such as freshly shucked
Sea Urchin
and
Rock Oysters
.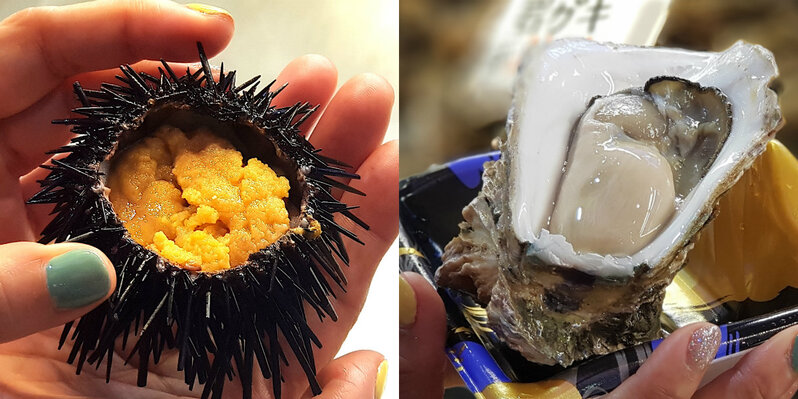 Left: Sea Urchin; Right: Rock Oysters
We were lucky to snare a seat at
Ikikitei
, a tiny sushi and sashimi joint crammed with just 10 counter seats, specialising in
Seafood "Kaisen" Don
. The
Uni (from Hokkaido) Ikura Don
and the
Assorted Seafood Rice Bowl
are fresh and delicious. We like that the amount of rice and condiments topping are customised individually to avoid wastage. The restaurant filled up shortly after we were seated, so best to come early — it opens at 7AM!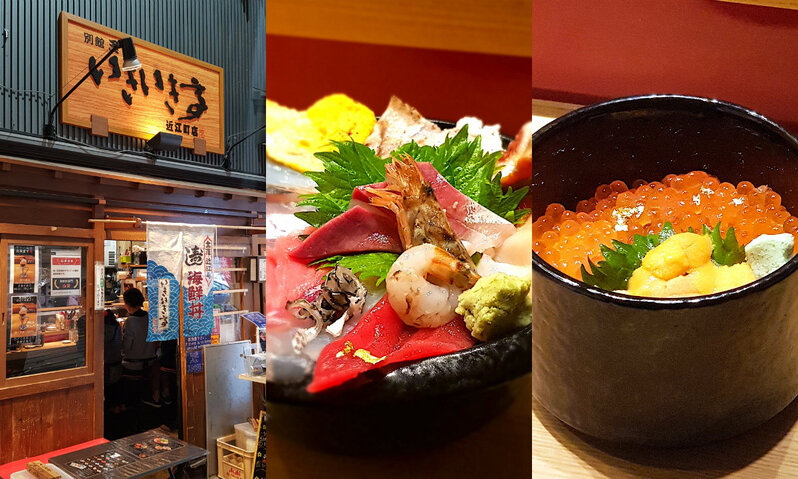 Another recommended dining option at this busy market is Morimori Sushi, a good-value conveyor belt "kaiten" sushi restaurant.

The rice, vinegar, and soy sauce used at the restaurant all come from the Hokuriku area. Having acquired a taste for "Nodoguro", we pigged out on this velvety fish — here it's torched and simply served with a sprinkle of yuzu zest and sea salt from the Andes Mountains. The Uni sushi is so fresh and sweet that we couldn't resist seconds.

For those planning to visit the historic Edo-period district of Higashi Chaya-gai, we suggest you go early and hit the breakfast at
Café Tamon
, an artisan pancake house located in a charmingly restored century-old Machiya in front of the Utasu Shrine. The Eggs Benedict is delectable: runny poached eggs with a light Hollandaise sauce over fluffy pancakes made with egg whites. The enchanting interior design manages to fuse modern conveniences without detracting from the traditional atmosphere of such old houses.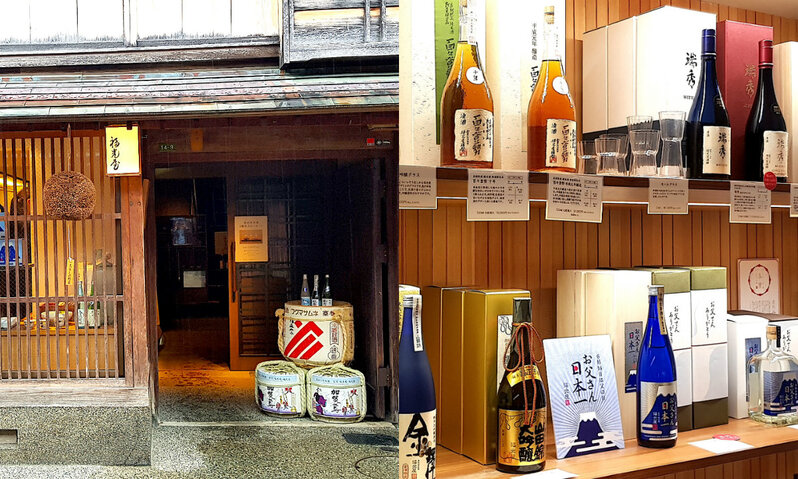 When wandering the alleys, do look out for the exclusive store of Fukumitsuya, the oldest brewery in Kanazawa established almost 400 years ago in 1625, where you can enjoy sake tasting for a small fee.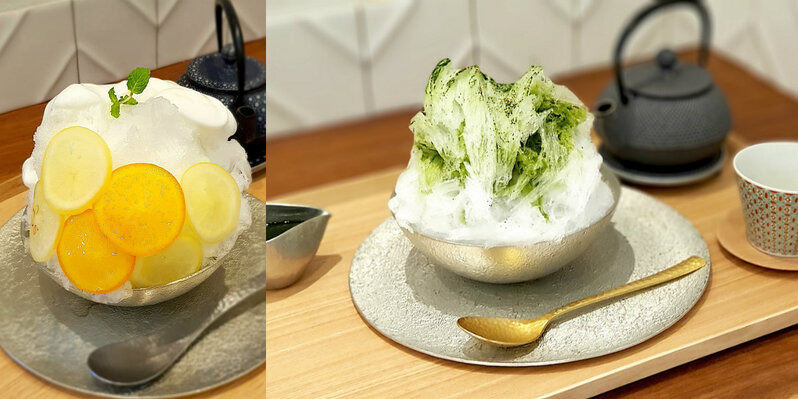 Need a break in the well-preserved samurai district of
Nagamachi (長町)
where ancient warriors and their families used to reside?
Wagashi Murakami
, a traditional Japanese confectionery store founded in 1911, provides a great escape from the summer heat with its enticing ice desserts in a calming zen modern space.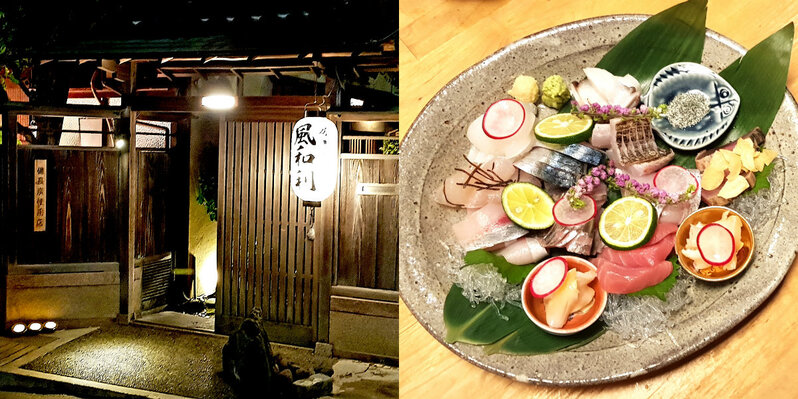 If you have only one meal in Kanazawa, dinner at
Izakaya Fuwari
is a no-brainer; we've been here twice in two months. Helmed by chef-owner Ippei Matsumura and chef Hide Nakajima — both of whom have spent a decade working in Nobu NYC before teaming up to create this accessible culinary heaven — it's one of those rare places where
every
dish hits the spot! Expect local ingredients superbly rendered with innovative hands and beautifully presented.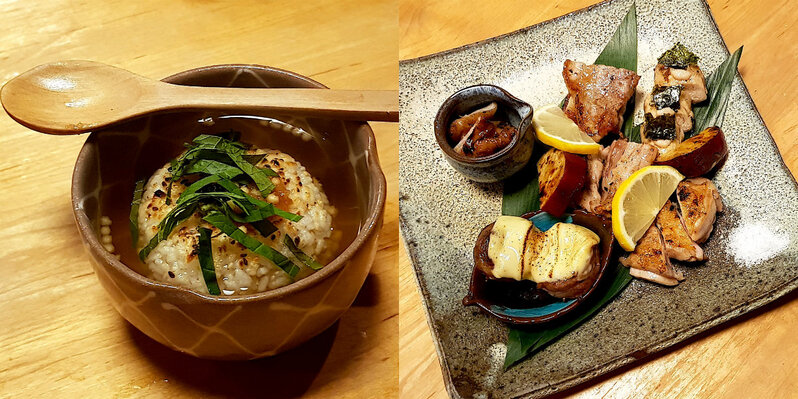 Think Glass Shrimp & Young Ginger Kakiage Tempura, Mochi Pizza and Lotus Roots & Pork Sandwich. The appetiser of Giant Rock Oyster was incredibly fresh and sweet; the simple Grilled Rice Ball in Fish Broth umami-filled and comforting; while the Chicken Thigh was grilled to perfection, served barely pink and juicy. All the dishes well-paired with a Jyogiken Sake. What's amazing is this sumptuous dinner — that puts some Michelin-starred restaurants to shame — came under SGD200 for three people. Set in a lovely traditional house, Fuwari goes right to the top of our all-time must-eat list!
Kanazawa is accessible from Tokyo within two and a half hours by the Hokuriku Shinkansen that operates out of Tokyo Station. JR Passes are available here. All Nippon Airways (ANA) and Japan Airlines (JAL) operate several daily flights and transfers (one hour) between Tokyo and Komatsu Airport where you can get a shuttle bus (40 mins.) or a train (30 mins.) to Kanazawa Station.